Buracai de Laiya Hotel – For travelers who are looking for a budget-friendly resort in Laiya, Buracai De Laiya is worth checking out. It's a 5-story resort with rates that are relatively low compared to others in the area.
After a pleasant but long bus trip from Manila, we finally got off the tricycle in front of the resort. It was nice to get away from the stress of Makati and Manila living and find some peace and quiet. On first appearances we were impressed!
This resort is situated in the mountainous part of Laiya featured views of the mountains on one side and elevated beach views on the other. One thing I did notice was the lack of a cellphone signal (I used Globe and had a lot of trouble getting a signal).
Buracai De Laiya Hotel and Resort Review
Sometimes you should be a little cautious with "Cheap" hotels and resorts. Far too often a holiday can be ruined by booking a resort that is far too cheap and nasty. If you're looking for a good, inexpensive weekend getaway that is comfortable as well as affordable…
The name "Buracai" came from the surnames of the original owners. The "Bura" came from Burabod and "Cai " came from Cay, hence Buracai. Buracai De Laiya Beach Resort is located in the Barangay of Hugom, San Juan, Batangas. Being part of the beautiful Batangas, this resort was designed to reflect the ambiance and feel of Baguio, Tagaytay, Boracay, Pagudpod, and Palawan.
From what we saw and experienced we think it does a good job. The atmosphere was brilliant. If you love snorkeling you will like it here. There are a few beach resorts in this area but this is good for a budget and good for a family.
Buracai De Laiya Hotel And Resort Review
We spent a day at the resort giving us included access to all the resort amenities including breakfast. We were warmly greeted by the staff and made to feel at home.
Diamond Restaurant
On the lower ground floor of our resort, you can view the ocean as well as the refreshing splash of the infinity pools. They serve Filipino dishes including the
Batangas' special recipes and an array of Asian and Italian cuisines. They offer a mandatory dinner buffet for 500 pesos. Food is okay but it's only limited to 5-6 dishes, so I think you're not getting what you paid for. The breakfast buffet is good!! (In my opinion) definitely way better than the dinner buffet.
The food was good for the price, we even ordered seconds of Batangas Lomi we liked it so much (LOL)… I wanted to try one of their Halo Halo's, but they had run out of ingredients at the time.
Buracai de Laiya Rooms
The resort was clean and our room tidy and presentable. Rates are for an overnight stay only. It has inclusions of plated breakfast, access to the beach & infinity pools, and free video. Check-in time is 2 pm and check out is 12 noon. An additional P1,000 per person per night applies beyond the standard room accommodation. Only 1 excess person is allowed per room. All transactions in the hotel are on a CASH BASIS.
Stairs ONLY: Be advised, the hotel is 5 stories high without an elevator so if you have a problem with stairs then a lower floor room would be better for you.
The hotel, being fairly new, is in good order and well maintained. We found our room to be pleasantly clean and comfortable. The bedding and linen were fresh and clean with no "sickness" at all.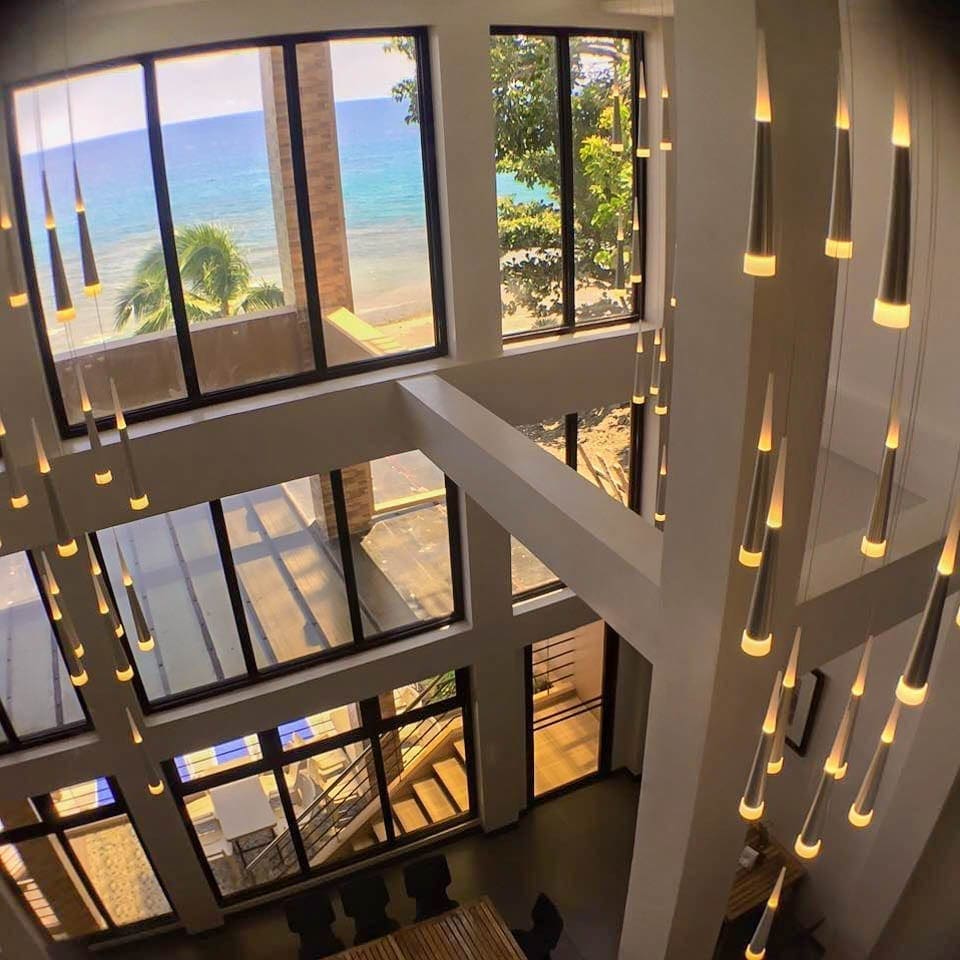 The Platinum Bar on the viewing deck is a great place to be at sunset. Relax back with a drink, good conversation, amazing views, and take in the sunset.
What I loved about the Buracai De Laiya Resort was the ambiance. The beachfront views are lovely, the cool ocean breeze set the mood for relaxation. We loved the layout and feel of the resort. It was an easy place to just chill, lay back, and unwind.
If you like to snorkel, then make sure you bring your gear. You can snorkel right off the beach behind the resort and the water is full of fish and coral in easy reach… no need for a boa!!!! – Buracai De Laiya
Travel Tips
Only Smart has a signal, you have to walk by the beach to get some Globe signal. They also don't have WiFi, so this is the perfect time to bond with no distraction!
You may bring your own food, light snacks only Corkage fee will apply for PHP 500 for 5 persons and below. In excess of 5, an additional PHP 100 per person will be charged a corkage fee for a bottle of liquor is PHP 100 and PHP 300 for a case of beer.
Non- alcoholic beverages like soda, juices & water are exempted. Bringing any cooking equipment especially rice cookers is strictly prohibited. They don't allow cooking, but you can grill at the beachfront using their equipment there's a space for parking. Pets that are not allowed.
Mnl-Lipa -₱ 180-210
Lipa-San Juan – ₱70
SanJuan- Laiya (Brgy. Hugom) – ₱40-70
Tricycle (depends) – ₱150-200
Day tour rate: ₱800-1,000 (with lunch inclusion)
Travel time: 3 – 4 hrs. from Manila
How To Get To Buracai De Laiya
From Manila, go to the Cubao / Buendia Bus Terminal
Catch a bus for Lipa.
Get off the bus at Sm city Lipa (SM Mall).
Take a Jeepney to San Juan, tell the driver to let you out at Laiya Terminal. Catch a tricycle going to Buracai de Laiya Beach resort.
The most expensive accommodation isn't always the best choice; what matters is value for money. A combination of location, good reviews, facilities, services, and pricing allows you to get the most out of every peso you spend. However, always remember that you get what you pay for.