While the cluster of resorts along Manila Bay is easy enough to find, you'll have to work a little harder to check out these 12 Remote Luxury Resorts in the Philippines.
Philippines dazzling tropical country in Southeast Asia in the western Pacific Ocean consisting of more than 7,100 islands is abundant in marine life, colorful reefs, and pristine beaches among its selling points.
Whether you're in search of an all-inclusive luxury resort or a chilled-out beach villa, the Philippines has no shortage of remote retreats to whisk intrepid travelers off the grid.
ALSO READ: 21 Philippines Tourist Spot that Looks Like Foreign Destinations
PH 14 Remote Luxury Resorts
1. Amanpulo Resort, Pamalican Island Palawan
Accessible only by private plane, Amanpulo is around an hour from Manila, yet feels a world away from anywhere, blissfully marooned in the middle of the Sulu Sea. A private island fringed by white sand beaches, the resort offers a back to nature experience in supreme comfort and privacy.
Casitas are built into the verdant forest canopy, perched on the hillside or set along the 6.5km beach, while each of the private Villas has its own beachfront. The calm, clear seas are ideal for kite surfing, while divers can explore the coral reef, teeming with marine life just 300 meters offshore.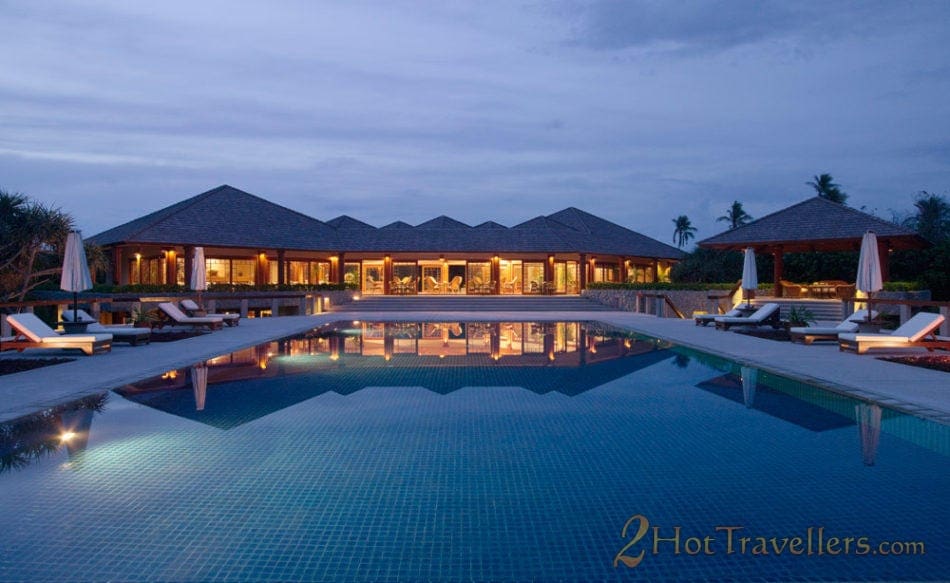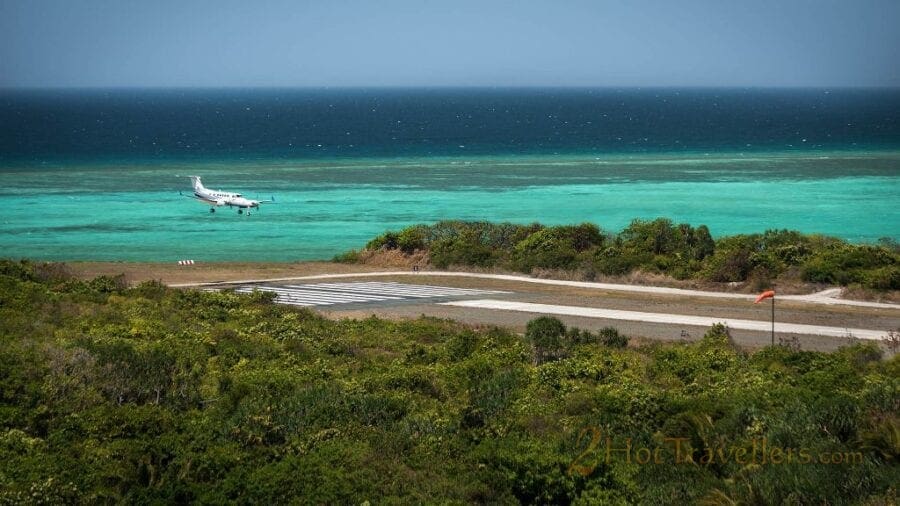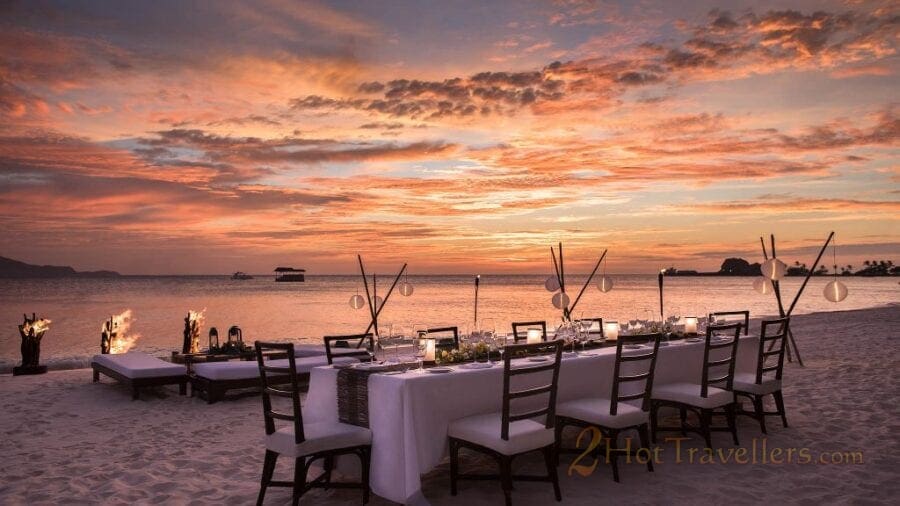 2. Lagen island Resort, Palawan
Nestled between a lush four-hectare forest and a calm, shallow lagoon, Lagen Island, El Nido Resorts' Eco-Sanctuary island resort, has the densest forest over limestone out of the 45 islands and islets of Bacuit Bay. Lagen Island serves as a sanctuary for a diverse variety of birds and mammals. Observe and delight in different endemic species flourishing in their natural habitat. Hike through Lagen's forest trail which leads to a rewarding view of one of the coves on the other side of the island.
Lagen Island has a total of 51 rooms that incorporate timber recycled from old Filipino homes for floors and furnishings to evoke charm and quiet luxury. Designed for maximum tranquility and calm, all rooms feature full-height sliding glass doors that open to a private veranda. There are 20 Forest Rooms located at the fringe of the forest; 4 Forest Suites are located at the upper level of the Forest Room Complex. There are 18 Water Cottages built on stilts above the water, and 9 Beachfront Cottages with a panoramic view of the cove. Lagen Island is known as an Eco-Sanctuary resort and it offers enriching encounters around the resort.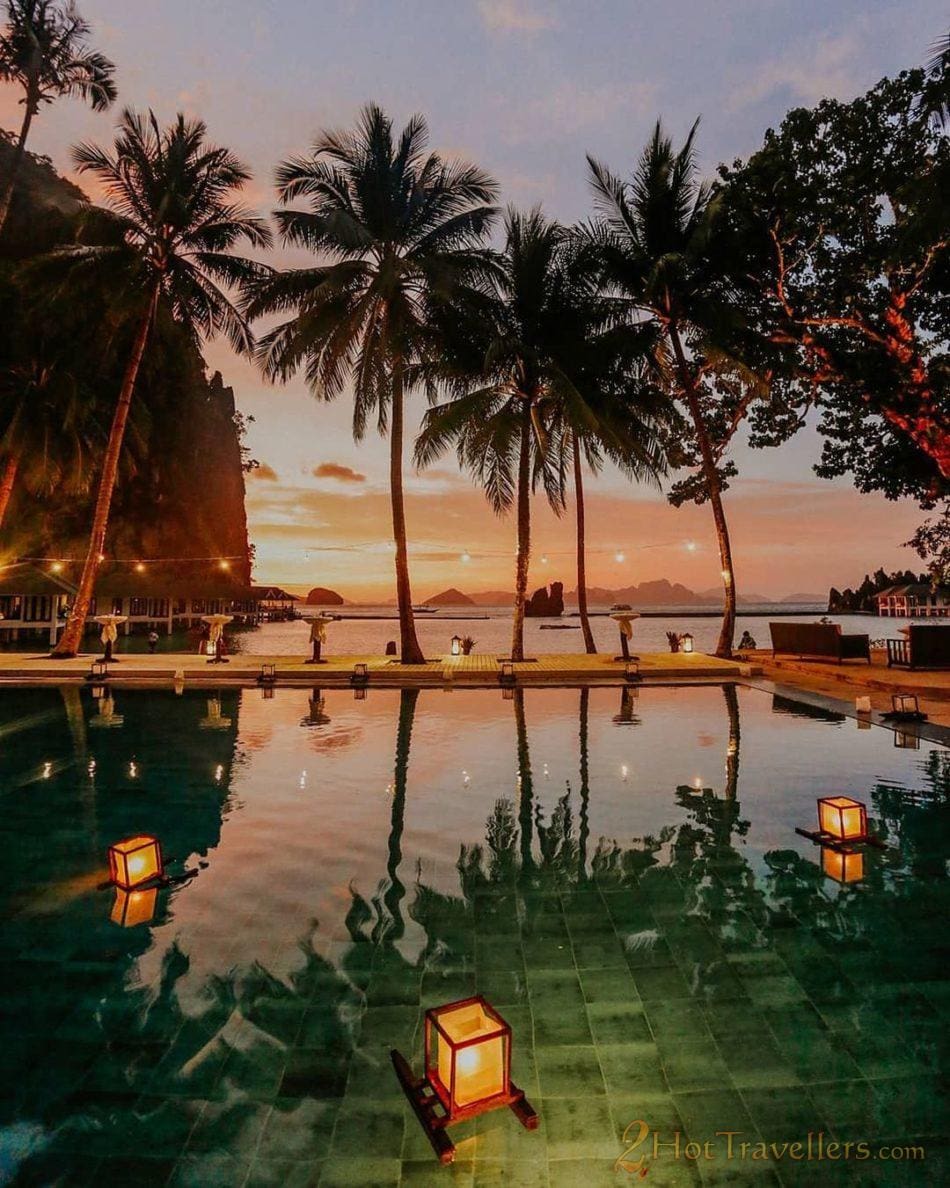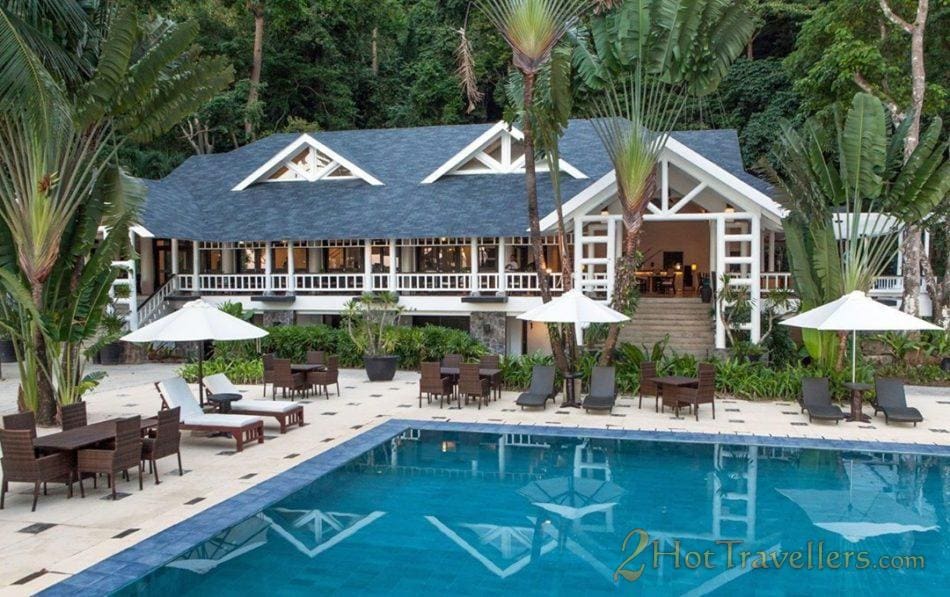 3. Cauayan Resort Palawan
With a stay at Cauayan Island Resort in El Nido, you'll be on the beach, and 6.2 mi (10 km) from El Nido Dock, and 6.6 mi (10.7 km) from Corong Corong Beach. This 5-star resort is 9.7 mi (15.6 km) from Duli Beach.
Make yourself at home in one of the 30 individually decorated guestrooms, Pamper yourself with a visit to the spa, which offers massages and body treatments. Enjoy international cuisine at Cauayan Restaurant, a beachfront restaurant, or stay in and take advantage of the room service. Relax with your favorite drink at the bar/lounge or the poolside bar.  A roundtrip airport shuttle is complimentary during limited hours.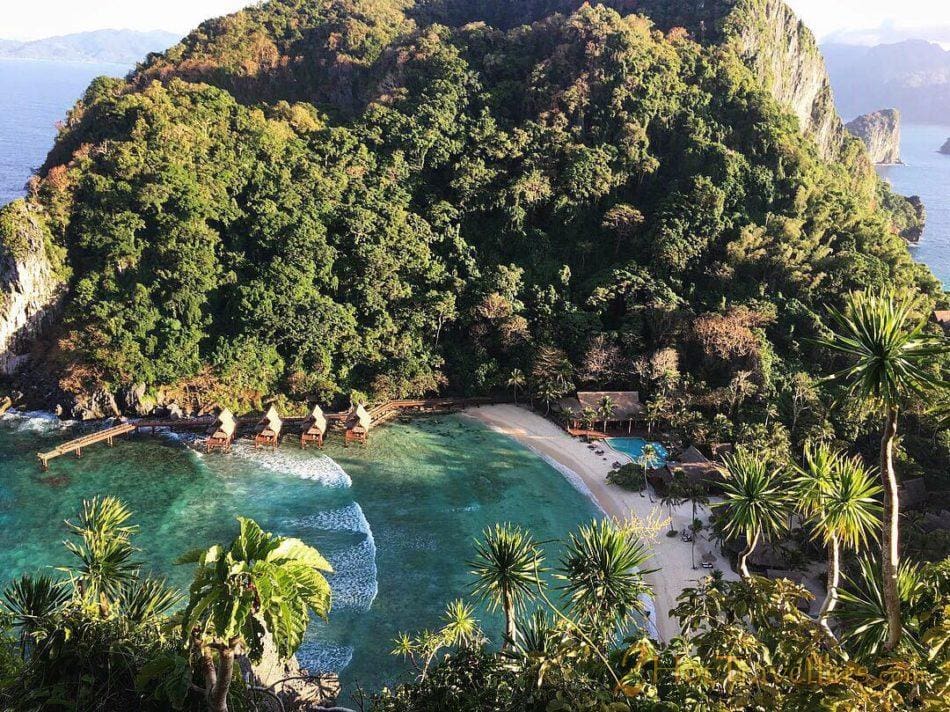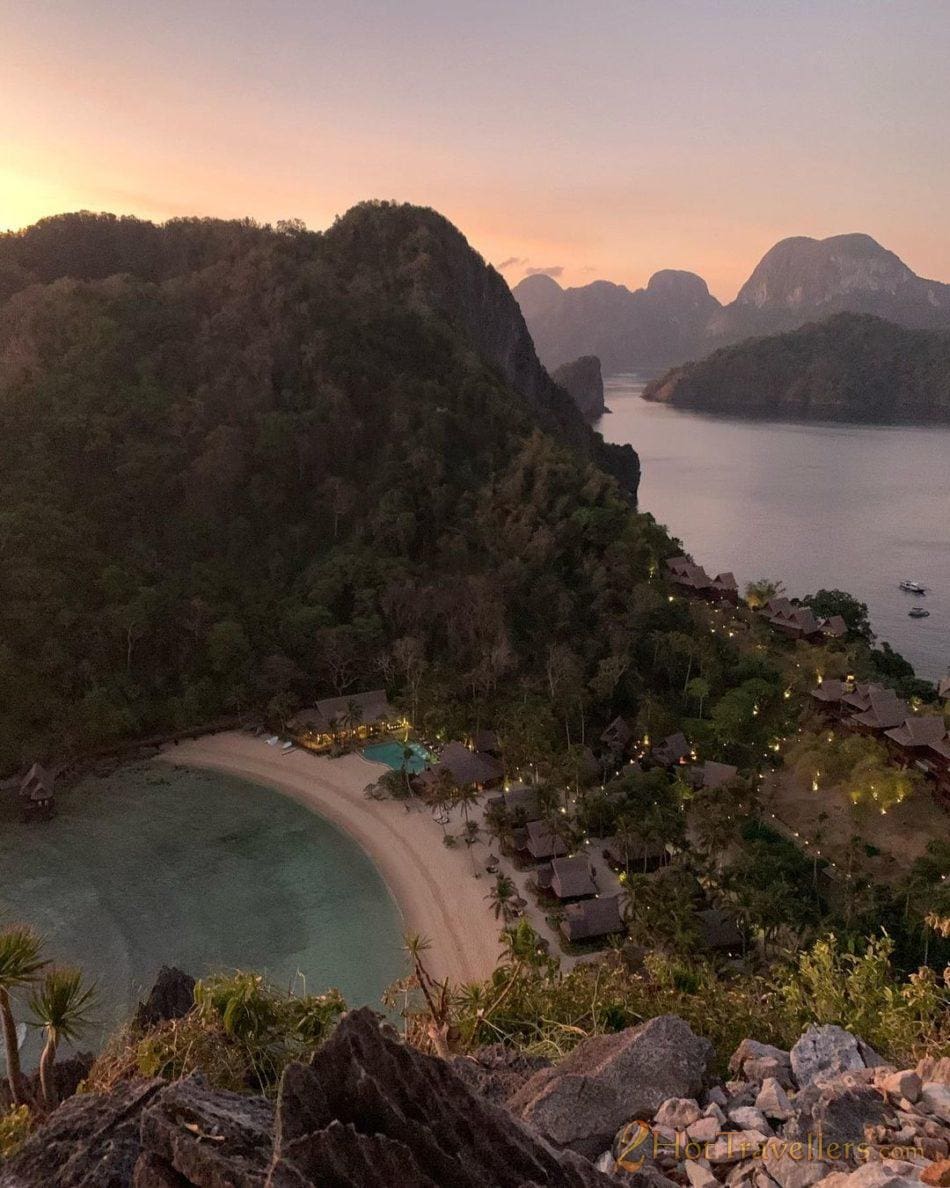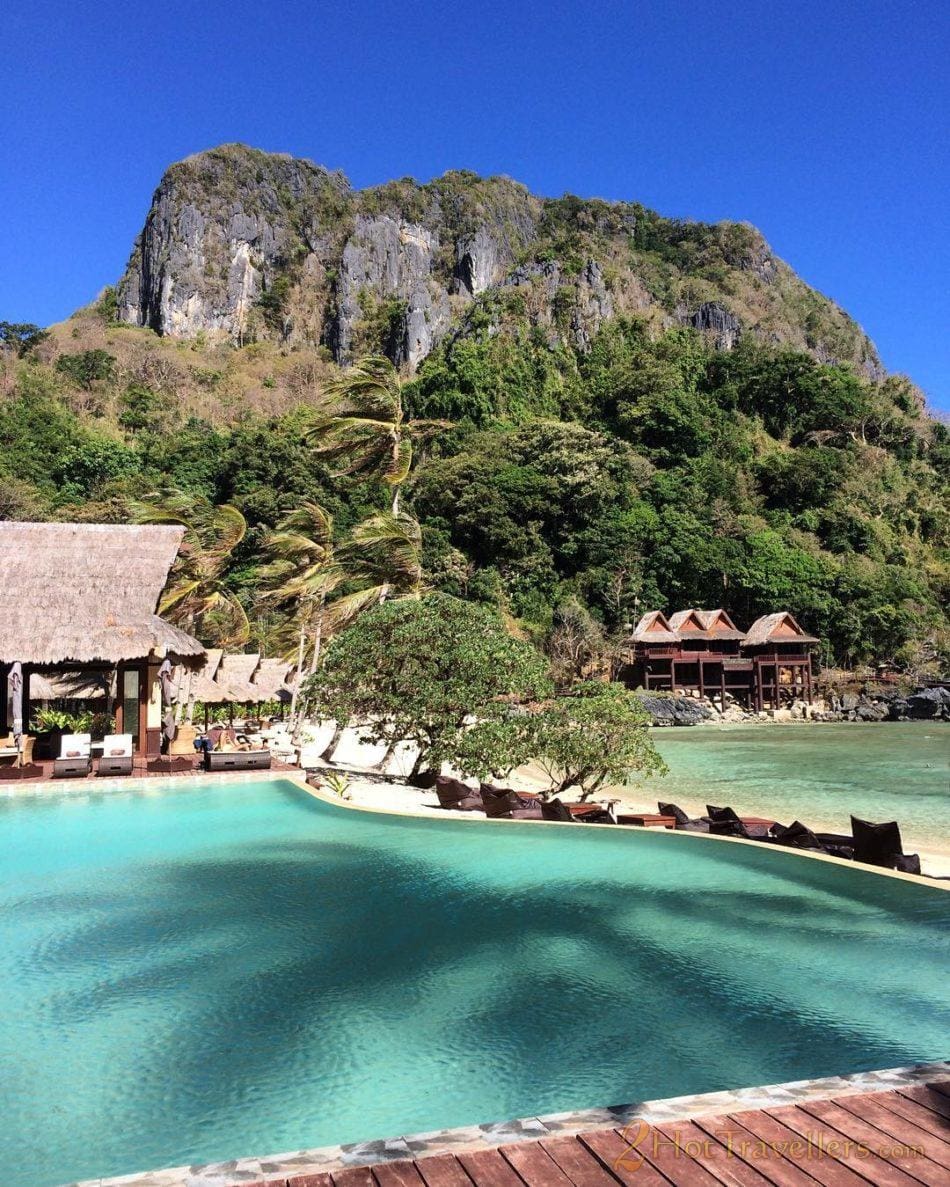 4. Apulit Island El Nido Palawan
Apulit Island Resort, set in Taytay Bay in North-eastern Palawan, offers exciting and exhilarating activities for the thrill-seeker. It has 50 water cottages that combine traditional Filipino architectural style with contemporary design. Apulit Island is accessible via a 90-minute van ride from Lio Airport to Taytay Town Port, followed by a 45 to 75-minute boat transfer to Apulit Island.
Guests may climb and rappel down the 60-meter limestone cliff, with birds' eye-view of the whole island. Dive and discover sunken treasures just off the beach, with a Japanese shipwreck and a plethora of marine species to greet guests.
Put on headlights and go spelunking in the different caves of Apulit, or hop on the banca as one go island hopping and snorkeling with the resort's marine sports guides to identify and explain the different species around the area. The resort's guest activities coordinators will help plan your adventure-filled holiday at Apulit Island.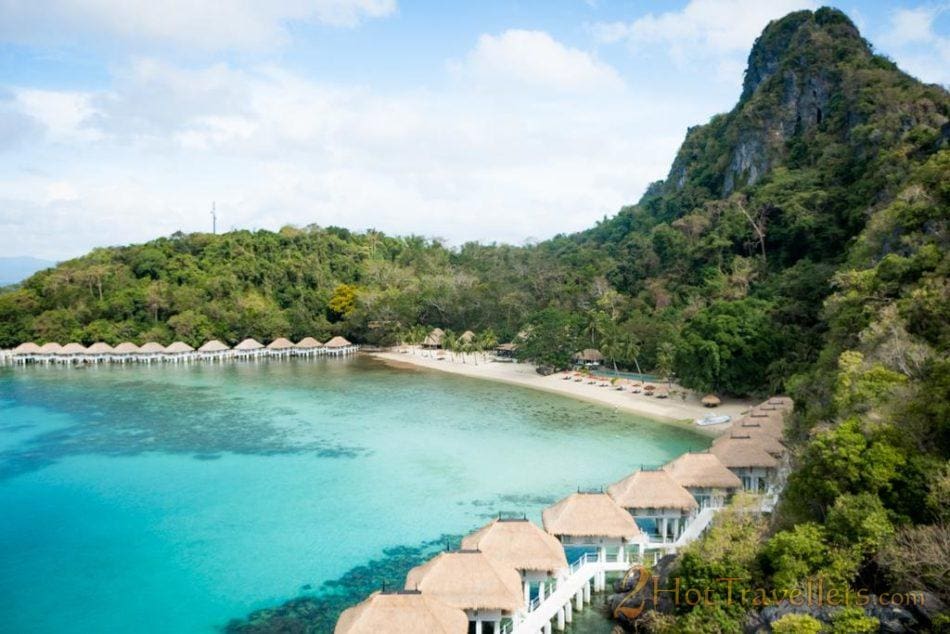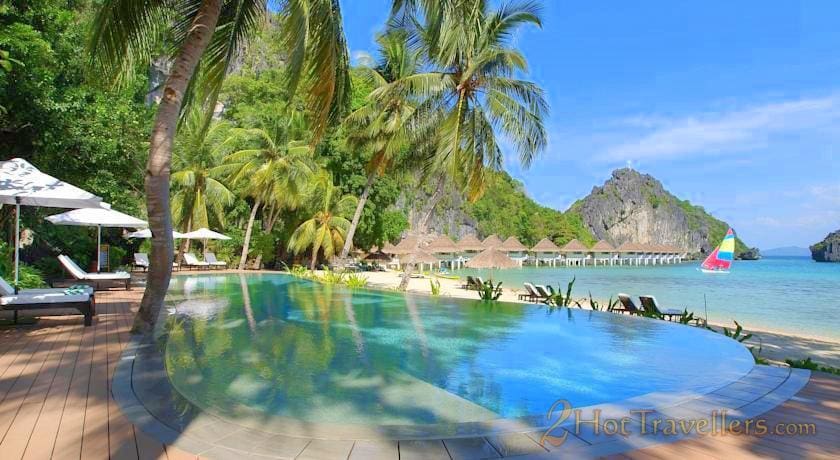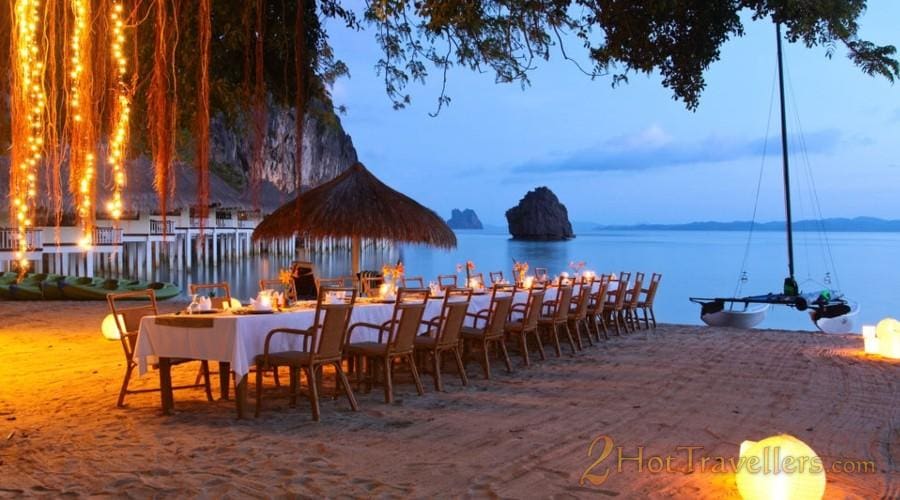 5. Miniloc Island Resort Palawan
Miniloc Resort offers guests a back-to-basics Filipino coastal village vibe with rustic or native design. In Miniloc, guests can swim with the 1.5-meter jackfish and get up close and personal with a variety of marine species just at its house reef.
Miniloc Island is also a gateway to discover and explore the popular attractions around Bacuit Bay, such as the Big and Small Lagoons and Snake Island. It has a total of 50 rooms that are thatched-roofed and furnished with indigenous Filipino materials. Floors are wooden and walls are covered in woven bamboo slats, locally known as sawali. All rooms have a private veranda.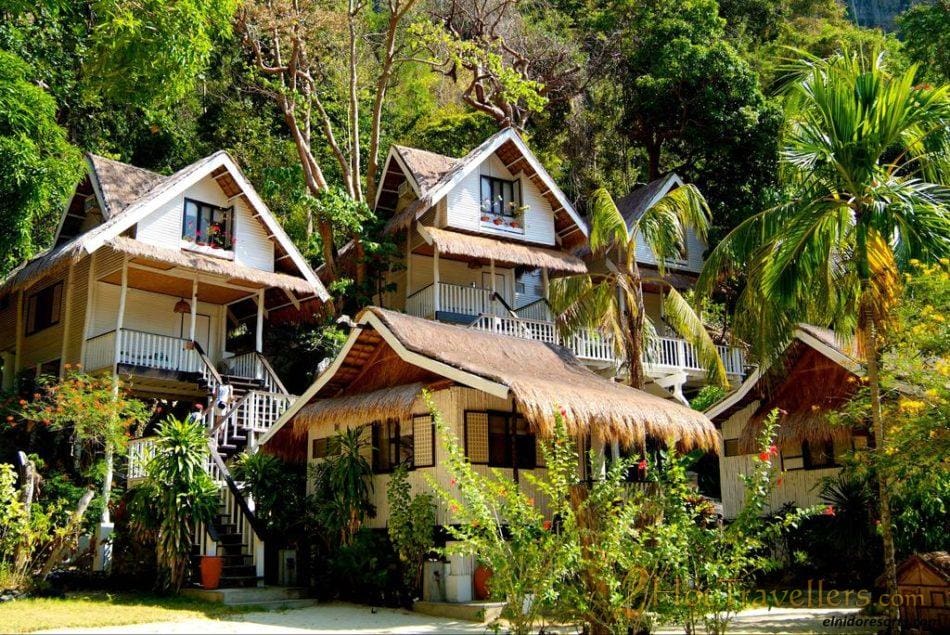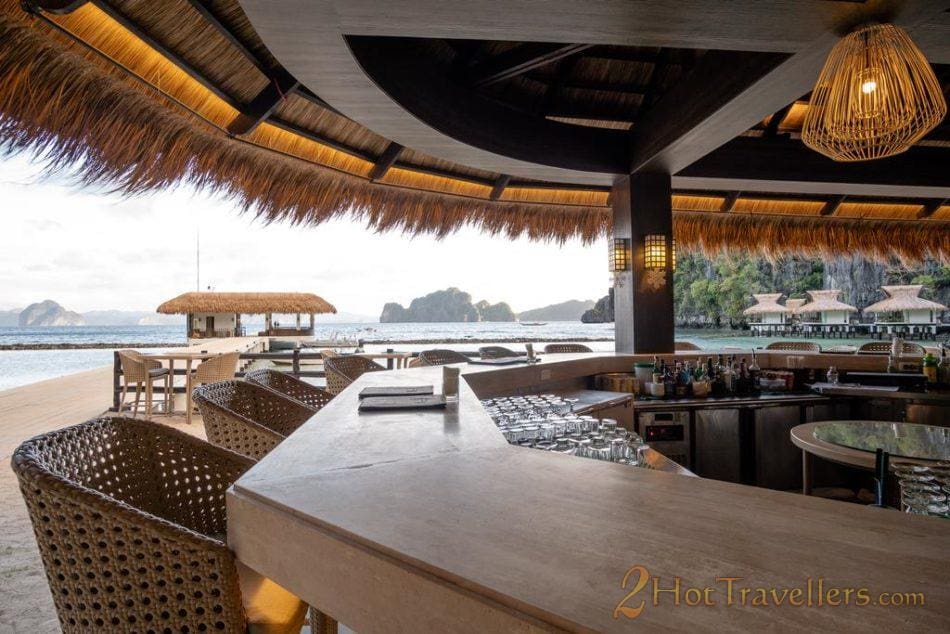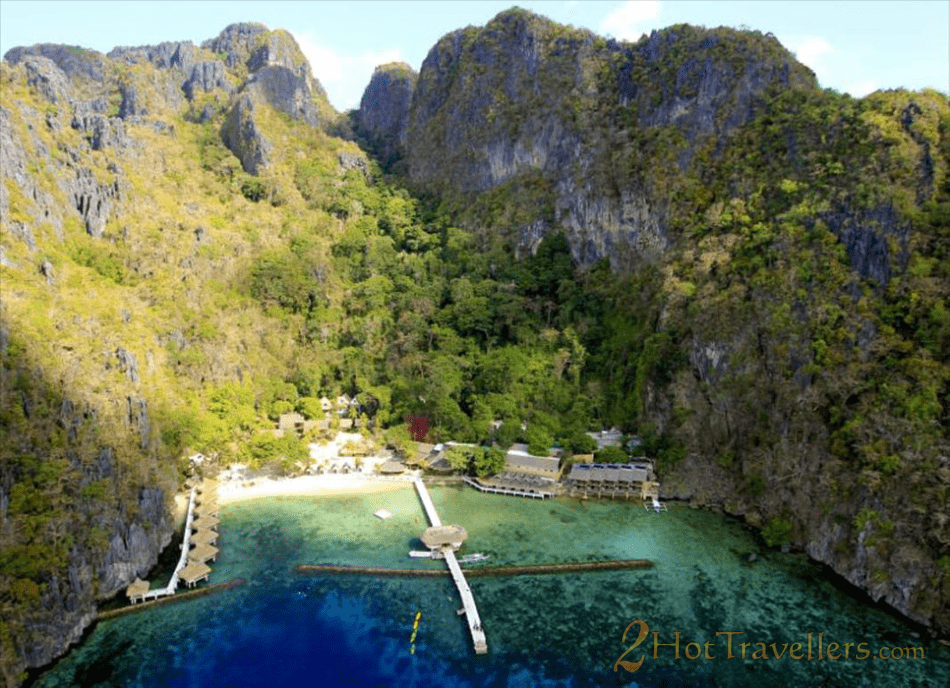 6. Qi Palawan
For those looking for peace and quiet, Qi Palawan is about as secluded as it gets. To access this completely solar-powered retreat, travelers must catch an hour-long flight from Manila to El Nido Airport, followed by an hour's drive to the northeastern edge of Palawan island. You know you're close when the van bumps along a dirt road in the middle of nowhere.
Once there, it's nothing but sea views, breezy hammocks and lush gardens. Taking eco-conscious measures to reduce its carbon footprint, the retreat features back-to-basics luxuries such as locally made soaps, an organic herb garden and open-air architecture.
There are seven bamboo villas, a yoga pavilion and an open-air restaurant helmed by one of the best chefs in Palawan. Guests can try their hand at kiteboarding on the beach or take a day trip to nearby dive sites and remote islands.
Other highlights include a picnic lunch, snorkeling or a venture to the lush Linapacan island group, considered one of the most pristine locations in the Philippines.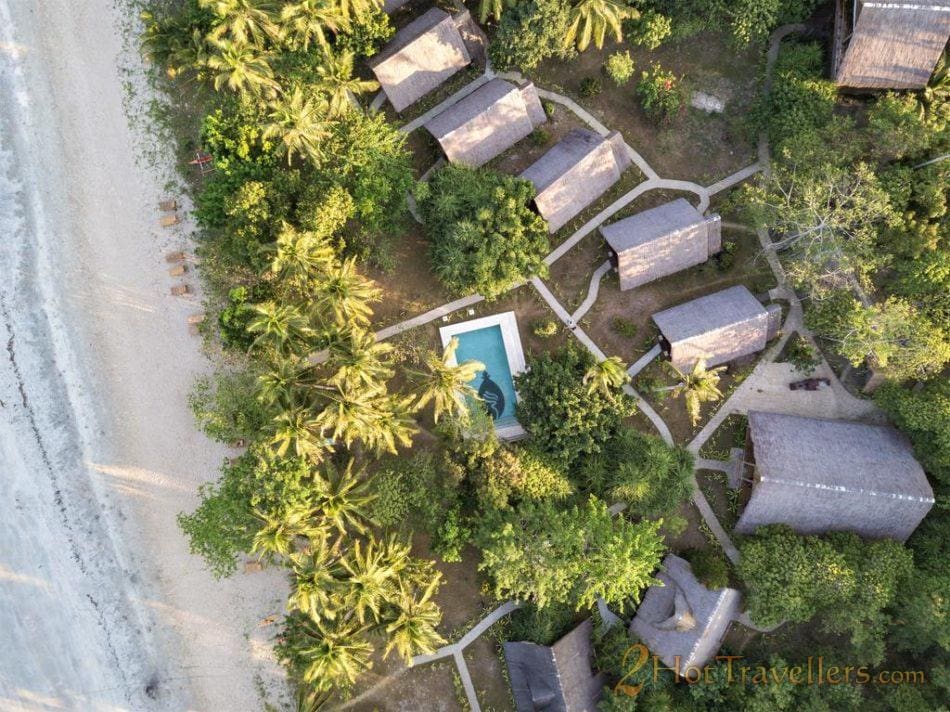 7. Pangulasian Island, Palawan
Pangulasian Resort is El Nido Resorts' Eco-Luxury island resort in Bacuit Bay, El Nido. The resort is set fronting a pristine beach and against a backdrop of tropical forest. Also known as the "Island of the Sun", Pangulasian has breathtaking views of both the sunrise and sunset. Frolic in the 750-meter stretch of white sand beach and be amazed by the marine sanctuary right at its doorstep. Discerning guests will be treated to luxurious amenities and impeccable and personalized service at Pangulasian Island. The resort offers a total of 42 deluxe accommodations built with contemporary Filipino and cutting edge "green" design.
Pangulasian Island has 42 deluxe accommodations. There are eight Canopy Villas perched on stilts above the forest, and 24 Beach Villas and six Pool Villas close to the water. Each villa has a floor area of 65 sqm plus a 15 sqm private balcony and can accommodate up to three persons. 
Pangulasian Island appeals to the highly discerning traveler looking for exclusivity and bespoke pampering. Take a private sunset cruise, indulge in a romantic dinner by the beach, or relax at the spa with our luxurious treatments.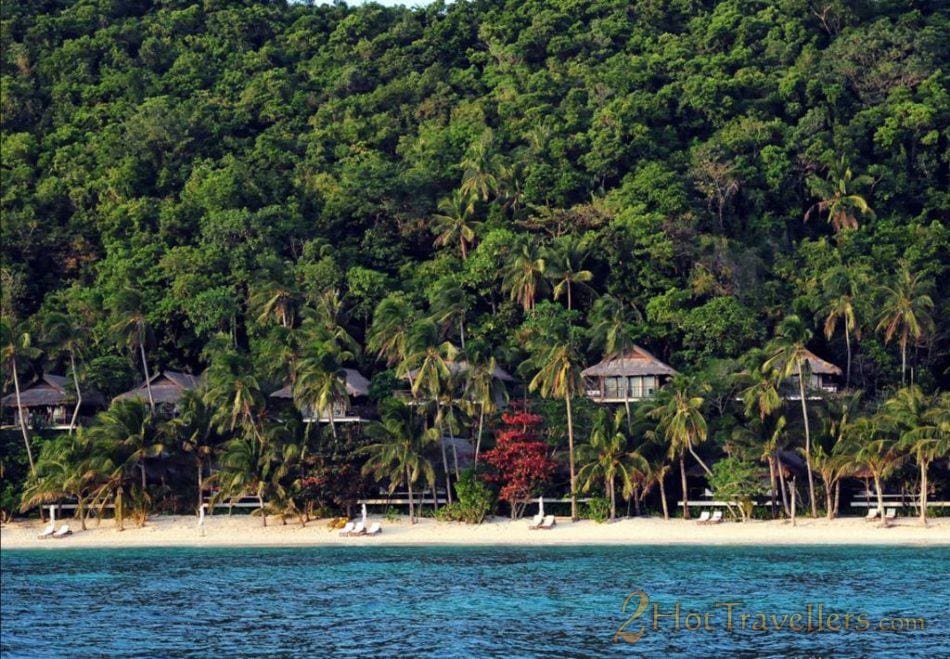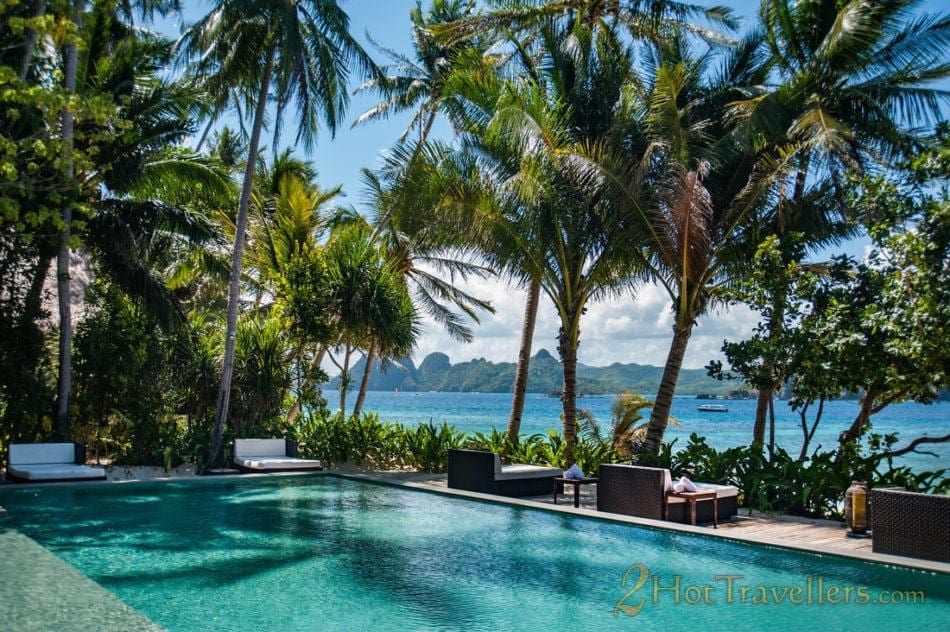 8.Atmosphere Resorts & Spa, Negros Oriental
Atmosphere Resorts & Spa is run by two British ex-pats — a scuba diver and an architect — who met in the Philippines more than 15 years ago. The husband-and-wife duo couldn't have picked a better location — picture dark volcanic sand beaches in the shadow of Mount Talinis. Thanks to minerals in the sand from the nearby volcano, the area's marine life are unique and varied, attracting underwater photographers and divers from all over the world. The address conveniently sits opposite the Apo Island Marine Sanctuary, which makes for easy snorkeling and diving excursions.
Emphasizing health and wellness, Atmosphere comes fully equipped with a gluten-free and vegan-friendly bakery, daily yoga classes by the beach, and a secret garden-like spa where treatment pavilions are surrounded by waterfalls.
The destination is relaxing, but getting there takes some effort. To reach the resort, travelers fly into Dumaguete airport — about an hour-long flight south of Manila — followed by a 40-minute drive.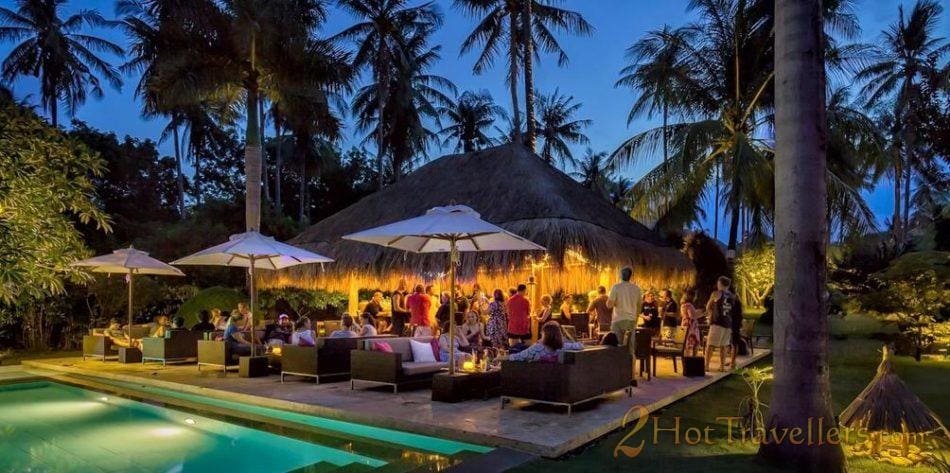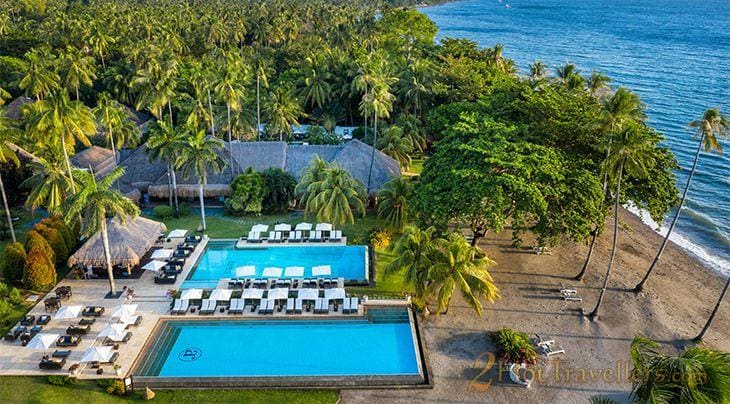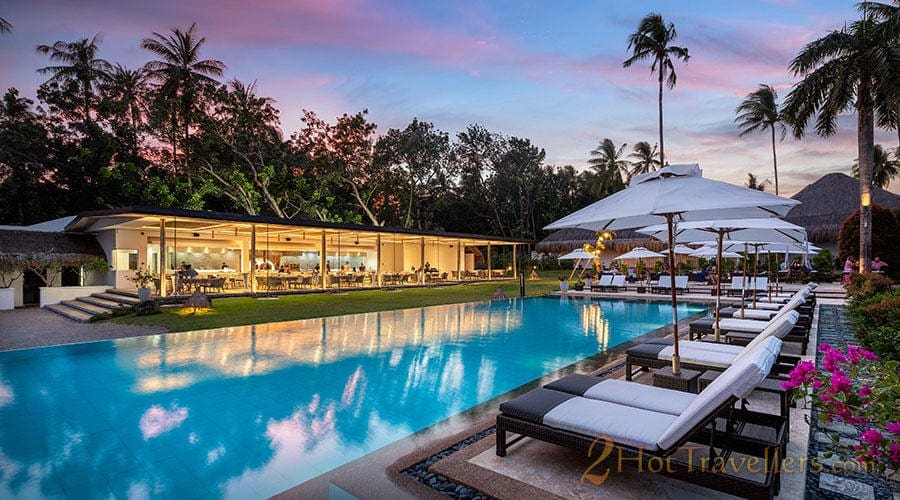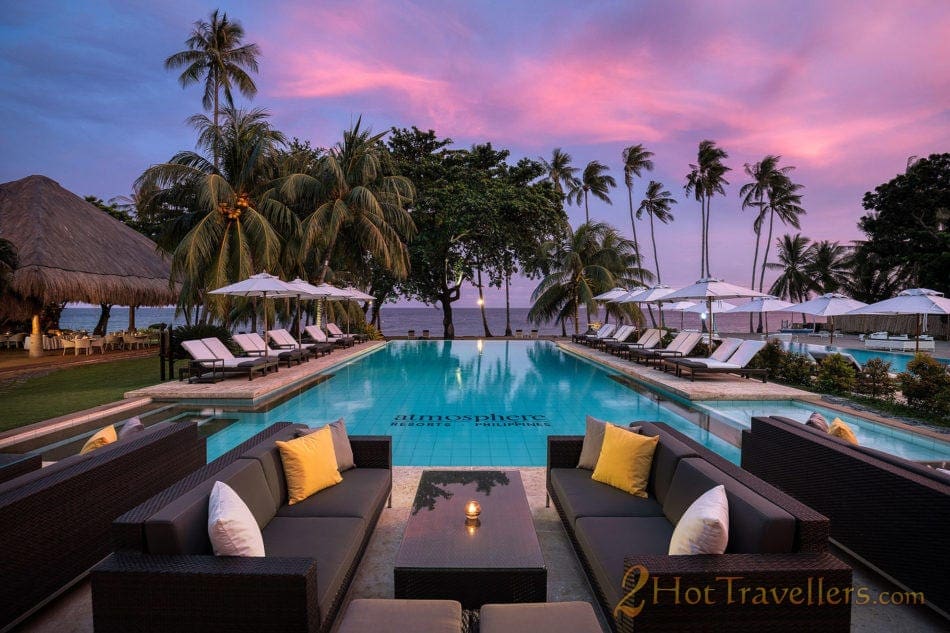 9. Siargao Bleu Resort & Spa
Siargao Bleu Resort & Spa takes you on a one-of-a-kind island paradise vacation at the Philippines's Surfing Capital as the beach fronts a spectacular view of crashing waves and the famous CLOUD 9, a 5-minute walk. The resort boasts as the grandest and only spa resort on the island with 40 luxury accommodations with a personal butler upon request to assist you with all your needs, jacuzzi tubs in the floating cottages.
They have a 1600 square meters swimming pool and the SPA services a call away with highly trained therapists. They offer you the only seafood restaurant in the area. It's a one-hour flight from Cebu to Del Carmen in Siargao, then a 45-minute complimentary van transfer to the hotel.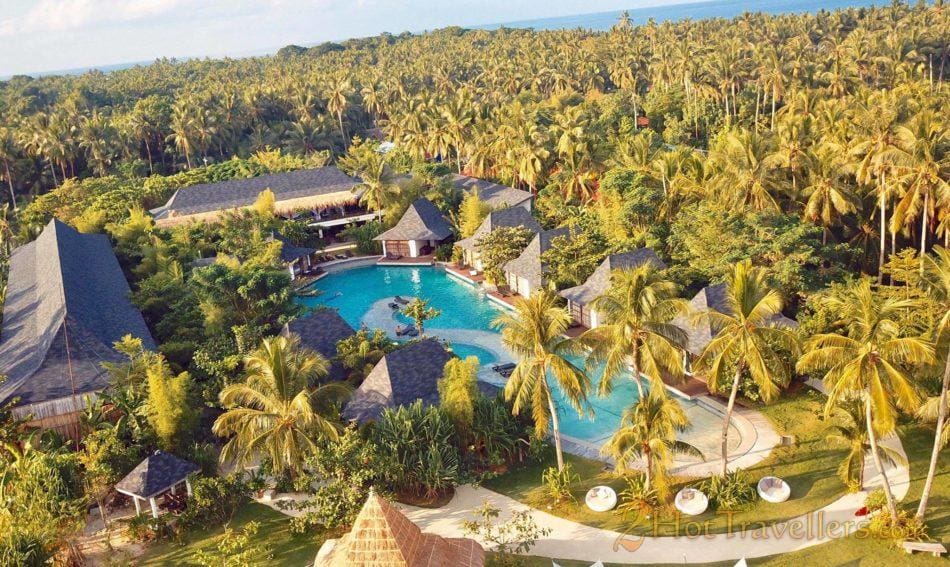 10. Naypalad Hideaway, Siargao
This is the place for carefree island vibes and a stretch of empty sand.
Nay palad provides a remote outpost on Siargao Island in the far south of the archipelago, about a five-hour trip from Manila via Cebu, followed by a 40-minute ride in the hotel's jeepney bus.
The retreat offers all-inclusive rates, so you can spend your time sipping sundowners rather than counting coins. From open-air pavilions to coconut tree groves, frangipani gardens, a hidden treehouse, romantic day beds, and bird's nest woven chairs, it seems every detail has been designed to celebrate the area's natural beauty.
The upscale address is also a favorite among well-to-do surfing enthusiasts, thanks to its proximity to Cloud 9 — a break in the Philippine Deep trench known for picture-perfect tubes. Can't balance on a board? No to worry — there's a wide lineup of activities, including deep-sea fishing, kayaking, wakeboarding, island hopping, biking, and relaxing evenings at the outdoor cinema.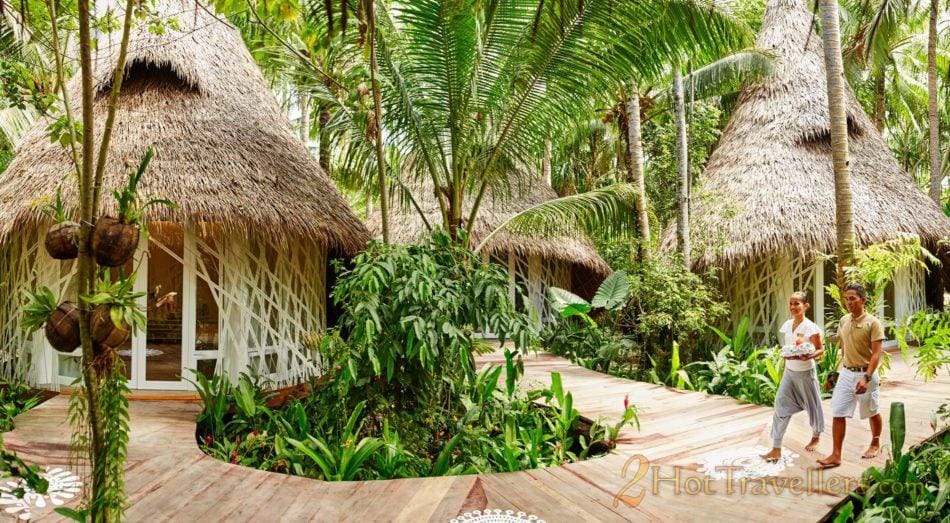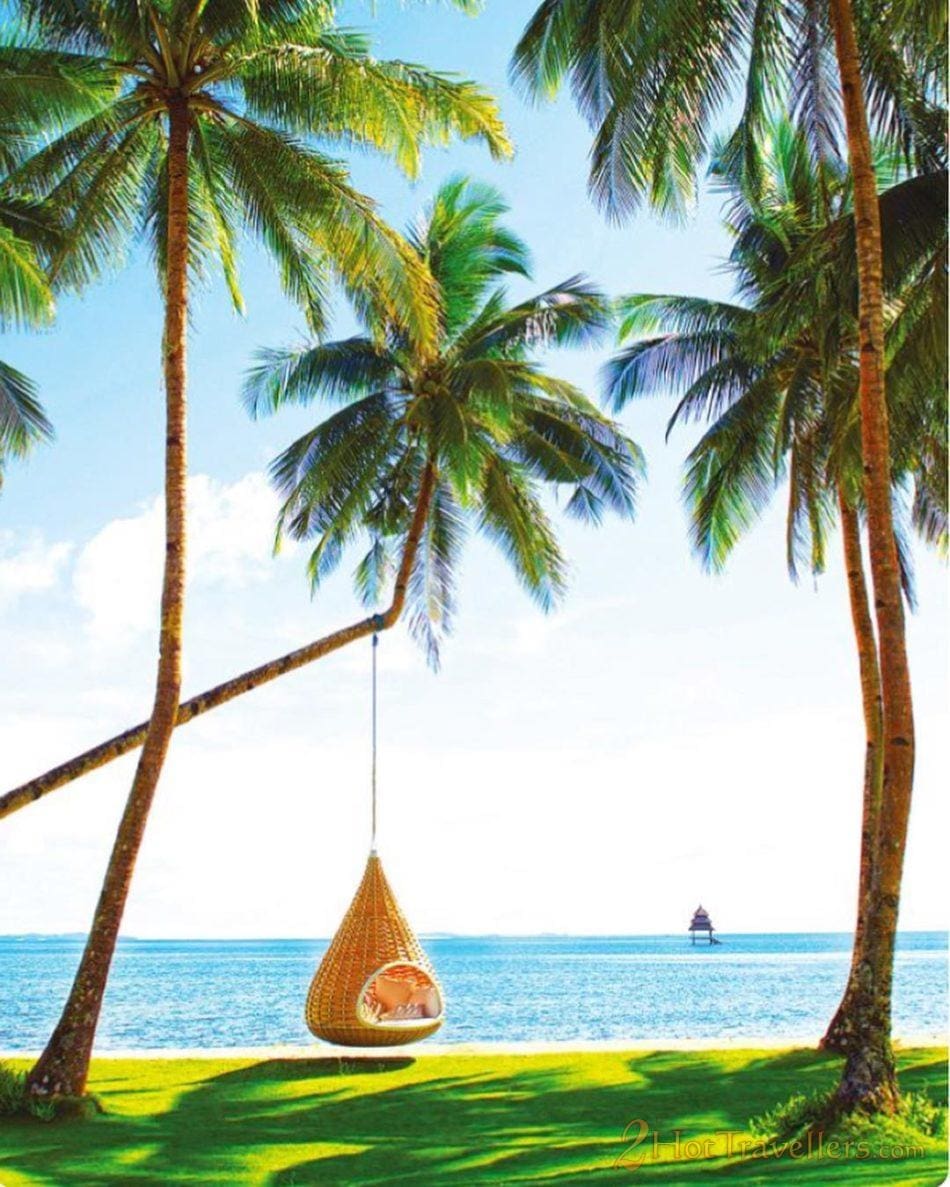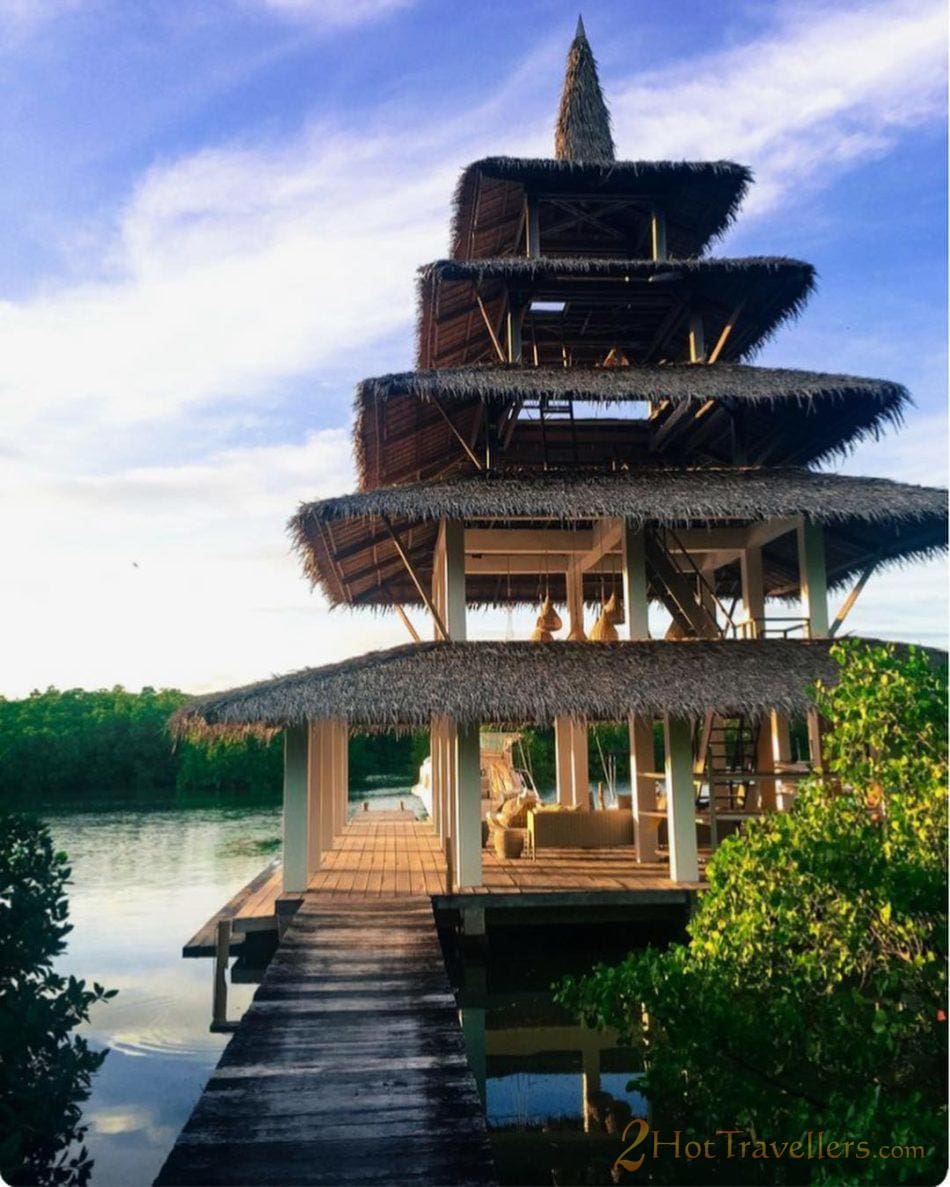 11. Eskaya Beach Resort & Spa Bohol
Located on Panglao Island in the south-central Philippines, Eskaya Beach Resort & Spa stretches across 16 scenic hectares of rustic gardens and dramatic cliffs. The luxury resort feels remote thanks to its position on the southernmost tip of Bohol, but it's relatively easy to reach — just a one-hour flight south of Manila, followed by a 30-minute drive.

Relaxed yet refined, all the thatched-roof villas feature private pools, but the hotel's infinity pool is the pièce de résistance. The turquoise water tricks the eye into thinking the pool spills into the ocean. The pool may look inviting but there are plenty of other water activities at this oceanfront address — from dolphin watching to sunset cruises, snorkeling, scuba diving, kayaking, and island hopping.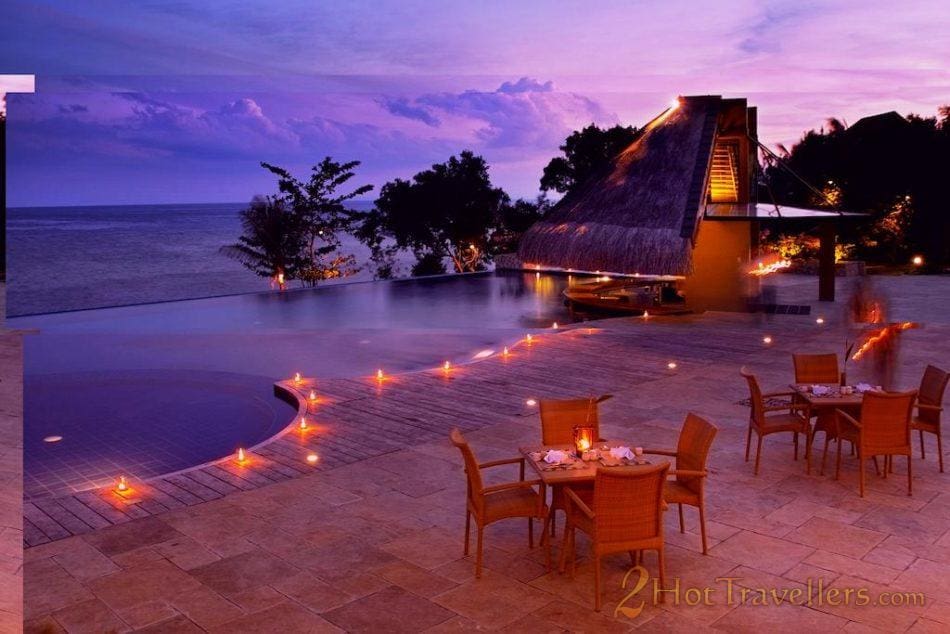 12. Amarela Resort, Bohol
A low-key beach resort overlooking the Bohol Sea, Amarela is at home on a secluded beach on Panglao Island. Set in the southwest of Panglao Island, 8.4 km from Hinagdangan Cave and 43.9 km from Bilar Man-Made Forest, Amarela Resort is a tropical retreat that highlights a private beach area, a restaurant on-site, and an outdoor swimming pool.
The private beach area of the resort provides utmost relaxation while the outdoor swimming pool offers soothing views of the mountain. Fishing, diving, and snorkeling are some of the on-site water activities available. Guests are also invited to relax at the library or marvel at the art gallery which showcases wood crafts, paintings, and sculptures made by local artists.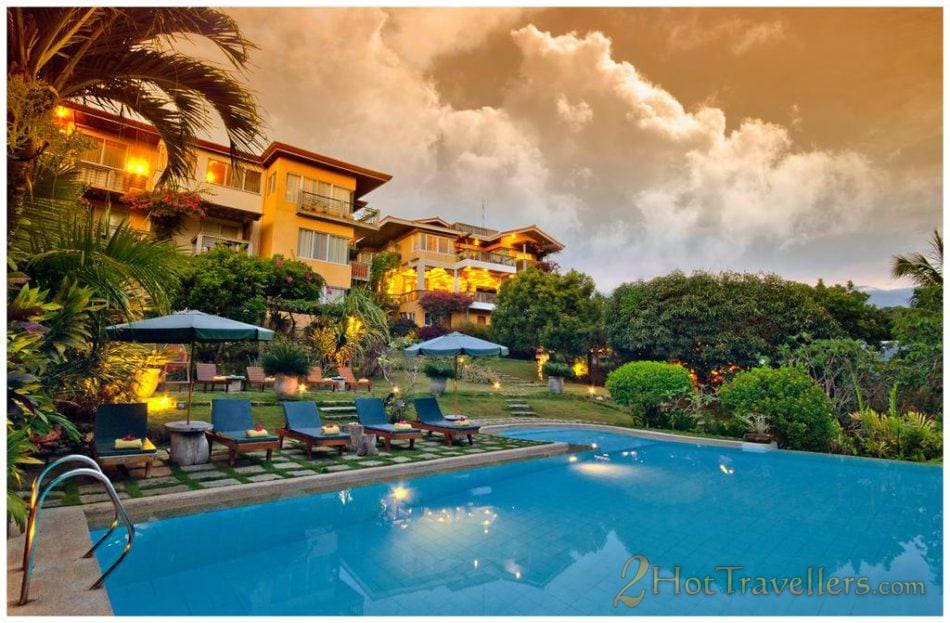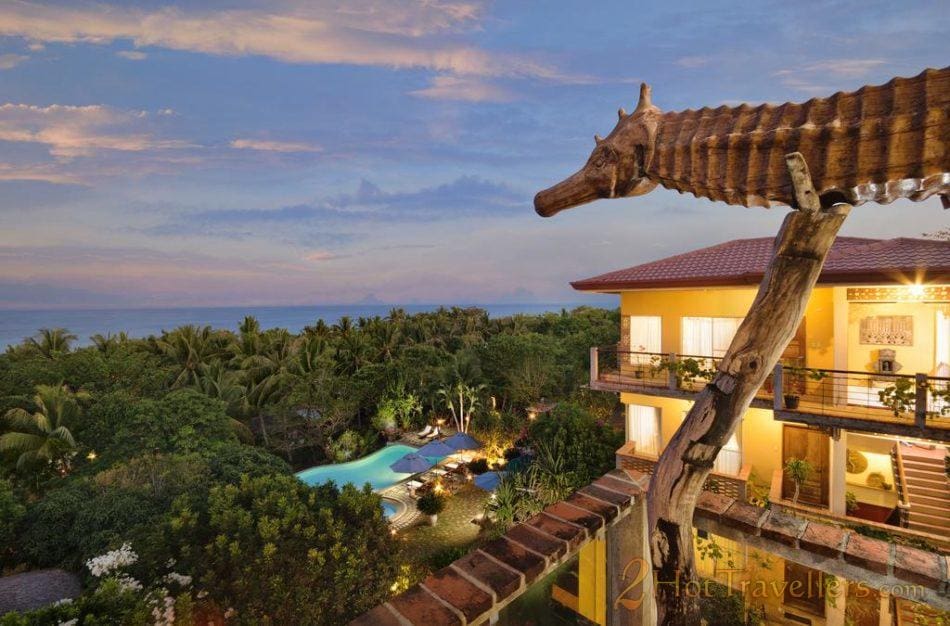 13. Ticao Island Resort, Bicol
Hidden away in the southeastern Bicol Region of the Philippines, Ticao Island Resort enjoys a long stretch of sand all to itself. It's a well-earned reward after a long trip. To reach the island outpost, expect an hour-long flight to Legazpi City from Manila, followed by a 1.5-hour drive and a 2-hour outrigger boat ride.

The beachfront cabanas and rustic surrounds are perfect for back-to-basics getaways — picture simply appointed thatched-roof huts, breezy decks, an open-air restaurant, and uninterrupted ocean views. Thanks to the manta ray and whale shark populations nearby, the address has developed a reputation for its diving classes and tours. Ticao Island Resort offers a full roster of activities, including jungle treks, horseback riding, billiards, darts, and outings to nearby Mayon Volcano.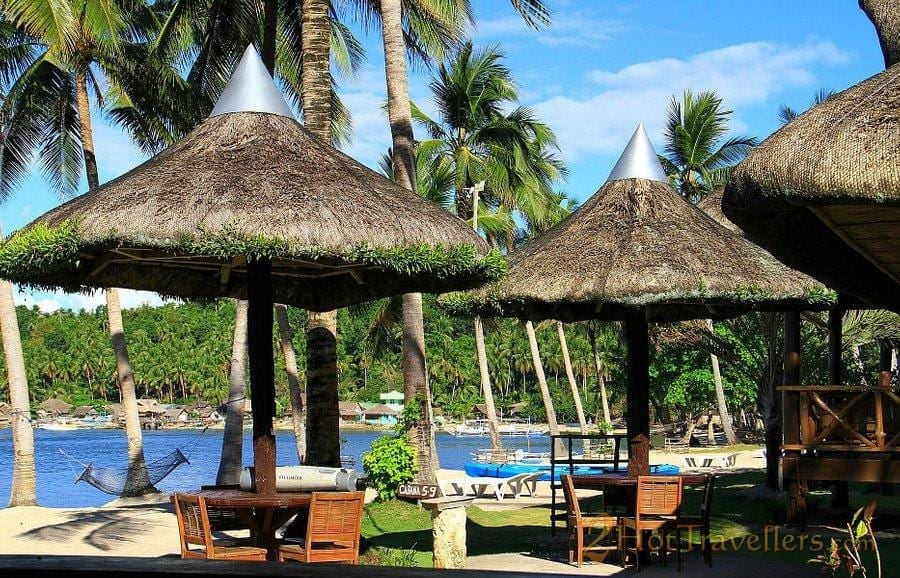 14. Tugawe Cove Resort
Hummingbirds, dense forests, limestone cliffs, waterfalls, and lakes — Caramoan Island is an idyllic corner of south-central Philippines.
In the middle of it all is Tugawe Cove Resort. Built along a hillside above Lauing Bay, the elevated outpost offers panoramic views of Sombrero, Loto, and Litao islands in the distance. There are an open-air restaurant and a hilltop infinity pool, and a path that leads down to the water. At the beach, guests can hop into a kayak, don snorkeling gear, or try their hand at paddleboarding.
The rooms' warm wood finishes and ocean tones echo the surrounds — with options to stay in three distinct areas: by the nearby lake, along the hillside, or at the very top. Reaching Tugawe Cove Resort requires careful planning to align with the limited flight schedules. Expect an hour-long flight from Manila to Virac, followed by a 45-minute ride to Codon port, and a 30-minute boat ride to the resort.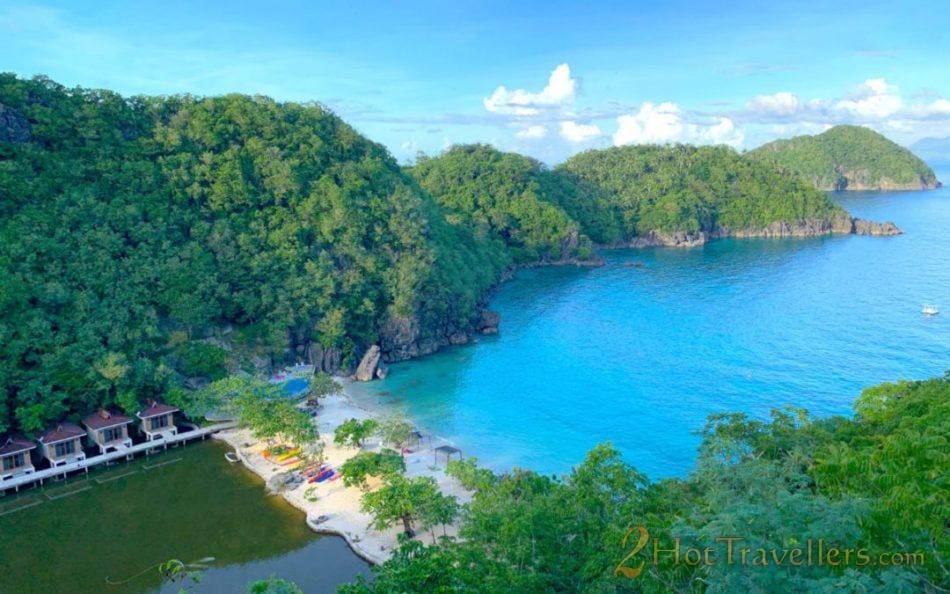 With more than 7000 islands in the Philippines, there are endless beach resorts that you can discover as you explore the country. If you're an island lover, research island hopping tours that you can add to your itinerary.
Why not book a Manila City Tour? Explore and discover things around Manila. Your tour kicks off from the financial district of Makati including Fort Bonifacio and the American Cemetery, then moves on to the country's capital, Manila. There, you will first go for a brief picture stop at Rizal Park, in honor of the country's national hero, Dr. Jose Rizal. Then, you will go to the historic Walled City of Intramuros where you will travel through the cobbled streets of San Agustin Church, the country's oldest stone church, to view its wide collection of ecclesiastical icons, vestments, and other religious articles.
Don't forget your insurance! You never know when you'll need it. We suggest getting travel insurance.  Which coverage includes medical, trip cancellation, your belongings from theft or damage, baggage,  car rental coverage, and much more.