The sun, the sand, the waves, and the turquoise waters define a Coron island hopping tour. But, it doesn't matter how beautiful the scenery if your tour is badly organized.
When you start collecting all the various brochures for Coron tours, you start to realize that most of the tours look very similar. For us, it came down to price and inclusions.
Now, this seems like a reasonable way to decide which is the better trip to book but as we found out, you don't always get all the inclusions listed on the brochure. And to make it worse, most people don't take the brochure with them on the trip so they don't realize what was missed.
Here are some of the highlights of the 3 island tour
Traverse the turquoise water of Coron Bay, cruise to Malcapuya Island, and enjoy the scenic views of other picturesque tropical islands that delight in dramatic coastal cliffs.
Discover stunning, pristine, laid-back, and best beaches on this romantic trip.
Relax on the beautiful beach of Malcapuya with the breathtaking beauty of nature and the surrounding ocean.
Snorkel and see just below Malcapuya water's surface and witness the coral reef that contains an abundance of marine life including numerous giant clams.
Captivate the beautiful ocean views from Banana Island and discover how it got its name.
Snorkel among the dazzling marine life of Bulog Dos island and take a walk on its powdery white sandbar.
This is straight from the brochure so please forgive the grammar.
At the beach, life is different. Time doesn't move hour to hour but mood to moment. We live by the currents, plan by the tides, and follow the sun.
Coron Island Hopping Tour Experience - 3 Island Tour
In this article, I will try to avoid identifying the tour operators we criticize (for obvious reasons).
Now, to get the story started; We finally located and boarded our boat which we had to climb out to because it was moored 3 boats out from the harbor wall.
We made ourselves comfortable and waited, and waited.. and waited. Our trip was meant to be underway by 8 am. I groaned when I glanced at the time. It was now 10 am; we had already lost 2 hours of tour time.
Listening to the operator and boat driver talk we discovered the boat was overloaded ( 22 people max and we had 27) and the Coastguard would not authorize us to leave. The operator was thinking of hiring a second boat to take us an hour out from shore (far enough for the Coastguard not to see) and then transfer us all back into the one boat. 
For safety reasons, we argued strongly against this, and eventually, a second boat was hired but without a second tour guide. Guess who volunteered to transfer to that boat…
Now, a lot of anger was directed towards the tour operator for the overloading but after talking to them later we found out that 2 parties book the tour without telling the operators about extra children that were with them.
When the groups in question arrived, the operator was surprised to see 14 and not 8 as advised in the booking info.
The operator had actually under-booked the boat but the surprise addition of 6 extra children took us way over the headcount limit.
Finally, we were on our way and only 2 hours late (heyyy). Coron island hopping tours are notorious for long travel times between islands or locations.
From Coron harbor, it took us almost 2 hours to reach our first destination; Malcapuya Island.
Malcapuya Island
This is one of our favorite islands to chill and enjoy the day. Malcapuya Island is sparsely populated and located off the southwestern coast of Culion. It offers a truly tranquil experience, complete with long stretches of white sand beaches, forested knolls, and postcard-perfect waters. It is a really gorgeous island with a kilometer-and-a-half-long stretch of white sand beach.
Malcapuya is truly a beautiful island and a great place to spend a few hours, have lunch, swim, snorkel, and relax. But, because we were already 2 hours behind schedule (remember this was NOT the fault of the operator) we were told we only had 20 minutes and 10 of those minutes were used just to find the rest of our group because our boat was without a guide.
We were dropped at the island by the boatmen and left to fend for ourselves. Cheche was straight on the phone calling the tour owner and complaining. It was decided we would have lunch here to give us a little more time to see the island.
Malcapuya Island beach is long and wide so overcrowding is not really a problem. The beach line can be rocky in places but still offers a great picturesque view. There are also hammocks and cottages with electricity. You can find outlets in the cottage where you can charge your phone and cameras. A great location to take in the sun, snorkel, eat and relax. Spend as much time here as you can. Well worth the visit.
After Malcapuya Island we headed back to the boat and off to Banana Island.
Read more – Malcapuya Island
Coron Island Hopping Tour Experience - 3 Island Tour
Banana Island
Coron Island Hopping Tour – The trip to Banana Island went smoothly. It was a good time to stretch back and relax after lunch. The water was reasonably flat so we were arriving at Banana Island before we knew it. The tour guide in the first boat was more organized this time and was waiting for us.
The beach of Banana island is not as good as that of Malcapuya but still nice. we found it interesting to explore the old buildings of the island. Also, there are a few rocks offshore so be careful when you swim.
Banana Island does have one shop so you are able to get snacks and drinks if needed. There are also plenty of hammocks to laze around in if that's your thing.
After banana island, it was back on the boat and off to Bulog Dos Island.
Click here to see the full Story – Banana Island Coron
Bulog Dos island
Bulog Dos island is small when compared to both Malcapuya and Banana islands but it still has its charm.
The water around Bulog Dos is postcard-perfect turquoise water that is ideal for swimming and snorkeling. The island is really just an oversized sandbar with a rocky overlook making it hard to drift off and get lost. The sand is creamy white and powdery soft with no noticeable rocky areas on the shoreline swimming area. This is another island that is worth visiting even if it is just a short visit. We had 45 minutes here and it was time well spent.
Click here to see the full Story – Bulog Dos Island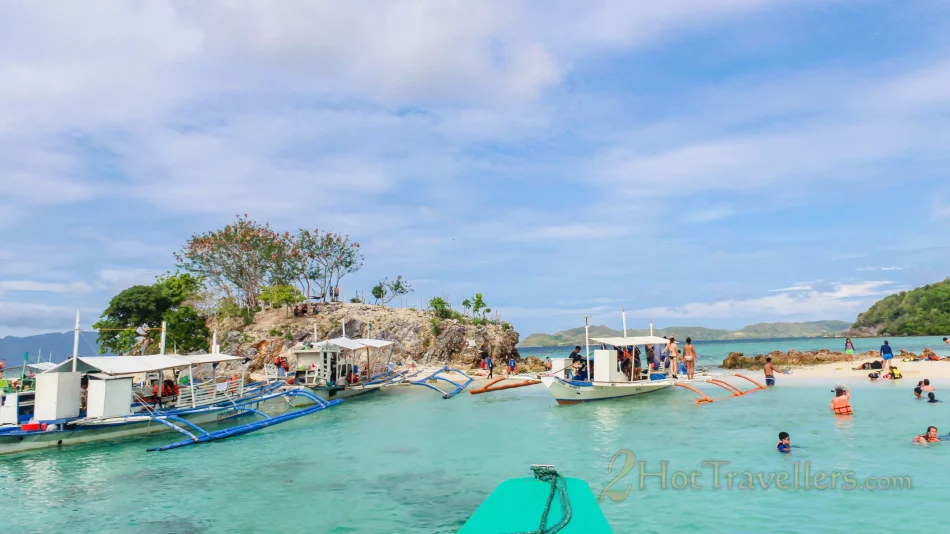 Coron Island Hopping Tour Experience - 3 Island Tour
The Return Trip
Our return trip back to Coron harbor was calm and peaceful; we were all feeling tired from the day's events. By the time we returned to Coron we were almost the last boat in and it was low tide.
We anchored a few boats out from the dock forcing us to boat-climb our way to shore. Once we made it to the harbor wall we discovered we were 2 meters lower than the dock due to the low tide.
A helper had to borrow a plank from a nearby boat (actually we had to persuade him to take it; he wanted us to jump) and we maneuvered our way up the plank, over the retaining wall, and onto the harbor ground (it's not that easy when you are carrying camera gear and other bags).
Final Word
Coron Island Hopping Tour Experience – 3 Island Tour
This was the second Coron Tour we embarked on and so started the 3 Island Tour with high hopes after our positive experience with the previous tour. All in all the tour was good. The islands are all recommended and if you left Coron without going to at least Malcupuya, you will be missing out.
We had a few issues at the start of the 3 Island tour but, as said earlier, those issues were not created by the operator. We recommend this tour. It is value for money and an enjoyable day out.
Other Coron Island Hopping Tour Reviews