The sun, the sea, the feel of the sand and sexy Honda Bay Island Hopping – Take a holiday from an experience to an adventure! When in Palawan, enjoy life or go home wanting.
OK, maybe that was a little over the top, but I hope you get what I mean. Life is to be enjoyed and Palawan is definitely one of the places to do it. Now If you're looking for a pristine, remote, or never-seen-before paradise, I'm sad to say, this may not be the place for you. However, you truly can't see what Palawan has to offer without Honda Bay island hopping.
Imagine spending the day soaking in the beauty that only the Philippines can offer. Imagine diving, snorkeling, or swimming in crystal-clear water and resting on the powder-soft, white sand of the Honda Bay beaches. Not a care, no stress, not a thought of the world you have escaped from.
Booking a Tour from Puerto Princesa is an excellent choice. Don't spend all your time partying at night and sleeping by day… Get out and experience what this part of the world has to offer.
Honda Bay Island Hopping
The Tour we booked was a budget-friendly tour (didn't burn my back pocket) and it is so perfect for those wanting to spend a day surrounded by sparkling clear waters, long stretches of white sand beaches, and rich marine life – if you're staying in Puerto Princesa, don't be square, be here.
A little bit about the locality for those into this kind of thing – The Philippines is comprised of close to  7,641 islands so it's no wonder that island hopping is a popular activity.
The tour we chose comprised three islands – Starfish, Luli, and Cowrie island.
Sta Lourdes Wharf – Honda Bay Port
Let's start at the beginning. Soon after arriving in Puerto Princesa, we sussed out the local tour prices and decided to do it the easy way and book a tour through our Hotel.
It was that easy and greatly reduced the possibility of getting ripped off or double charged, which does happen (make sure to keep all dockets and receipts when you book and pay for a tour just in case you need to prove your payment later).
The next day, we woke up early (well, not so… we hurried out of the room 5 minutes before the bus arrived… lol) for the day-long Honda Bay Island Hopping Tour.
The shuttle van rocked up on time (tour guide Kuya Bonbon you were amazing) and picked us up from our hotel around 7 am.
We sat back and relaxed because we were the first to be picked up, so we did a little town tour as we found the others booked for the tour. All that took 45 minutes. From there we were off to Sta Lourdes Wharf where the boats to the islands were docked.
I don't know if it was what I drank the previous night combined with the early morning but the harbor was crazy confusing. 
People everywhere coming and going, people being organized onto boats, and then the boats being called from out in the harbor to the wharf so the tourist could be shuffled onto their allocated boats. Whoa, a total spinout.
Starfish Island
Starfish Island Palawan is a small snorkel spot of Puerto Princesa with less than 20 cottages as accommodation for picnicking island-hoppers. Its main island made up of white sand and is surrounded by greenish waters. 
Luli Island
Luli Island is one of three islands of our Honda Bay Tour. It has fine sand and clear water and just a few kilometers away from Puerto Princesa City. Is famous for its beautiful sandbar and for the sea activities you can have there, such as fish feeding, swimming, and snorkeling.
Cowrie Island
Palawan's Cowrie Island, part of our Honda Bay Island Hopping trip, is named after the brightly-shelled mollusks which residents said thrive in the area. It is 12 kilometers away from Puerto Princesa City proper and it takes less than 30 minutes travel time by land to the Honda Bay Wharf.
Pandan Island
Pandan Island is a great spot to stop if you like snorkeling. The island has a large coral reef not far from shore just teeming with fish. You can also rent cottages for 500 PHP if you just want to chill.
This is a private island that the typical tours don't visit and it's supposed to be more natural, with white sand and good snorkeling. If you are going here on a day trip the typical cost to get to the island when we were there was 1250 PHP, so it isn't the cheapest island to visit.
This island gets its name from the many Pandan plants found throughout the island. 
Pambato Reef
Pambato Reef is accessed via a floating platform and is said to have some of the best snorkeling in Honda Bay. Well, that's what the tourist guides tell you.
When we were there, we found the current to be mild so it was easily swimmable but the visibility underwater was low. This is one of the main tourist spots in Honda Bay so don't expect privacy. 
Over-all, it was an enjoyable experience.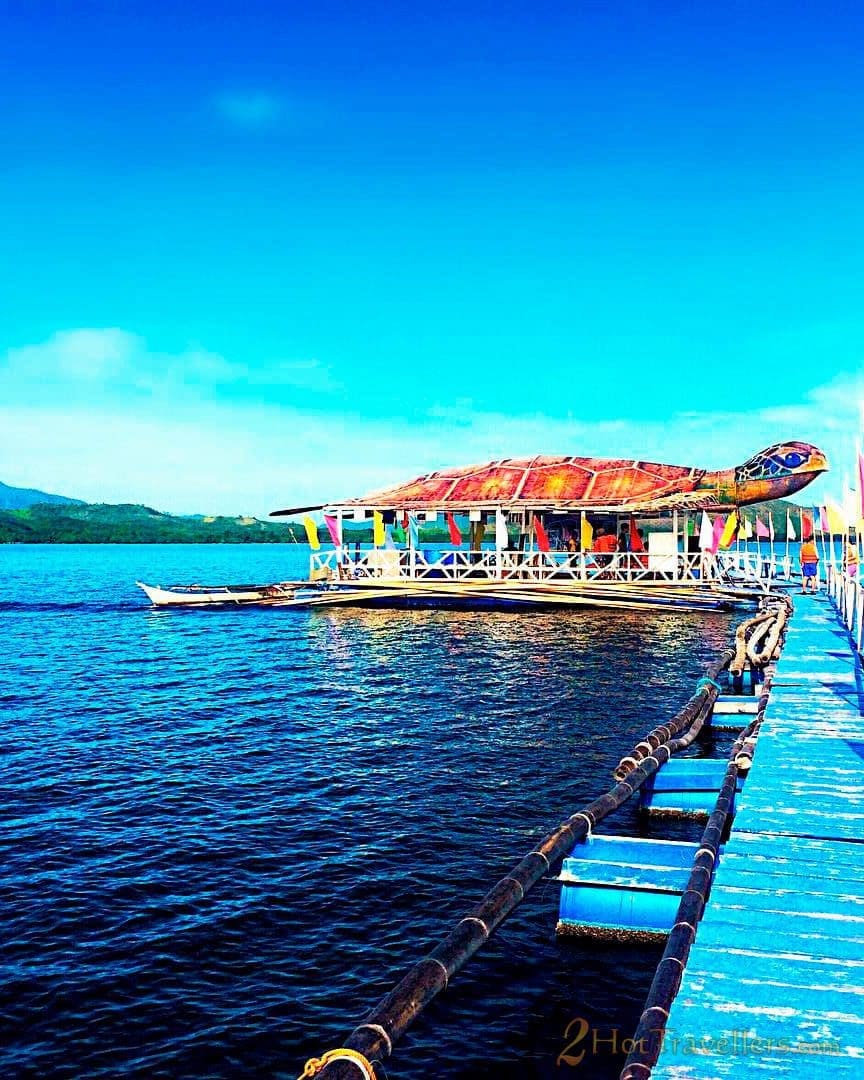 Honda Bay Island Hopping Tour
Argh! And don't even start me on the people hustling you while you wait… bottled water… sunglasses… drybags… etc. "Ate, bili na po kayo, bigyan ko kayo discount (Buy this now, I'll give you discount)"
OK, yes, I admit, it is a small inconvenience when you're about to go island hopping around Honda Bay. But, beware, often once you have opened your wallet and showed the color of your money you will be swamped by other vendors, beggars, kids, and scammers all-knowing you are an easy target. You can almost see the anger in their eyes.
So, beware! Look after your belongings.
Travel time from the town proper to the wharf could take 45 minutes. (I dozed off a few times in the motorboat). Our first destination was Starfish Island.
The Three Islands
The name "Honda Bay" came from the Spanish term "unda de agua," which means deep water. The Honda Bay is not only rich in aquatic life but also in terrestrial ecosystems so I have heard. Before your tour begins, be sure to have the appropriate gear:
Swimming attire (for the enjoyment of swimming and snorkeling activities)
Aqua shoes* (highly advisable as some beaches are rocky)
Snorkel mask*
Swim fins (optional)*
Waterproof case for smartphone and other small valuables
Towels*
Eco-friendly and reef-safe sunscreen!
*Aqua shoes, snorkel masks, swim fins, and towels can be rented. Depending on where you stay, towels may also be borrowed from your hotel.
More tips to keep in mind
All of the islands have designated swimming areas so be mindful of them.
Be dressed for the occasion—wear proper swimming attire so you can enjoy the waters of Honda Bay. Don't worry, there are changing rooms with toilets and a shower at the wharf.
Help preserve the underwater landscape; be careful to not step on the corals when swimming or snorkeling.
To avoid the big crowds, you can leave extremely early or late: if you leave early, you'll get ahead of the crowds; and if you depart later than the others, you may find that the crowds have subsided in the afternoon. However, if you start your tour late, you may have a shorter time to enjoy each location.
Bring extra cash (and put it in a waterproof case) for activities and extra snacks. Jetski, kayak, and banana boat fees are not included in the tour.
Remember: Puerto Princesa runs on cash. It is difficult to withdraw money in the city, but there are several money exchange shops if needed. When I arrived at the Puerto Princesa Airport I was hoping to withdraw cash, but the ATM did not accept any of my cards! I highly recommend arriving with enough cash on hand for most of your stay on the island of Palawan to avoid problems.
There are many travel agencies offering Honda Bay island hopping tour.
Current rates
Here are the current rates for island hopping tours in Honda Bay (Updated as of Jan 2021):
The regular rate is P1500. Discounted rates may also be given depending on the season (P1200). For exclusive tours, the itinerary may include Pandan Island for an additional fee of P900 per person.
The standard package includes:
Round-trip van transfer from/to your accommodation in Puerto Princesa City
Buffet lunch
Motorized boat transfer to the islands
Entrance fees to the islands