Things to do in Coron Palawan – Most of Palawan is still untouched and not yet commercialized, making Coron a great place to visit when you want to get away without fully getting away if you know what I mean.
If Coron isn't already on your Bucket List, then pen it in before it is too late. Every year more and more tourists visit the region, and with that said, before too long it will be just as touristy as other well-known locations.
For many people, Coron is thought of as a smaller, quieter version of El Nido. Full of all the natural wonders and stunning scenery we all dream about. Here is our list of amazing things to do in Coron Palawan. Please feel free to comment or add locations we might have missed. All are welcome…
Things To Do In Coron Palawan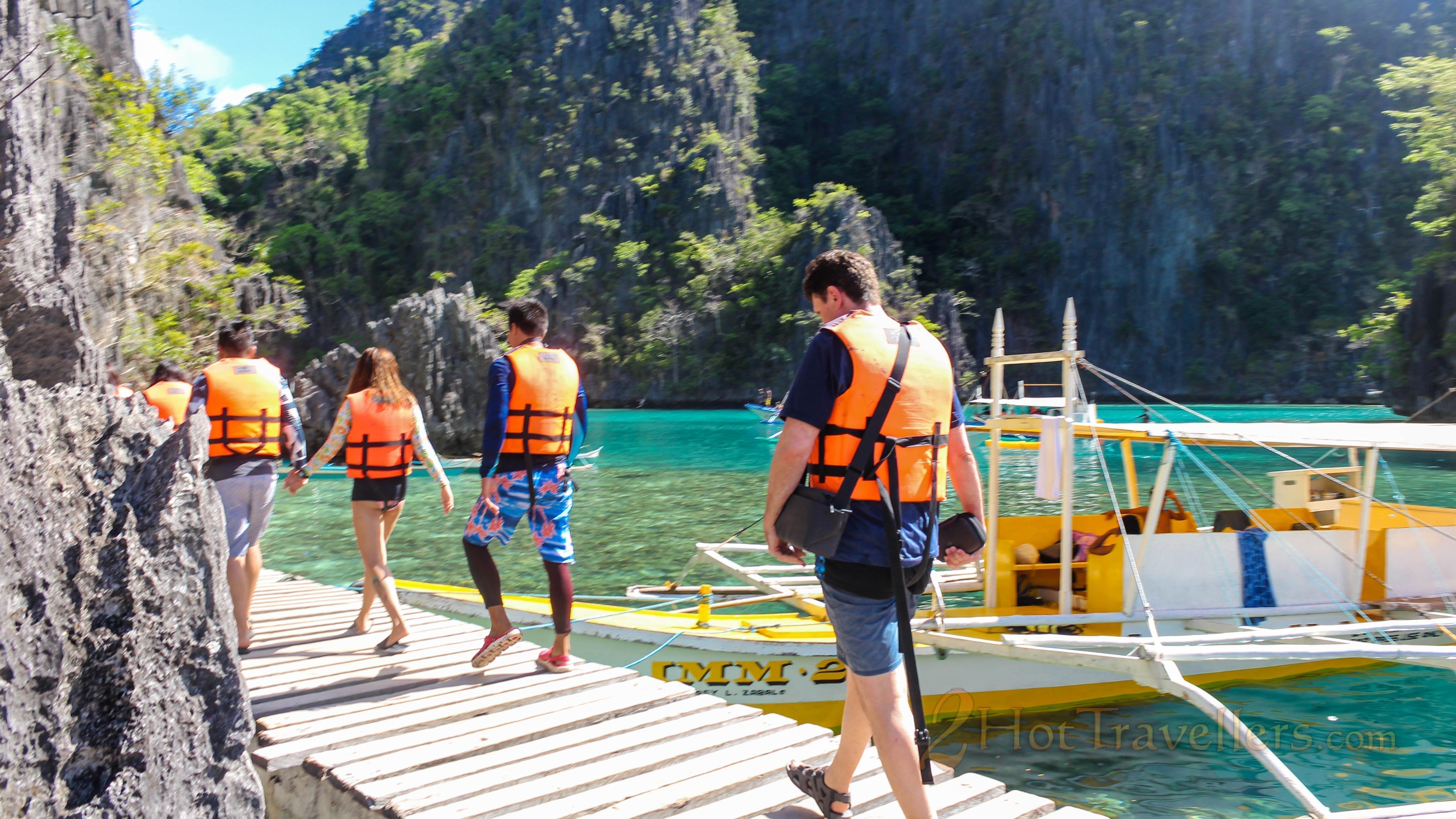 Make sure you make the most of your time with our list of amazing things to do in Coron Palawan
What was once a sleepy fishing village, Coron is waking up as more and more people discover the hidden wonders this part of the world has kept hidden for so long. The benefits of this are Coron is less crowded, and far cheaper for the budget-conscious, as well as being not as spoiled when compared to other South East Asian destinations. Hurry, before the rest of the world catches up – So many amazing things to do in Coron but so little time…
Island Hopping Tours
A great way to experience many of the things to do in Coron is to book an island hopping tour, lean back, relax and take it all in.
Ultimate Tour – The 7 island tour.
Kayangan Lake is definitely one of the most visited sites in Coron. Gorgeous emerald waters surrounded by towering karst formations – it's certainly a treat to effortlessly float around in its crystal-clear brackish waters. The crystal-clear waters of Lake Kayangan are nestled into the mountain walls; underwater is like a moonscape. There's a little wooden walkway and platform to stash your things if you go for a swim. 
Read more – Kayangan Lake
Malcapuya island
The white sandbar and the clear sea view of Malcapuya Island Coron Palawan are not only beautiful but also relaxing. This, in our opinion, is one of the best (if not the best) beaches in Coron… We simply loved our time here and wished we could have stayed for longer. All your stresses and cares will melt away as you sit back and take in this island paradise. Are you the type of person who loves the beach?
Read more –Malcapuya Island
So well hidden and secluded it would be easy to sail past them without any hint of their existence. The Twin Lagoons are one of the main natural attractions people hope to see when they visit Coron. And when you are there, believe me, the Twin Lagoon lives up to all the hype and then some.
Read more – Twin Lagoon Coron
A beautiful fine white sand beach which is usually the lunch stop during many of the island hopping tours that are run. An amazing island paradise with lush green shrubs and bushes. The island is not that large, barely 50 meters long, but the azure sky reflecting off the turquoise waters make this a must-see location.
Bulog Dos Island Coron is one of our destinations on a recent island hopping tour we took in Palawan, Philippines.  Don't be fooled by its small beach, this island hides an endless world of wonders under its waters. Get your snorkeling gear out and dive in to explore the coral reefs that surround Bulog Dos. You'll discover a multitude of colorful fish, maybe even some stingrays! 
Read More Bulog Dos Island
Busuanga Island
West of Coron Island is Busuanga Island, home to an underwater attraction, divers can't get enough of. In 1944, an aerial attack sank dozens of Japanese WW2 ships just off Busuanga Island. The final resting place of these wrecks makes a perfect dive location. Plenty of dive shops in the area offer dives here allowing you to experience an adrenaline-pumping dive that is well worth the boat ride to the site.
Things To Do In Coron Palawan
During our last trip to Coron, we were able to visit Banana Island as part of an island hopping tour. Banana Island is part of a group of three islands south of Busuanga that made up our island-hopping tour from the town of Coron. It has more facilities for an overnight stay. It also has huts and tables where we had our lunch for the day.
Read more – Banana Island
To be honest, we were disappointed with CYC Beach Coron. After all the good reviews we had read. Read our full CYC Beach Coron Palawan review and know what to expect before going. The beach sand of CYC Beach Coron is off-white – not as white as other beaches in Coron, but still soft and appealing. 
Read more – CYC Beach
Maquinit Hot Springs
Take the plunge into 39 – 40 deg C waters at Maquinit hot springs. We visited the hot springs at night when the temperatures had dropped making the springs, even more, inviting after a long day of island hopping. Not only that but the sun setting over the water at the Hot Springs is pretty spectacular. It just can't be beaten. More amazing things to do in Coron.
Kingfisher Park
Kingfisher Park is a mangrove come bird haven that has plenty to offer. There are animal species here that are specifically endemic to Palawan; in other words, you can only see them here! There are a few activities you can take part in including The Mount Lunes Santo Trek and the Starry-starry night Tour. But the most popular activity at Kingfisher Park is to kayak around the mangroves to get a closer look at the wildlife both in the mangroves and under your boat.
Things To Do In Coron Palawan
Coron Town Tour
Coron has been dropping jaws for years and it is no surprise why. A great place to start is not always by exploring the beautiful island of Coron, first, explore the small town of Coron. Coron town tour, run by K-Tours, is a half-day tour that gives you an option to explore and learn about Coron town, its major landmarks, people, dialect, and its culture. This tour is the most convenient, easiest way, and most affordable way of experiencing Coron Town.
Things to do in Coron Palawan – If Coron isn't already on your list, then it should be! Consider Coron as a smaller yet quieter version of El Nido. And just like El Nido, there are plenty of things to do in Coron. Swim through underwater mountains, hidden lagoons, snorkel pristine reefs, or simply shill on whiter sand beaches.
What used to be a sleepy fishing town is slowly waking up to the increasing interest from international travellers. This means that the adventures on Coron are less crowded, less expensive, and less spoiled than most other locations you may have visited in South East Asia. Before the world catches on, come to have a taste of paradise.
Things to do in Coron Palawan