If you've heard of geomining, you definitely know about Coin App. Launched in 2019, the app has more than a million users today, earning digital assets when doing everyday tasks, such as jogging, commuting, and traveling. 
For people who might not be fully aware, geomining describes the practice of extracting geographical data in physical space and giving your location a value. Currently, geomining is done through the Coin app on the XYO network. 
Below, you can read the Coin app review to learn all you need to know about the app's features, subscription plans, and offerings. 
Overall, the application is fairly easy to use. Move around and collect coins, an intermediate currency used to exchange for XYO, or even things like ETH, BTC, gaming consoles, sweepstakes entries, etc. Even without moving around, you have the option to complete surveys (10-25 minutes long typically) for rewards or play quick mini-games to clear a tile you've already mined so that you can mine it over and over again.
When it's time to redeem, you add a wallet address, and your crypto is sent within a few days relatively easily! I was able to get my payment in less than 36 hours from the time of cash out. My wallet address even pays out small interest (HODL rewards) on what I have verified through the app, in addition to what I hold in-game. 
But what all goes into using this app, can you actually make money off of just using it in your everyday life?
The short answer is yes! But with anything, you still have to work for it at least a little bit.
Sentinels
The easiest way to jump-start your earning is by getting a Sentinel, which comes in an NFC capable card or Bluetooth capable pendant. Either of these will multiply your earnings by 12 on basic (or give you an additional 10% in the event you have a paid subscription).  I was able to just pay the shipping on mine, as I received an offer via email after creating my COIN account, this cost me $12.95. 
Multiple Devices
Many users have old phones or tablets lying around, and the app only needs a wi-fi connection or data to operate properly. So they'll make other accounts and just leave the device to farm at home while they're out working, driving, or whatever else they do. Multiple devices can link up to Sentinels as long as they have the NFC/Bluetooth capabilities. You can airdrop your earnings from those accounts to your main account a few times each day and just send it all to the same wallet when you redeem.
Coin App Features 
Even though it was only launched a few years ago, the Coin app has developed immensely since then. Today, it has many features, in different categories, including Socialize, Achieve, Explore, and Power-Ups. 
Explore 
The in-app Explore features let you search for hidden regards to increase your overall earnings. Here are some of them: 
Geomine 
Geomining is like geocaching, requiring the users to locate valuable digital things in a physical space. When using the app, you have to travel to novel tiles and find the rewards hidden under the ground. 
You can then use these rewards to interact with other Coin app users or convert them into physical, real-world things. Here are some notable sub-features of Geomine: 
Big Geomines: Sometimes, users tend to find super treasures while exploring. In some cases, they can also validate the wins of fellow users. 
Geomining Recharge: Keep in mind that geomining takes time to recharge. You can level up by getting the Geomining Recharge rates. 
Speed: Additionally, you can increase the geomining speed by upscaling your plan too. 
Extension Devices: By using extension devices, you increase your authenticity on the app since some users cheat through hacking. Also, extension devices are a neat addition to your digital asset acquiring strategy. 
Geodrop 
With Geodrop, you can drop digital assets on a tile if you're standing on it. Then, another user geomines on the same tile and collects the reward. The Coin app also lets you perform email-specific Geodrops, allowing only specific users to get these rewards. 
Home Base 
If you geomine in the same tile for three times, you can establish a Home Base. Once the icon appears on the screen, you can enjoy getting currency at your home base. 
Store Visit 
Users also get deals, coupons, and rewards when they go to popular stores. The simplest way to do this is by clicking the 'plus' menu in the app. Go to Rewarded Tasks and click on Store Visits. 
After that, you simply have to follow the instructions on the screen to earn rewards by going to your nearest stores. Additionally, you can also get Coin by scanning products as per the in-app scavenger hunts. 
Socialize 
Along with earning you currency for exploring, the app also lets you get digital assets and rewards by socializing. Here are the popular social features of the app. 
Geoclaim 
Certain Coin regions earn you higher rewards than others due to their popularity. You can claim a region every week and enter the competition with other users on the app. 
Referral Links 
If you've gotten the hang of Coin, you can refer the app to someone else. Once you help some else get started, you get a reward from bringing a new user to the app. 
Team Lift 
While you can earn plenty of rewards alone, Coin also lets you work in teams to collect even more Coins. Users can create teams of seasoned Coin players and earn better rewards. 
Leaderboard 
The leaderboard is a motivational tool to help you get right into the competition. The Coin app allows users to create their fun and interesting usernames, set a profile picture, and get to the top of the leaderboard. 
Achieve 
The Achieve features on the Coin app are suitable for players who want to get physical redemptions for their efforts. 
Sweepstakes 
At the moment, the Coin app only allows users in the UK and the US to get sweepstakes by using the treasures. 
Physical Redemption 
Once you gather the currency in the app, you can exchange it for real-world items, such as games, gadgets, and shirts. The app developers claim that digital assets are fun, but they also want to offer physical redemption to make the app more attractive for all users. 
Digital Redemption 
Along with physical redemption, Coin app also offers digital rewards, such as souvenirs and collectibles. Users can later sell these assets or exchange them for physical rewards. 
HODL Rewards 
HODL rewards work just like interest rates. The longer you keep your treasure in the account, the more their value will increase. 
Power-Ups 
The Power-Up features on the Coin app are ideal for users who want to double or trip their rewards. 
Geoclaim Shield 
The Geoclaim shield lets other people use the app to get a percentage of your earned currency. By keeping a shield on your account, you can keep these users at bay to ensure the safety of your currency. 
Geoclaim Bonus 
The Bonus power-up boosts the rewards you earn through Geoclaiming. 
Background Time 
Since background rewards don't remain for a long time, users can increase their background time and get rewards for much longer. 
Background Recharge 
Background rewards are a great way to earn assets while you're not active on the app. With the Recharge power-up feature, you can get these rewards even faster. 
Referral Bonuses
Of course, companies are always willing to send you something for getting them more customers. Any account using your Referral link will send you 1% of their overall earnings! This doesn't mean that the other earner is only getting 99% of their mines though, they are still keeping 100% of their mines. If you play with others nearby who also have paid memberships, you get a bonus called "Team Lift" meaning you all get boosted earnings within a close vicinity of one another. 
With the recent skyrocketing value of XYO, I heavily recommend using this app. It really does feel like a game, and can actually earn you some money.

I was able to spend $47.90 on my sentinel and subscription, yet have over $89 of XYO currently in my Coinbase Wallet. Not quite doubling what I spent, but I have a short commute to work and haven't been going out really due to the Pandemic. I'm not taking into account electricity costs or the cost of my data plan as I didn't incur any additional charges on my phone bill, and didn't charge my phone anymore than I do normally.
Coin App Plans and Subscriptions 
Coin app has a few plans suitable for users of all expertise. From basic to experienced users, there's a plan for everyone. 
Basic 
Coin's Basic Plan costs just $0 and is suitable for first-time users and beginners who are still getting the hang of geomining. Here are the features of the Basic plan: 
1x Geomining Speed: In the Basic Plan, you get Coin's regular geomining speed, which is ideal for beginners. 
Geomining Recharge Rate: Additionally, users get a Geomining Recharge Rate of 1x speed. 
Big Geomines: The users on Basic Plan have 1x likelihood of getting big Geomines. 
Pro 
The Pro plan is ideal for serious users who want to earn high rewards. It costs $34.95 per month and comes with the following features: 
3x geomining and geomining recharge rate 
3 times the likelihood of Big Geomines
12 times Geomining Rewards
Geoclaim Bonus 
3 times Background Reward Boost 
3 times additional Geomining Rewards: Likewise, users get 1x geomining rewards on the basic plan. 
Bonus Drop Power: It earns bonus rewards for the user. 
Geoclaim Shield and Bonus: The Geoclaim shield keeps your rewards safe so that they cannot be claimed by other users. 
Plus 
The Plus plan is ideal for users who need something more than the Basic plan but don't want to pay too much. It costs $24.95 per month and comes with the following features: 
2x geomining and geomining recharge rate 
2 times the likelihood of Big Geomines
12 times Geomining Rewards
2 times additional Geomining Rewards
2 times Bonus Drop Power 
2 times Background Rewards Boost 
Geoclaim Shield and Bonus 
Coin Subscriptions 
To get the most out of your Coin plans, you can subscribe to their services. 
With each subscription, your Geomining rates increase, allowing you to geomine at a higher level. Additionally, your chances of getting Big Geomines will increase, giving you a faster recharge rate. 
Also, when you subscribe, you can unlock unique features, such as SentinelX Sharing. Moreover, you get access to Geoclaim Shields and other new features in the app. 
Since all subscriptions run from month to month, you can cancel whenever you want. Or, you can change the subscription plan at any time. 
How to Get Started?
Getting started with the Coin app is pretty simple as the app is readily available for Android and iOS for free. Till now, the app has been downloaded over a million times. Once you've downloaded the app, you have to set it up. 
As you open the app for the first time, it will ask you to turn on location services. It's necessary since the app needs to know your location to allow you to geomine.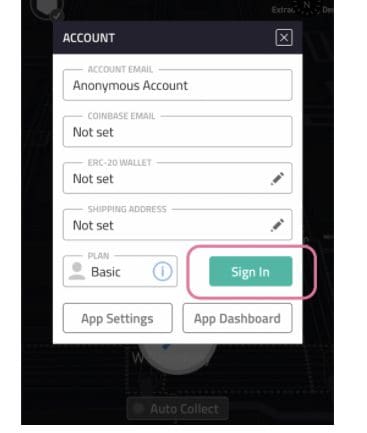 Although you can geomine without creating an account, the developers recommend creating an account to keep the assets safe in your email address. 
Once you've created your account, tap the pickaxe button on the screen. A blue ring will appear on the screen when you're geomining on your quadtile. When you earn coins, they come into your account. You can keep track of your Coins from the counter on the top of the screen. 
Tips:
• Do surveys when you're not moving around much, you can earn up to 1,500 COIN per survey. They aren't all winners though, sometimes you have to weed through surveys that don't need your opinion for any given reason.
• Leave it on while you drive, as there is a setting to auto-mine tiles you pass through.
• Home Base bonuses don't do much for you, it's not worth staying in one spot to mine. They cap too quickly, and having a sentinel gives you the same bonuses but faster.
• Hold your coins for your first exchange, the gas fees will really eat away at you if you don't make each transaction worth it. I waited until 106,000 coins before cashing out even though the minimum is just 10,000 coins. Careful on cashing out too early for another reason: after that first cash out, your minimum goes up 50,000 which is very unattainable if you're not on a paid membership.
• COIN –> XYO exchange rate varies largely with the worth of XYO, so maybe assess that market before cashing out! Waiting even one extra day could get you a few extra thousand XYO. I got 44,164 XYO for 106,000 coins. Don't worry if the amount looks smaller, market fluctuations happen!
• Have fun with it! It makes it a lot more worth it later on. 
If you'd like to check out this app for yourself here's my referral link that comes with 1,000 coins to start you off:
https://coin.onelink.me/ePJg/8ba3d593
If you drive for a living or work in multiple locations, I really do recommend looking into this gold mine and trying it out for yourself!
Final Verdict 
Geomining might still be a novel concept for some people, but it's definitely gathering hype. The Coin app is a reliable and straightforward way for users to geomine while also benefiting from plenty of other features, such as Shields and Bonuses. 
However, do note that the Basic Plan – although free – lacks most advanced features. You can opt for it if you're still contemplating whether geomining is for you or not. But once you've decided in its favor, it's best to get a paid plan.