The Twin Lagoon Coron Palawan – Yes, it is exactly as described –  two amazing lagoons perfectly set against a backdrop of vertical, black karst walls. Twin Lagoon Coron Palawan was one of the most stunning pieces of nature we ever had the pleasure to experience.
So well hidden and secluded it would be easy to sail past them without any hint of their existence. The Twin Lagoons are one of the main natural attractions people hope to see when they visit Coron. And when you are there, believe me, the Twin Lagoon lives up to all the hype and then some.
A few days before we had enjoyed island hopping with the "3 Island Tour" which took us to Banana Island Malcapuya Island and Bulog Dos Island (highly recommended). But today, we had signed up for the "Ultimate Tour" which included Kayangan Lake, Coral Garden, and Twin Lagoon. As we waited at Coron Harbor for our boat we could feel the anticipation and excitement building. After months of waiting, we were finally here and Twin Lagoon Coron was just an hour away.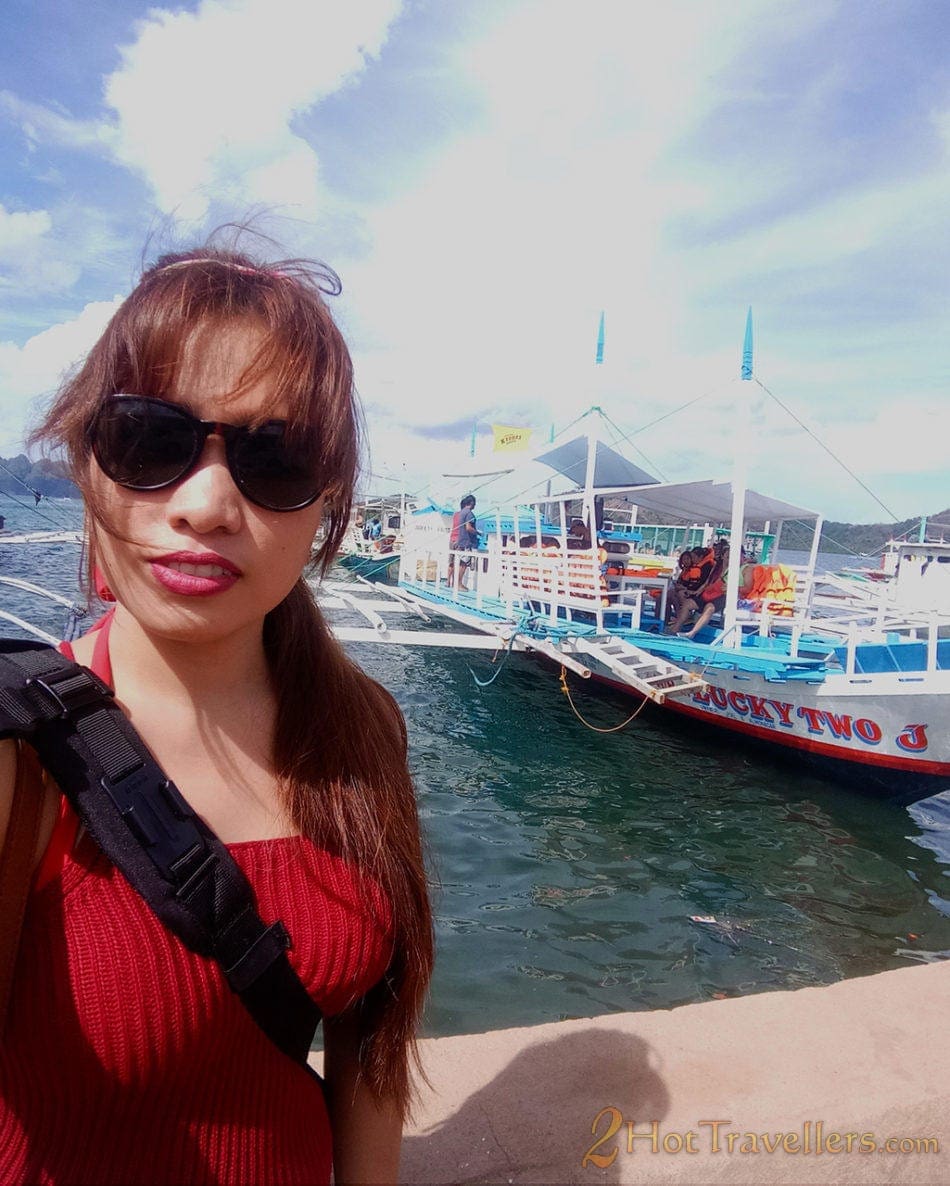 The only way to get to the Twin Lagoon is to take a boat either by hiring a private launch or taking one of the many island-hopping tours as we did. We totally recommend the Ultimate tour, but they do try to fit a lot of sites into a limited time frame. So, at times, you can feel hurried at some locations. Most group tours run from 1200-1700 pesos depending on the stops, so it pays to shop around.
If you are wanting a boat to yourself where you can choose how long to stay at each location, most private tours can be organized through your accommodation, and usually cost around 3000 pesos.
When is the best time to visit the Twin Lagoon Coron?
The Twin Lagoon is one of the most popular island-hopping destinations in Coron, and, therefore, it can be difficult to get the location all to yourself. But, if you have a private boat, you could make it your first stop, getting there before the other tour boats arrive. Doing this will give a good few hours before the crowds arrive.
Many people have asked me the best time of year to visit. For the most part, anytime is good but in the months just before the rainy season (April and May), there tends to be more jellyfish around than usual. Something that may be worth bearing in mind 🙂 
TIP: If you are on Pinterest, why not pin it! Save this Twin Lagoon Coron Guide to Pinterest so you can find it again later.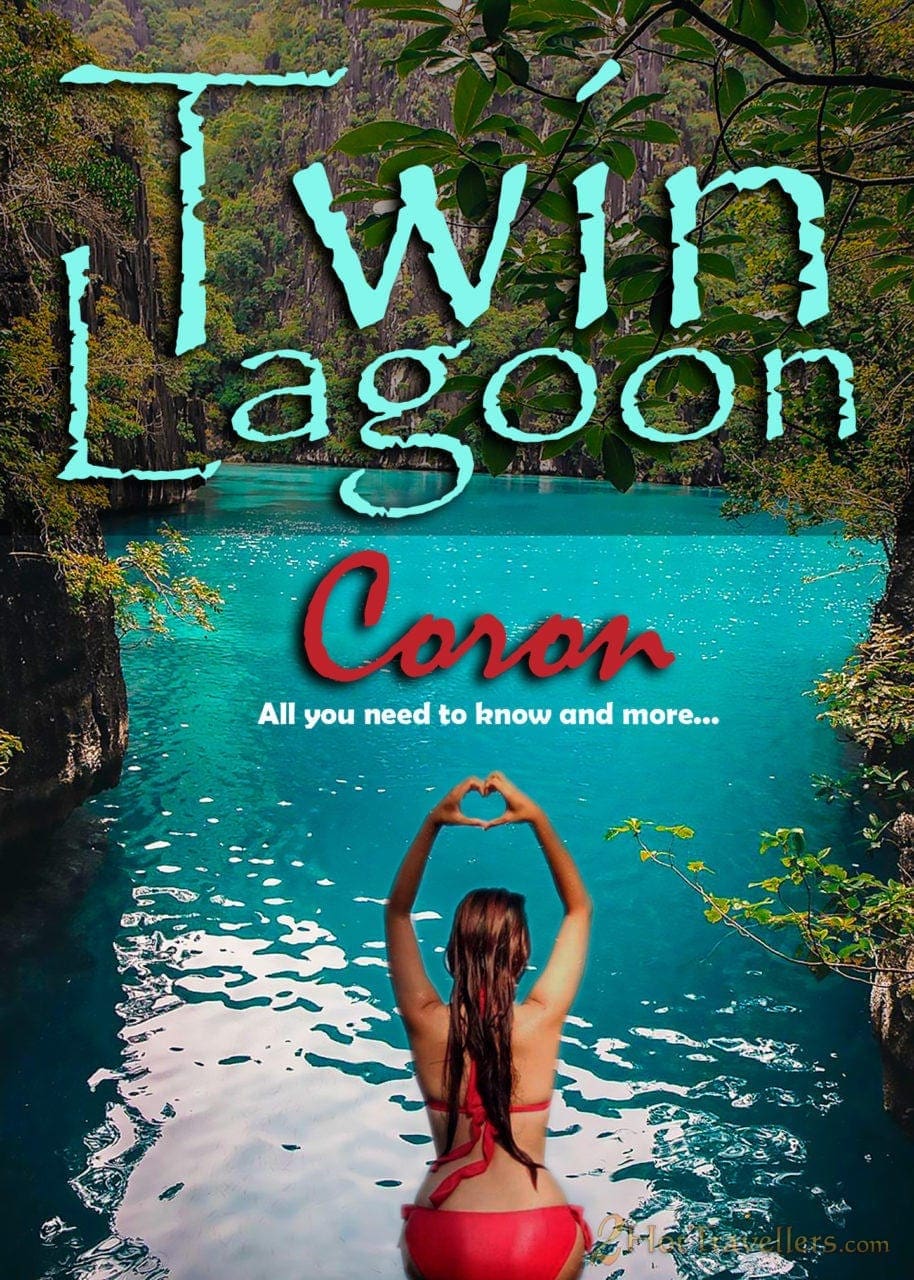 Things To Know About Twin Lagoon Coron
I know I have said it before, but it needs repeating – Coron is spectacular!
The Twin Lagoon, as the name suggests, is two lakes that are separated by sheer and jagged black karst walls. Interestingly, the lagoons are made up of both fresh and seawater.
Coron, so far, is somewhat less touristy than its more popular neighbour El Nido. But, in saying that, as time passes, the area with inevitably grow in popularity and become crowded with tourists. 
The entrance
What makes the Twin Lagoon in Coron different is the access. Once your boat has anchored in the outer lagoon, you can either swim or kayak under a low, natural archway and emerge in the second "hidden" lagoon. Well, that is what we were told but on arrival, it was obvious the tide was too high for that access without having to swim underwater for a way. Luckily there is also step/bridge access for times just like this.
Be careful on the bridge as it does get crowded and slippery at times.
You will often see the bridge access featured in many Instagram pics as it is perfect for all those Instagram worthy shots. For us, there were far too many people at the location, using the bridge for a good pic to be taken (Maybe next time… Yes, we both very much want to return).
Palawan By-laws require the wearing of a life jacket in Twin Lagoon (and most of the attractions in Coron). This can be annoying for most who can swim.
Many tour operators will try to convince you a kayak is absolutely necessary in the Twin Lagoon. As you would guess, this is not the case. Kayaks cost 1000 PHP each, they are fun but not necessary in the Lagoon.
The Dock Area
In the outer Lagoon, there is a dock area that is usually secluded and free from most other tourists. It seems like the perfect spot to chill out and get some great pics. Be aware, the dock is privately owned as your guide should inform you. An additional fee is usually required to use the dock. If you feel like you have money to spare, it might be worth the cost, otherwise, it's best not to break rules and trespass.
Why not watch our video to fully experience Twin Lagoon Coron
Where to stay?
We stayed on the outskirts of Coron Town because we were after a nice quiet location away from the town clubs, bars, and traffic. But, if you want the nightlife, there are plenty of places in Coron Town.
Staying in town also tends to be better access to the internet and free transfers to and from your hotel on group tours but we didn't have any problem where we stayed (Asia Grand View Hotel).
There are so many great places to stay in Coron to suit all budgets. Use the search box below to find the best-priced accommodation in Coron over your stay duration.
Conclusions…
It's easy to see why Twin Lagoon is becoming as popular as it is. The water is refreshing and enjoyable. If you snorkel there are plenty of things to keep you engaged. If you just want to relax and take in the scenery, it is so easy to get lost for a day and drift away here.
If you're island hopping in Coron, definitely stop by and give it at least, at least, at least an hour of your time. Be sure to bring your (waterproof) camera, the pictures are amazing.
A word for the wise – Don't go jumping from your boat into the water with your GoPro, without first checking the USB connection port door if fully closed and sealed. Gary did just that and sadly watched as it heated up, flashed a few times, and destroyed itself. It was a shame, but I did warn him…