Cedar Creek Falls Mt Tamborine is one of the Gold Coast Hinterlands' popular tourist attractions with stunning views over the open canyon, waterfall, and rock pools. Let us explore the falls and see if it is as good as it sounds or just a disappointments. 
If you're looking for a natural playground to explore in the Gold Coast hinterland, Cedar Creek Falls in Mt Tamborine is calling your name. The great thing about Cedar Creek Falls is that it is easily accessible, but for the more adventurous types, you can explore upstream or downstream to find secret areas to relax.
Cedar Creek Falls Mt Tamborine
The great thing about Cedar Creek is that it is easily accessible, but for the more adventurous types, you can explore upstream or downstream to find secret areas to relax.
We love going off the beaten track to find secret spots to swim in the freshwater, soak up the sun, and admire the surrounding rock formations and tropical rain forest, so Cedar Creek Falls was the ideal natural playground for us. We decided to set the alarm and go there early so we can avoid traffic and avoid returning with buckets worth of sand sprinkled generously throughout our car.
TIP: The car park at Cedar Creek Falls is small so go early to get a good park.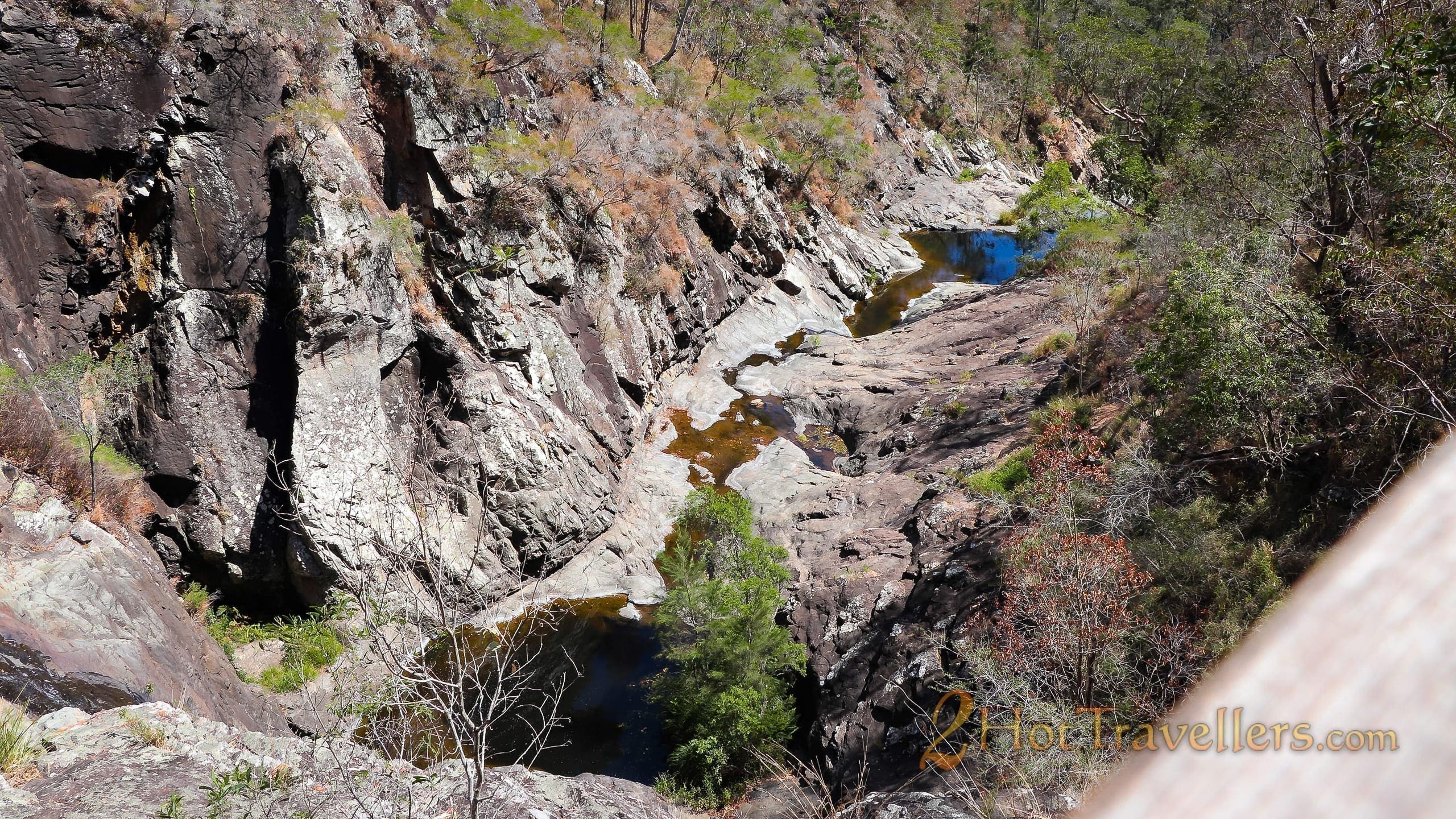 The trail to Cedar Creek Falls
One of the most delightful walks in the whole Tamborine area is the Cedar Creek Circuit (3.2km), which explores the creek's various cascades, rock pools, flora, and fauna. There is limited parking at Cedar Creek Falls. To get to Cedar Creek Falls you will continue past the picnic area along the trail. Shortly into the hike, you will come across the Cedar Creek Falls lookout (500 meters return), which is accessible with strollers and wheelchairs. From the lookout, you will see views of the gorge, waterfalls, and rock pools.
We arrived at 7 am sharp on a workday Friday and were surprised to find 2 other groups already here. When we returned to the car an hour later to offload or un-needed equipment, the car park had already filled with people double-parking, waiting for cars to leave. On a busy day, you may have to park on the road up the hill and walk down. The trip up the mountain and to the falls entrance is stunning in itself, though the best is still yet to be discovered!
Picnic Spot 
Whether you choose to head straight to the falls or to eat something first, you definitely want to pack a picnic lunch for your day trip here. Located right at the start of the walking trail are two spectacular picnic spots with toilets nearby.
Nestled among a canopy of trees is a sprinkling of picnic tables and barbecues with plenty of large, flat grassed areas perfect for throwing down a blanket or kicking a footy around with the kids.
Cedar Creek Falls Mt Tamborine
You can try to spot the many types of birds that chirp overhead or see if you can make friends with any other wildlife crawling around below. Some people opt to picnic beside the falls themselves, though for families with little ones the picnic spots will be less stressful.
Once all bellies are full, it's a good idea to take all the picnic gear back to the car before heading off on the walk to the falls. Although it is just 15 minutes walk, once you reach the falls the main place to rest is on the rocky boulders surrounding them, so it's best if you don't have to carry a great deal with you. Just make sure you have your swimmers, sunscreen, and water to drink!
Unfortunately, when we visited last, it was during a long dry spell. The Australian bush fires of 2019 were just about to tear through the dry countryside. It was dusty, it was dry. And the falls, well it was just a trickle.
The water in the swimming hole was stagnant and uninviting. The sun was hot, the rocks were sizzling, and the sweat was beginning to drip. Now, please don't get me wrong… Cedar Creek Falls Mt Tamborine is an amazing place… I was just somewhat disappointed in our timing.
The best time to visit
The best months to view the falls are between December and April, although even the dry months provide clean mountain water into the lagoons. You can make it a full day too, as the park is open until 8 pm in October to March and until 6 pm from April to September but be sure to bring plenty of water and sunscreen as it is quite exposed.
How To Get to Cedar Creek Falls
Drive out of Eagle Heights heading west on Eagle Heights Rd. At the T-junction turn right on to Geismann Drive which becomes Tambourine Mountain Road. Just after the turnoff for Thunderbird Park, turn right onto Cedar Creek Falls Road and follow it to the car park and picnic area at the end. From here head to the Cedar Creek Falls lookout and after enjoying the view walk 900m down a well-managed tarmac path and over a wooden walkway that takes you to the first of the three pools where swimming is allowed.
From Cedar Creek Falls lookout, descend through eucalypt forest and dry rainforest to the rock pools below. Take your swimmers and immerse yourself in the cold cleat water of any of the three pools.
If you are swimming, please be aware that there are many hazards in natural waterways. Do not dive or jump into the pools.
Hoping to return soon when the falls are in their full glory.
Mt Tamborine Wine Tour
After visiting Cedar Creek falls, Have a day experience in Mt Tamborine's boutique wineries. Cooee Tours runs full-day and half-day wine tours from either
Brisbane
or the Gold Coast. We can pick you up from your front door or holiday accommodation. If you're staying on Tamborine Mountain, we will pick you up along the way. Enjoy guided tastings at Tamborine's Wineries Mountain Distillery. This tour also includes a lunch, snacks & bottled water, and the option to stop at the Cheese Factory and scenic lookouts.
Accommodation near Cedar Creek Falls Mt Tamborine
Explore guest reviews of hotels in Mt Tamborine. There is a lovely little surprise nestled in the area. There are lots of themed restaurants and takeaway options, as well as kooky hotels, motels, and other accommodations.  There are many art galleries and wineries, and there are numerous picture-perfect wedding venues you can potentially have your nuptials at. Every couple of weeks there are local markets.