Curtis Falls is located in the hinterland region of the Gold Coast known as Mt Tamborine, and the waterfall itself lies within Tamborine National Park. Australia is certainly lucked in when it comes to rainforests.
Curtis Falls is the quintessential and popular Mt Tamborine walk – a moderate grade circuit of just 1.5km return that passes through the gorgeous lush rainforest of majestic eucalypts and towering palms to the splendid Curtis Falls, which are viewed from a platform overlooking a beautiful adjacent rock pool.
Accessed from – Joolah Section
Track Name – Curtis Falls track
Distance – 1.1km return
Duration – 30min
Classification –
Grade 3
 COVID19 ADVISORY: Many walks are currently closed due to COVID-19. Please, check the walk's official website to confirm if the track is open OR  turn back if it looks like the track is too busy when you get there.
Curtis Falls Mt Tamborine
Arriving at Mt Tamborine Park
When you arrive at Tamborine Park, there is a parking lot in front of Curtis Falls Cafe with around a dozen free spaces where you can park your car safely. From here, the trailhead is clearly signposted and it's a short 10-15 minute walk through the rainforest to reach Curtis Falls. 
Curtis Falls track (Grade 3)
Distance: 1.1km return
Time: Allow about 30min walking time
Details: Curtis Falls is suitable for most ages and fitness levels. Some bushwalking experience is recommended. Tracks may have short, steep hill sections, a rough surface, and many steps.
The track starts from the Dapsang drive car park and meanders downhill through a wet eucalypt forest beneath towering flooded gums. Halfway down, take advantage of the viewing platform on the left, allowing rainforest views towards the creek below.
Listen for the call of the elusive Albert's lyrebird — winter months are best to hear the almost-extinct male bird's ability to mimic other birds.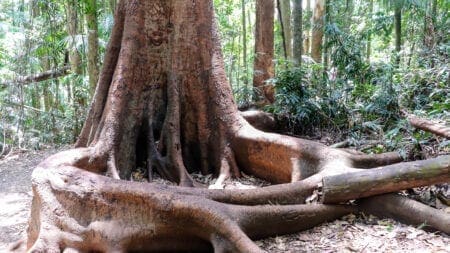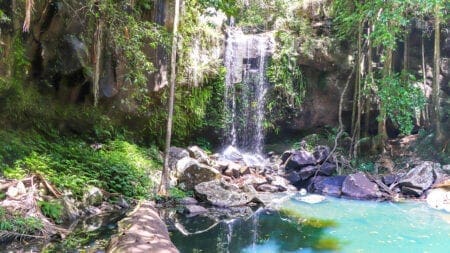 Curtis falls is a fantastic little gem of a walk in the middle of a town. Make sure you walk to the creek at the bottom. We saw fruit bats on the way down, lizards, and plenty of birds. There is talk of Platypus in the creek but unfortunately, I didn't see any. Easy walk but there is no made crossing at the end of the circuit so will need to scramble over rocks so take care.
The falls run all year-round, however, they are at their most spectacular after heavy rainfalls. The track ends at a viewing platform overlooking a large rock pool, with great views of the falls and the surrounding columnar basalt rock face…
The first view of the falls will take your breath away. Depending on the season, a raging torrent or gentle curtain of water tumbles over huge basalt columns to the pool below. The columns are the legacy of the region's rich volcanic history.
ALSO READ:  Things to do in Queensland: Dazzling destination in Australia
After spending time at Curtis Falls viewing platform, the track gradually descends to Curtis Creek, which is reached after the last set of steps. We explore the Joalah Lower Creek Circuit, an easy grade walking loop past rock pools and following a creek along the ground of the rainforest.
We will notice a drop in temperature as you descend into the lush rainforest.  We saw some beautiful crows nests and staghorn ferns growing in the canopy above..
Curtis Falls Best time to Visit
Curtis Falls Mount Tamborine is quite a popular tourist attraction and it can get quite busy on the weekends. If you can time your visit for a weekday, you will get to enjoy it with fewer people.
The best time to visit Curtis Falls and the Curtis Falls Walk is between 8 am and 12 pm for the best lighting. The elevation of the plateau in Mt Tamborine National Parks keeps the temperature down a little in summer although December to April is also the wettest time to visit. Winter is drier but also cooler.
If you're not a morning person, you can still visit Curtis Falls at any time during the day, just make sure to allow yourself enough time if you wish to complete the Curtis Falls track which takes up to 1.5 hours.
ALSO READ:  Koala: Interesting Facts
About Tamborine Park
Tamborine is a national park in the Gold Coast hinterland and is a part of the Scenic Rim Regional Council of South East Queensland, Australia, 45 km (28 mi) south of Brisbane.
Mt Tamborine National Park bushwalking walk is managed by the Queensland Parks and Wildlife Service. The protected area is scattered across 14 separate reserves that make up the National Park, interspersed with villages. There are a number of picnic areas as well as scenic drives and many bushwalks to lookouts, gorges, cliffs, waterfalls, rainforest areas, wet eucalypt forests, open forests, and woodlands.
ALSO READ: Cedar Creek Falls Mt Tamborine Disappointment
SAFETY PRECAUTIONS 
Wear sturdy footwear. Comfortable, ankle-supporting footwear is recommended—never thongs, high heels, new shoes, or dress shoes. Your walk won't be much fun if you get blisters or sprain an ankle
Avoid bites, stings, and scratches. Wear protective clothing and insect repellent to help prevent tick and other insect bites or stings, and scratches. Carry a first aid kit and know how to use it.
Do not disturb snakes—give them space and wait for them to move on. Some snakes are dangerous. If bitten, seek medical attention immediately.
Protect yourself from the sun. Wear sunscreen, a hat, and a long-sleeved shirt, even on cloudy days. Start longer walks at cooler times of the day and carry drinking water.
Carry fresh water. Drinking water is not provided. Creek water is unsuitable for drinking as it may contain organisms that can cause illness.
Walk safely. Stay on the tracks and follow signs carefully to avoid getting lost. Tell a friend about your walking plans and avoid walking alone. Tracks and steps can be slippery, especially after rain.
Do not attempt to cross flooded creeks. If you are caught out on the tracks when creek crossings flood, wait until the water no longer covers the track. Water rises and falls in a short period of time.
Never dive into creeks or rock pools. They contain hazards such as rocks and logs, water depth is variable and unpredictable and rock surfaces can be slippery.
Take care of your property and personal safety. Thefts can occur in car parks. Do not leave valuables in parked cars.
Supervise children at all times, especially around lookouts and steep track edges. Do not allow children to run ahead.
ALSO READ: Amazing Things To Do In Brisbane, Australia | Do It Now
Glow-worm caves
If you're visiting Curtis Falls during daylight hours, fear not if you miss the glow worms. The journey underground to purpose-built cave is quite spectacular. The cave is complete with stalagmites and stalactites, water features, flowstone — and thousands of glow worms. Shining on the cave roof like stars in the night sky, it's well worth the adult admission cost of $12. Children are $6 and kids under four are free.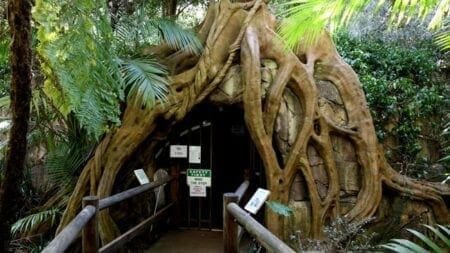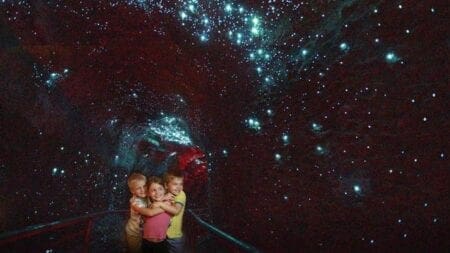 REGULATORY NOTICE:
Once again, please note that swimming is prohibited at the falls, there is a restricted access area below Curtis Falls protecting a fragile glow-worm colony. The large tree trunk slowly descending into the rock pool is tempting to explore.
Please resist entering the area outside the viewing platform fence, and observe the restricted access area notice (PDF, 108KB). Contravention of the requirements of this notice is an offense under the "Nature Conservation Act 1992". Maximum penalty 80 penalty units and on the spot fines of up to $6000.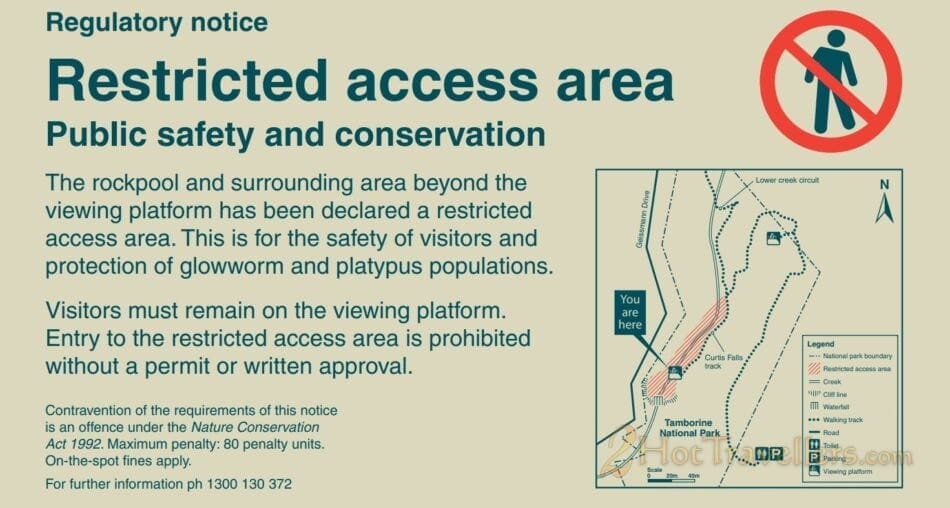 How to Get there
Address:  Curtis Falls, Tamborine National Park,  Queensland 4270
Signposted turn off from Eagle Heights Road into Dapsang Drive, where there are a parking area and toilets. There is also a cafe for a refreshing drink on your return. There is also broad walk access from the junction of Eagle Heights Road and Geissmann Drive.
Don't forget your insurance! You never know when you'll need it. We suggest getting travel insurance.  Which coverage includes medical, trip cancellation, your belongings from theft or damage, baggage,  car rental coverage, and much more.