Tagaytay Picnic Grove is one of the great picnic locations near Taal Lake that has always been very popular for family gatherings. Is it as good as it used to be?… Read on to see…
For a great view, ride the new Ferris wheel that is at the entrance of the Grove. After we paid the entrance fee, we stopped to buy some Strawberry Taho from one of the vendors. It was then we noticed there was no queue on the Ferris wheel so we gave it a try. Nice ride with great views…
Good for families, great for photography, or just for relaxing…
For those wanting to enjoy an amazing panoramic view of Taal Volcano and Lake, there are not many better places to do it than Tagaytay Picnic Grove, one of the popular tourist destinations in Luzon. With its built-in cottages and recreation areas, this park is ideal for picnics, gatherings, and the all-important family get-together.
As you can see from the signs in the picture above, the authorities want the Grove to remain clean and litter-free. From what we saw, people are observing the signs and not littering. Oh, and if you want a cottage, you better arrive at the Grove early as the cottages are taken fast.
Before you walk down to the Grove there are areas under the trees where you can set up tables and chairs and spread out a little if that is your thing. Of course, if you set up there you will miss all the views.
Tagaytay Picnic Grove – The Grove is a great place for all the family even though the path leading down to the Grove can be steep and uneven making it easy for young children or the elderly to fall and injure themselves.
When we were there, the suspension bridge we used to walk from one end one the zip line to the other was muddy in some areas making it messy and slippery if you were not watching where you were stepping.
But it doesn't stop there… Picnic Grove is not all about picnics. There is so much to do there, it is hard to be bored. There are such activities such as horseback riding, cable car, Eco-trail, and zip line. If you are not of the adventurous inclination, you can always stroll the Eco-trail.
Walk a boardwalk for about 500 meters while being enveloped and surrounded by plants and trees, hence the name of the said trail – Echo-Trail. Gary is the adventurous type, so he rode the Zip Line… Twice. On his first trip across on the zip line, the GoPro didn't record so he tried it a second time.
A day out is never over without doing a little souvenir shopping and buying a "pasalubong" or two. You can find a lot of items such as native bags, key chains, dresses and shirts, and a whole lot more. 'Don't forget to say "tawad" (or discount) to get a great deal (wink!)
Ok, here is a negative…
Honestly, I hate to use the word ugly but yes, this place in areas is nothing but ugly, dirty, and seems like whoever's managing it is NOT doing their job well.
We pay an entrance fee (Entrance fee is 50 per head plus 35 for parking.) that, we are told, is for the upkeep of the Grove. But, that statement is often a joke! When we were there the toilets were closed and for good reason: they looked disgusting!
Yes, there are signs prompting visitors to clean up after themselves, but, people as a majority, don't. Tagaytay Picnic Grove is a wonderful spot if not for the litter. Please officials and visitors alike, fix this place up! The saving grace is the view. This place could be improved if only it will be repaired or refurbished.
Tagaytay Picnic Grove Map
As you can see from the map, there are many things to do at Picnic Grove other than taking in the view – Tagaytay Picnic Grove.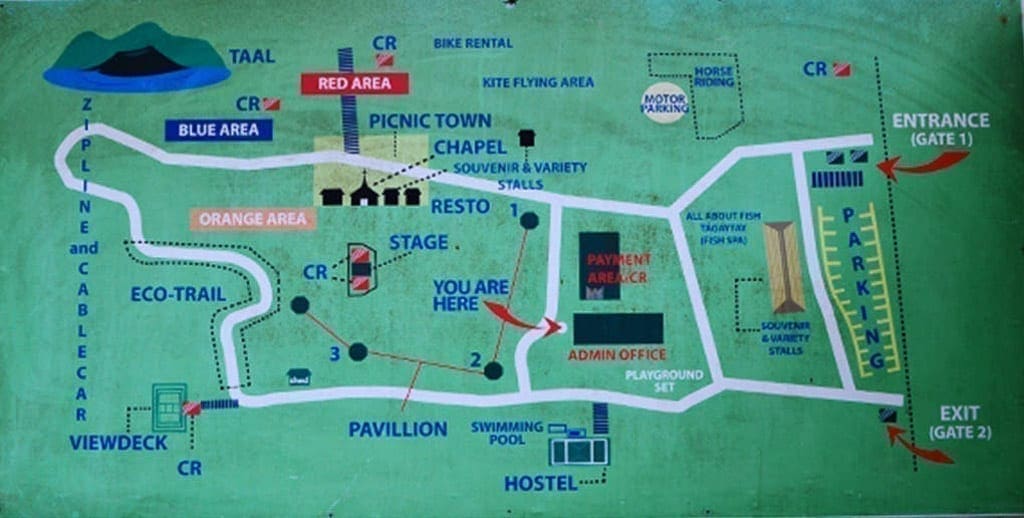 Tips When Visiting The Gove
Arrive early
It is a good idea to try and arrive at the grove early in the morning. By doing this you will avoid many of the crowds, it will be much easier to find a parking spot if you drive and you will have your pick of areas where you want to camp out for the day. You will also be able to enjoy the trails and walkways without much of a crowd.
Be careful
While the rolling terrain is a large part of the grove's charm, the grounds can become rather steep or even dangerously slippery in some parts if you are not careful. If you have a disability or aren't as nimble as you used to be, it would be wise to find areas where you can just relax without having to wander too much.
Mind the children
Children are children and it doesn't matter how many times we tell them not to do something… curiosity gets the better of them and you know the rest. It is quite easy for unsupervised children to climb over fences and end up wandering down trails before you know it. Keep an eye on them.
If you are not the adventurous type, it is easy to simply relax at one of the picnic huts (P100 – 500 fee). You can also that a leisurely stroll through the Eco-trail. Eco-trail is where you will be taking a boardwalk for about 500 meters long while being enveloped and surrounded by plants and trees, hence the name of the said trail.
For the more adventurous, try the Zipline. Now, when we were there, the cables did look a little rusty and with slight corrosion and the operators really didn't seem to be there for anything other than the money (So, if things go wrong, don't look to them for help). But, these things still didn't deter Gary from giving the Zipline a try… Twice (The GoPro didn't record the first time across… haha) – Tagaytay Picnic Grove.
Tagaytay

 Picnic Grove

All Fees are only an indication and may have changed since posting

Entrance Fee: ₱50/person
Parking Fees:
Cars or Vans – ₱35

Buses – ₱100

Jeepneys – ₱50
Cottages and Sheds: ₱ 100-500
Horseback Riding: ₱150-200/h
Zipline (all rides with a souvenir photo):
₱200 (weekdays)

₱300 (weekends & holidays);

₱100 (additional ride)
Tagaytay Picnic Grove – Everybody knows this place. I've been here several times since I was young. My family enjoyed spending time here. If there is one place in Tagaytay where typical getaways happen (relaxation and adventure), that is Picnic Grove. Yes, it's typical, but truly provides every family that great moment of togetherness – Tagaytay Picnic Grove.