Few things beat a good soak in a hot spring with a beer in hand after bone-jarring days spent driving along dusty desert tracks. Waterholes are filling up as rains return, yet even the driest parts of the "land down under" hide secret swimming spots of dazzling beauty. Top 10 Swimming Spots in Australia.
Australia is renowned for its breathtaking beaches, but it's also home to other spectacular swimming spots. These include waterfalls and turquoise lakes in remote national parks.
Ask some Aussies where to go swimming and they will readily give you a list of a dozen of swimming spots they love. But they won't tell you their absolute favorites. That's because the best natural swimming spots are the ones you have all to yourself, even in the middle of summer. Fortunately, in a country as big as Australia, there is plenty to go around. So get your gear off, and dive in.
Top 10 Swimming Spots in Australia
1. Emma George Falls- Kimberley WA
Location: Gibb River-Wyndham Road, Durack, Western Australia, 6743
Activities: Camping, Fishing, Hiking, Swimming, Walks
Emma Gorge is one of Kimberley's most spectacular and accessible gorges, set in the one-million-acre wilderness of El Questro. The dramatic Emma Gorge falls pour over a 65-meter-high cliff into a large plunge pool, punctuating the end of the 1.6-kilometer hike in.
To reach one of the remote swimming spots in Australia, just a 50-minute drive from Kununurra via the epic Gibb River Road – one of Australia's most unique four-wheel-drive adventures. Access is between May and September (dry season) and transfers are available from Kununurra if you don't have a four-wheel drive.
Join local guides or take a self-guided hike on the Emma Gorge Walk Trail into the rugged red Cockburn Ranges. Within one hour you'll find yourself beside the tranquil pool of Emma Gorge. Fed by a droplet waterfall and a thermal spring, it's impossible to resist a swim in crystal clear water.
The water is refreshingly cool, shaded by the looming cliffs for most of the day. Tourists dribble in and out, dropping piles of clothes on rocks as they stare up at the falls in awe before shocking their hot, sweaty bodies with the water's cool, pristine touch. The plunge pool is deep and wide with a rocky bottom, but the water is so clear and fresh, you could drink it.
2. Cathedral Gorge, Purnululu National Park, WA
Location: Piccaninny Creek Carpark, Purnululu National Park, Halls Creek, Western Australia, 6770
Activities: Four Wheel Driving, Walks, Hiking
The moderate 4 km return Cathedral Gorge walk trail is located in Cathedral Gorge, an astonishing geological formation with amazing acoustics, located within the ranges of Purnululu National Park or the Bungle Bungle Ranges. It has amazing natural acoustics and Echidna Chasm – a gorge with a spectacularly long, narrow chasm. It has striking color variations, depending on the angle of the sun beaming into it. Walking through a narrow gorge, the sheer cliffs towering 200 meters above on each side.
Cathedral Gorge is the name given to a breathtaking natural amphitheater of red rock, created by millions of years of water erosion. In the Wet season, a waterfall cascades from the roof of the gorge down into a pool of water in the center of the amphitheater. This immense circular cavern is renowned for its acoustics, inspiring many visitors to try out their singing voices.
The Top Trail features unusual bee-hive striped formations and deep gorges, making it one-of-the most fascinating geological landmarks and one-of-two World-Heritage sites in Western Australia.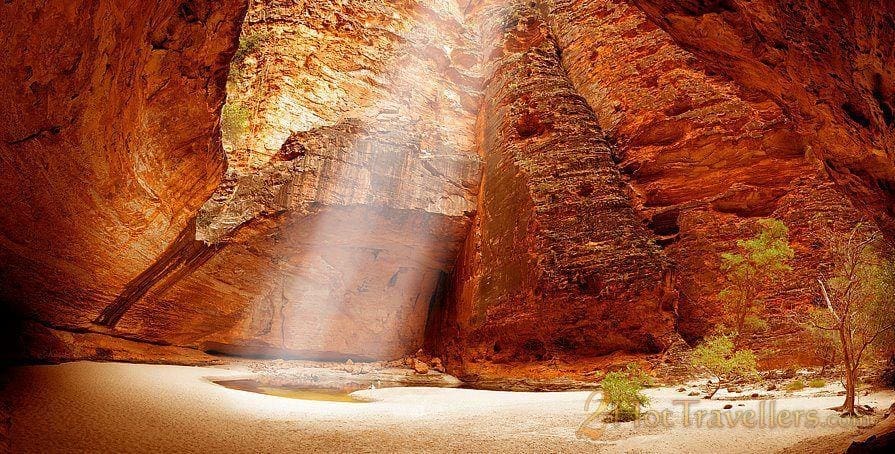 Top 10 Swimming Spots in Australia
3. Little Blue Lake – South Australia
Location: Mount Salt Road, Mount Schank South Australia, 5291
This unique swimming spot in Australia sits in an unassuming paddock about 15 kilometers south of Mount Gambier, looking a little lonely and out of place. It makes more sense when you learn that Baby Blue is a sinkhole, formed by the gradual collapse of an underground cave. The pool has an average depth of about 35 meters and it isn't unusual (but it is a little creepy) to see the odd diver suddenly emerge from below. In fact, this area is one of the best inland diving destinations in the world, with a Swiss-cheese network of 500 underground caves and 50 sinkholes to explore. For our purposes, however, surface swimming is just about the right speed.
Sheer 10-meter limestone walls make this an iconic South Australian jump and a rite of passage among locals. Like many places, signs forbid jumping here and there are murmurs of council-enforced fines, though nobody seems too concerned. Jump at your own discretion. Alternatively, take the steps down from the car-park side of the pool to a shiny new pontoon. This makes for a more gentle entry and is an easy introduction to the cool water. A few natural terraces extend back towards the road, providing a great vantage to sit and watch, like a swimming amphitheater.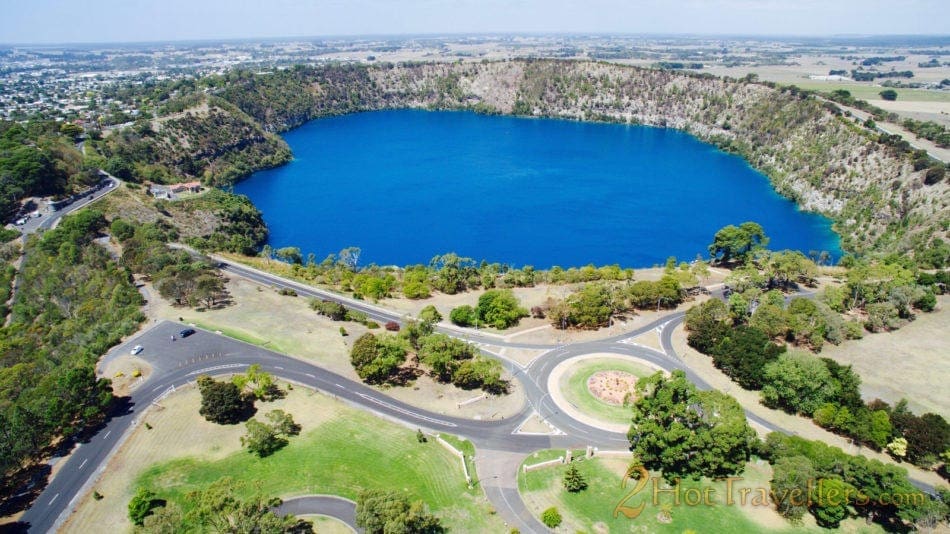 4. Figure 8 Pools – Royal National Park
Location: Royal National Park Trail, Lilyvale NSW 2508
A 6 km return trip from the nearest car park, it isn't easy visiting the Figure 8 Pools at Royal National Park. But enjoying this natural phenomenon for yourself is worth the journey. You'll find the natural rock pools — one in the shape of figure eight — on a coastal rock shelf south of Burning Palms Beach. Ensure you read these safety guidelines on the NSW National Parks and Wildlife Service website before visiting. Another option within Royal National Park is Karloo Pools.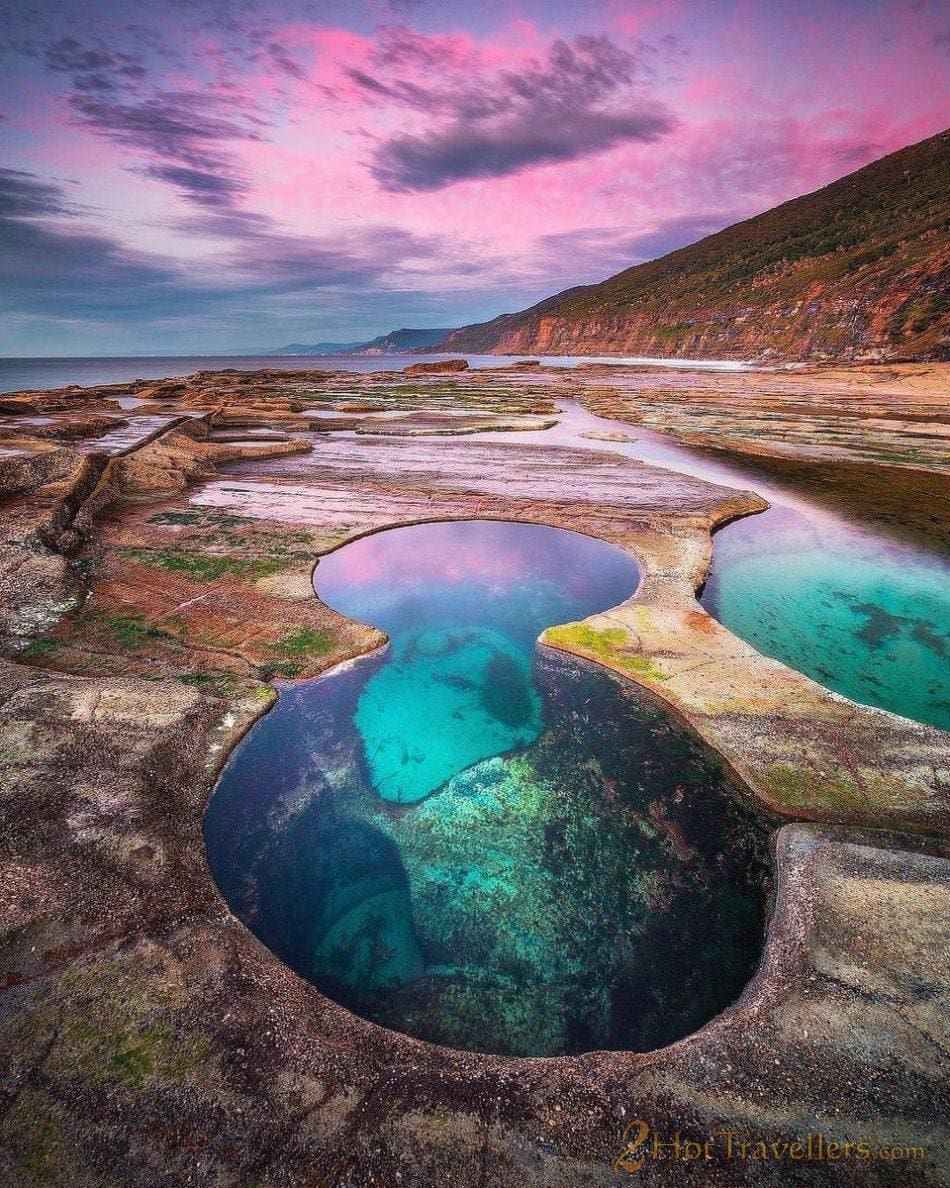 Top 10 Swimming Spots in Australia
5. Jourama Falls – Townsville Queensland Australia
Location: 91km north of Townsville or 24km south of Ingham, via the Bruce Highway

Fringed by rainforest, Waterview Creek tumbles down many picturesque cascades and rapids, offering beautiful spots to relax, camp, walk and enjoy watching birds, butterflies, and other native wildlife.
Staying safe
Never jump or dive into the water and be careful at the water's edge. Rocks can be extremely slippery and submerged timber can appear after flooding. Fatalities and serious injuries have occurred here.
Do not attempt to cross strong flowing creeks and streams. Flooding can occur during and after heavy or prolonged periods of rain and the creek may become impassable. Ensure you have several extra days' worth of food.
Climate and weather
The Jourama Falls section of Paluma Range National Park has a wet, tropical climate. In summer, rainfall can exceed 500mm in 24hrs. During the cooler months of the year, from April to September, daytime temperatures range between 25°C and 29°C and there is little rainfall.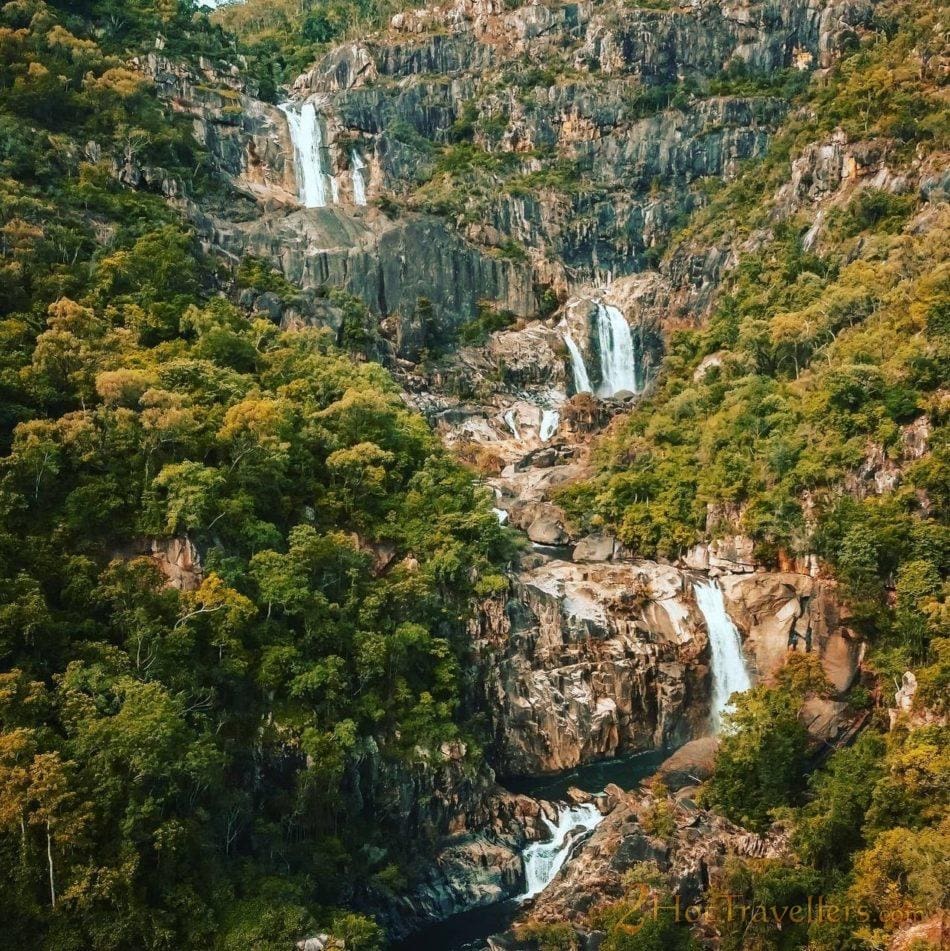 5. Fern Pool – Western Australia
Address: Karijini WA 6751

Hours: Mon-Sun 6 am–6 pm
Fed by an aquifer, the pools of Karijini are year-round deep-canyon waterholes — even in the heat of 40-degree summer days, the water remains icy cold.
Fern Pool, also known as Jabula, the serpent's pool, has a delightful waterfall you can sit under and watch the resident flying foxes nest in the surrounding trees. Surrounded by dripping ferns from long-gone Gondwana days, it is a true oasis of the harsh Pilbara region.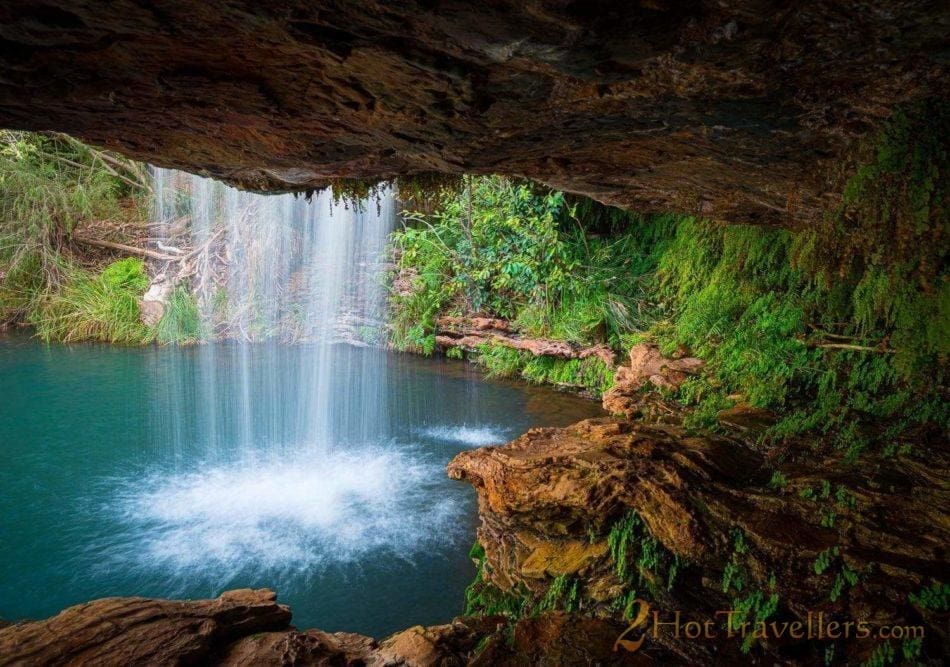 Fern Pool is just above Fortescue Falls in Dales Gorge, on the eastern side of Karijini National Park. Descend the staircase into this ancient cavernous gorge and follow the clear path for 300 metres from Fortescue Falls.

To reach this tropical oasis from Perth, you can take a 2 hour flight to Paraburdoo or Newman (2-3 hours drive from Karijini), or a 15 hour drive via the Great Northern Highway.

Enjoy a picnic lunch overlooking Fern Pool or Fortescue Falls, follow the 4 kilometre trail to Circular Pool for a second swim, or take the Gorge Rim Walk for an eagle's eye view of Circular Pool. If you have more time to explore the natural and cultural highlights of Australia's North West, follow the 2,480 kilometre Warlu Way interpretive trail to Karijini.
6 Elephant Rocks & Greens Pool – Western Australia
Location: William Bay Rd, William Bay WA 6333
Elephant Rocks is a sheltered beach in Western Australia, a few hundred meters east of Greens Pool. It is located about 15 km west of Denmark, in William Bay National Park. Its name is derived from a series of exposed rocks, which from several angles resembles a herd of elephants.
A short walk trail from the car park takes you to a lookout over Elephant Rocks. From here, you can just imagine that these massive boulders are elephants sunning themselves before heading off for a swim. The trail then descends between the rocks to a sheltered cove. This is a lovely place for a swim but be aware that strong currents sometimes run through this cove. Camping is not permitted in William Bay National Park.
7. Millaa Millaa Falls – Atherton Tablelands, Queensland
No, you haven't stumbled onto the set of Fantasy Island, but it's no wonder Millaa Milla Falls are among the most photographed in Australia. Lush green rainforest, fern trees, and flowering plants surround this 18m waterfall, which tumbles in a broad white ribbon straight into a deep plunge pool ideal for swimming. As part of the popular Waterfall Circuit, you won't have this place to yourself but it will still take your breath away.
8. Motor Car Falls – NT
Location: Kakadu National Park, Northern Territory, 0822, Australia
The 2-hour long trek to Motor Car Falls is worth the effort because this small waterfall is one of Kakadu's gems and is a favorite with locals during the tropical summer when larger falls are inaccessible. The Falls are surrounded by lush monsoon forest offering a shady retreat from the scorching heat for both humans and wildlife, with wallaroos and birds frequenting the area.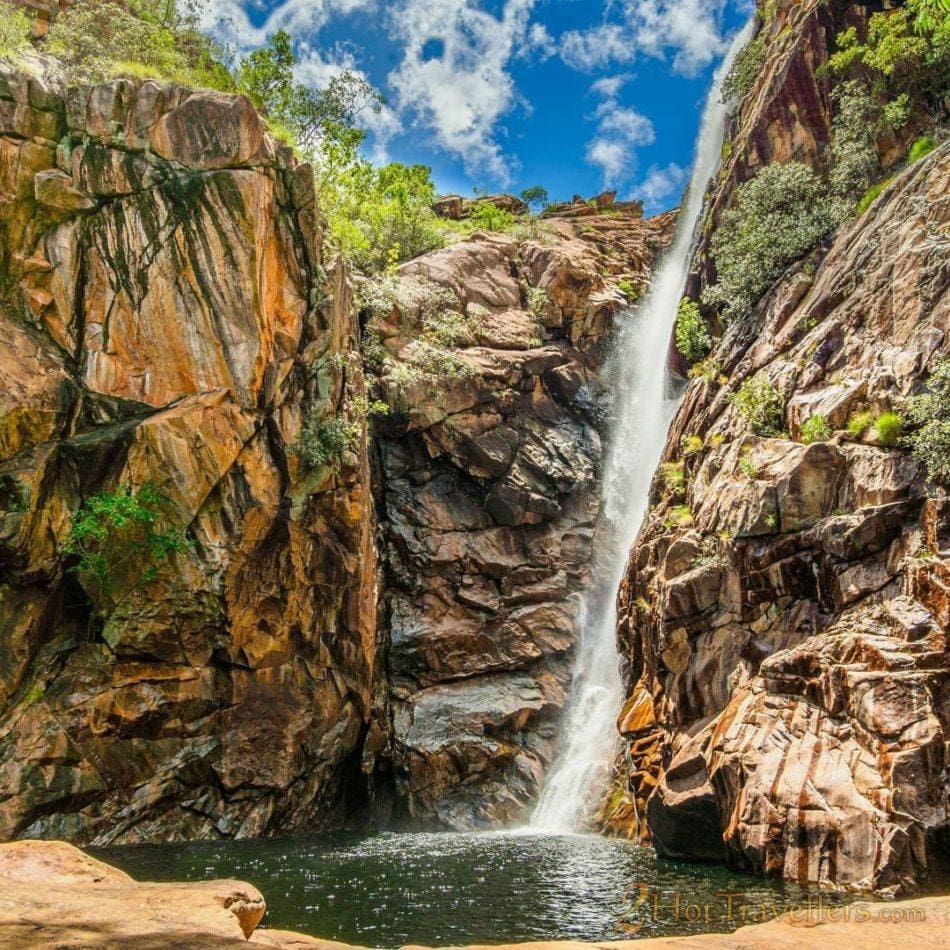 9. Turpin Falls – Victoria, AU
Fancy a dip in a billabong (not the clothes brand; a branch of a river forming a stagnant pool)? Turpin Falls is a large, pretty – and often chilly – billabong near Kyneton, bordered on three sides by a 20m high rock wall. After heavy rain, waterfalls tumble into the pool and offer free deep-tissue massage. Bring your own inflatable flamingo.
10. Josephine Falls – Wooroonooran National Park, Queensland
Location:

LOT 1 Josephine Falls Walk, Bartle Frere QLD, Australia 4861
Josephine Falls is a scenic waterfall fed by rains falling on Queensland's highest peak, Bartle Frere, which looms above this popular picnic area in Wooroonooran National Park.
Josephine Creek starts as a gentle trickle high on the south-east side of the summit of Bartle Frere. By the time it has traveled 7.5 km to the smooth granite boulders of Josephine Falls, it is a thundering torrent that will take your breath away.
Enjoy the 1.2 km return walk through lush, world heritage-listed rainforest to viewing decks over the picturesque falls. Josephine Falls sits at the base, with a constant flow from streams that cascade down the mountain, creating some of the cleanest waterways in the world.
This list barely dips its toe into the enormous number of stunning wild swimming spots in Australia. 
Word of caution:  Just remember, swimming in the wild is not without risk. Always check for obstructions under the water. Don't jump in unless you know it is safe, especially if you're not a competent swimmer. And slippery rocks are dangerous. Australia is also home to crocodiles: check with locals before you go swimming in remote places in the tropical parts of Oz. 
- Top 10 Swimming Spots in Australia -