Enjoying time spent outdoors is what living in Queensland is all about. Fall is the perfect time of year for a picnic. The afternoons are still long but without extreme heat and humidity. Brisbane has plenty of picturesque picnic spots to choose from.
We have titled our list "The 12 best picnic spots in Brisbane" simply because, in our opinion, we feel they are. The locations we have chosen are more than just a patch of grass where you spread the picnic-blanket out. They offer so much more. 
So grab your housemates, friends, or family and head towards the sunshine. Pack a picnic and enjoy spending time at some of the best picnic spots in Brisbane.
Also, I have kept the selection to the greater Brisbane area only. I would love to have included Mt Nebo, Mt Tamborine, and many areas of the Goldcoast in this list but they were too far out of Brisbane to be included here.
No more delays, here is our list of the best picnic spots in Brisbane…
12 of the Best Picnic Spots in Brisbane
City Botanic Gardens, Brisbane
Don't confuse this with the Mt Coot-tha Botanic Gardens, we are talking about the riverside gardens in the CBD. Take a walk down Weeping Fig Avenue, a row of trees planted in the late 1870s, which connects the riverside with the main entrance on Alice Street.
Botanic gardens were absolutely beautiful. So lush and colorful. Clean and not one piece of rubbish or paper anywhere. There's also an open, grassy picnic area with a sheltered pavilion at the rear of the gardens, opposite QUT, and plenty of picnic tables throughout the gardens and along the riverbank.
With its impressive colonial history, plant collections and riverside location, the City Botanic Gardens are a much-beloved part of the cityscape. The City Botanic Gardens are only a 10 to 15-minute walk from the city center and Central or Roma Street railway stations.
New Farm Park is one of Brisbane's oldest, grandest and largest parks and it is easy to see why it is one of the best picnic spots in Brisbane. Attracting over 18000 visitors a week, it must be doing something right. 
Home to 146 jacaranda trees, this park becomes jacaranda central in spring. When the Jacarandas are in bloom it is a glorious sight.
There are electric bbq facilities and water fountains dotted around, along with lots of shady trees to laze underneath for a picnic.
Much-loved Brisbane Powerhouse is located at the eastern end of the park and houses Mary Mae's and Bar Alto if you're after a drink or a bite to eat.
Kangaroo Point Cliffs Park
The views of the city are amazing no matter where you are along Kangaroo Point Cliffs. The Kangaroo Point Cliffs Park extends from the base of the cliff down to the river. Electric barbecues, tables and benches are provided for the picnicker as well as an assortment of sculptures for the art lovers in the group.
There's ample space for you to throw down a rug and soak in the atmosphere.  If you're ready to release some energy, try running up (or down) the 107 steps located at the eastern end of the cliffs. This jagged bluff is especially pretty at night, with floodlights casting an ethereal glow. 
Tip: Try to arrive early as parking can be scarce to almost non-existant if you arrive too late.
12 of the Best Picnic Spots in Brisbane
Just a 10-minute walk from Brisbane's CBD lies the Roma Street Parkland. Adjacent to the Brisbane Transit Centre is a 16-hectare oasis of designer gardens dubbed the city's "biggest subtropical backyard".
The parklands are home to grassy picnic spots, subtropical plant displays, colorful flower displays, fern groves, rocky peninsulas, barbeque areas, and playgrounds for kids. There's something for people of all ages with a visual feast everywhere you look.
 If you prefer a hot meal, barbeque amenities are dotted throughout the park. With gardens filled with flowering botanicals, a convenient location (a 10-minute walk from Brisbane's Queen Street Mall), and the fact they're open all day, every day these parklands are very popular.
Roma Street Parkland offers a wide variety of free guided walks through the gardens led by experienced volunteer guides. There's a walk for everyone as they all vary in length and time. It is easy to spend the day right here. Another great attraction is the Enchanted Garden. An amazing light show set throughout the park. I definitely recommend seeing this when it is on. Easily one of the best picnic spots in Brisbane.
Lower Moora Park plays hosts to a popular playground, with plenty of surrounding areas and shade to have a barbecue while enjoying the ocean views! If you don't want to pack your own picnic for the drive, the café that sits at the top of the hill has a range of takeaway options to devour.
At the base of the Shorncliffe cliffs and adjacent to the historical jetty is this enchanting little bay. With grassy stretches shaded by cotton trees, rock pools, modern white picnic shelters, BBQs there's even a great playground.
The playground features a series of interconnected. timber forts with colorful animal wood carvings entwined on inside posts as well as sea creature sculptures in the sand, there are adventures to be enjoyed everywhere you look.
Another good one for families. In a previous life, this was the site of the 1988 World Expo, but now it's 17 hectares of parklands, restaurants, and cultural institutions. Our favorite spot is Streets Beach, a man-made swimming beach overlooking the river and the CBD.
There's plenty of space for splashing, with enough chlorinated water to fill five Olympic-sized pools. The kids can cool off in the patrolled lagoon while mum and dad lounge on the white sand. The park's walking tracks include the kilometer-long arbor, whose curved steel posts are covered with magenta bougainvillea.
Nearby, alongside QPAC performing arts complex is the towering Wheel of Brisbane. Climb inside one of its climate-controlled gondolas for 360-degree views of South Bank and the city.
Daisy Hill Conservation Park
This park is tucked away from it all in the southern suburbs of Brisbane (it's also only a short drive if you're coming from the Gold Coast).
The perfect place to take kids and out-of-town visitors, this gorgeous picnic patch is home to numerous picnic benches (including two undercover ones), barbecues, and five walking tracks that take you through the eucalypt forest and paperbark wetlands.
Best of all, there's a Koala Centre where you can get up close to koalas – and it's free!
12 of the Best Picnic Spots in Brisbane
The Wynnum Esplanade is such a good area for families. It is a beautiful waterfront walk, great for strolls with the pram or bikes/scooters for older kids. The newly upgraded aqua park is amazing, there is a little water stream area for the younger kids which my toddler enjoys, and a splash zone for older kids.
The esplanade has a fantastic bike path that runs from Wynnum north to Lota with plenty of great spots to pause and enjoy the view out to Moreton Bay. This is best for a picnic at high tide where you can byo or check out the very good fish shops along the Esplanade. 
On the other side is the wading pool with wave-free swimming for kids in the summer and in the winter they drain it and offer volleyball, people also sail their remote control boats. There is also pandanus beach if you prefer to sit on the sand and splash in the beach water, which is also a waveless bay great for children. There are several playground areas, and plenty of shaded seating and tables for a nice lunch spot, or grassy areas to spread out on a picnic blanket. The car park does fill up fast but there is plenty of street parking.
Shady trees, cool breeze – Add this to your list of the best picnic spots in Brisbane.
J.C SLAUGHTER FALLS | MT COOT-THA
Although it may not have the most poetic name, Slaughter Falls is a must-visit area part of the Mt Coot-tha Reserve. With plenty of facilities such as barbeques, picnic tables, carparks, toilets, taps, and shelter sheds, you can enjoy the serene surroundings with ease.
While you're there check-out the bushy walk trail lined with grassy creek banks or head to the Summit Track for a solid hiking challenge. J.C Slaughter Falls is a true representation of our South-East Queensland landscape with rainforest, vegetation, and serenity at the plenty.
The Slaughter Falls area is part of Mt Coot-tha Forest which is only about 6km from the central business district of Brisbane city and is comprised of 1300 hectares of open eucalypt forest, creeks, and waterfalls. There are numerous picnic sites and trails which are described and mapped here. 
The Mt Coot-tha Botanical Gardens are huge and feature flora from different regions of the globe as well as interesting sculptures. It's also the location of a planetarium, of interest to sky gazers.
12 of the Best Picnic Spots in Brisbane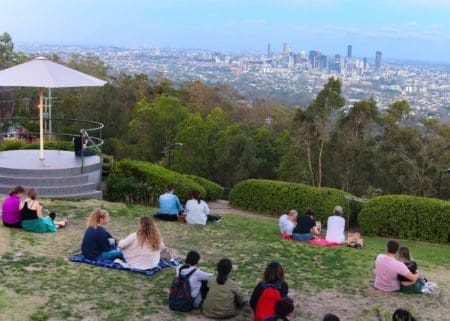 BOTANIC GARDENS MOUNT COOT-THA
Arm yourself with a map from the entrance board and get lost in the cool-on-the-hottest-day extensive labyrinth of wheelchair and stroller accessible paths through rainforests, desert plants, bamboo groves, South American and African glades. This Garden in all honesty is Massive and we mean it. Divided into many parts, each focussing on species, unique and diverse in their history. If you are looking to get away from the buzz of the city. This is the place to go. Lots of different gardens and sections. Particularly loved the heart lawn on valentine's day. We always find something new when we visit. Can't recommend it enough!
Wellington Point Jetty & Lookout
I spent a lot of my teenage years hanging out at Wellington Point so I might be a little bias… But, what can I say? I love the place and so I am adding wellington point to my list of the best picnic spots in Brisbane. 
This is a wonderful location to relax on a sunny day, especially a Sunday afternoon.
There are picnic tables or bring your own picnic blanket. You can walk out to King Island on a low tide on the sand bar.
There are public amenities, a fish and chip shop, a beach, a children's playground, a jetty, and a launch for boating.
There is plenty of parking but be warned it can get very busy as it's a great location. Enjoy your visit to Wellington Point Jetty & Lookout.
Also, if you are there at low tide it makes a pleasant beach walk with the dogs from Wellington point to King Island with a welcoming dip in the ocean along the way to cool off.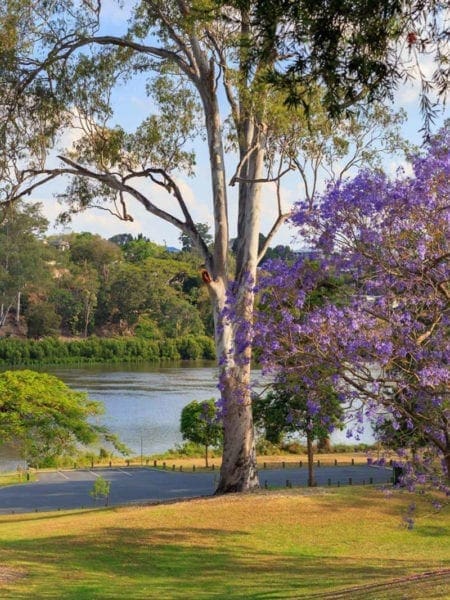 FIG TREE POCKET RIVER RESERVE
Fig Tree Pocket River Reserve is one of Brisbane's hidden treasures – a secreted waterfront park with picnic tables, BBQ, boat ramp, and cute nautical-themed playground, overseen by majestic gum trees.
Bring some cheese and your favorite wine and pamper yourself by the waterfront. After you've had your fill of snacking, kick back and relax under the abundance of gum trees framing the entire reserve. Oh, and did we mention all of this is only eight kilometers from the CBD? Heck yeah!
Yet another easy addition to our list of the best picnic spots in Brisbane.
Where is your favorite picnic spot? Drop a comment below and let us know. All are welcome.
- 12 of the Best Picnic Spots in Brisbane -