Jing Ting Restaurant is bringing North Chinese cuisine to the City of Dreams. Experience the food, service, and decor with us as we review this restaurant…
Filipinos undeniably love Chinese cuisine — Noodles, dim sum, or stir-fried dishes always seem to be popular, and for good reason. But… prepare your tummies for something a little different. The City of Dreams Manila is overturning the tables and bringing all food lovers something totally new with Jing Ting Restaurant.
Northern Chinese cuisine, which is not as well know in the Philippines as it's Cantonese counterpart, is what makes the Jing Ting Restaurant stand apart from the rest. For instance, the menu focuses on hand-tossed noodles with jiao zhi (dumplings) as well as various spices popular in the region. It must be noted that Jing Ting's dishes are not as overwhelmingly spicy as Thai or some other Chinese dishes.
Chef Yang Chen Fei (fondly called Chef Allan) is Jing Ting's chef de cuisine. Also joining him is Yang Zhan Hui, his sous chef. It was a big moment for Chef Allan when City Of Dreams flew him over because this is his first time away from China. Among his many culinary skills is that of making hand-pulled noodles and dim sum.
Below is a short video we have of Chef Allan making hand-pulled noodles in less than two minutes. With the glass viewing window, anyone can watch the chefs working on their art.
The Food
Here are some of the dishes I recommend you try when you are at Jing Ting Restaurant.
"Jiao Zi" or Beijing Dumplings
From what I am told, this is very popular and is one of their best sellers. (P378/ 8 pcs, P1260/30 pcs)
Jing Ting offers authentic Jiao Zi (dumplings) with delicious fillings like beef and celery, pork, vegetables, and even a fusion containing kimchi. Whichever variety you choose, make sure to dip it in their amazingly tasty dipping sauce made of black vinegar, chili, sesame oil, and soy sauce.
The pastry wrapping is nice and firm so it doesn't fall apart when you dip it in the sauce as I have tried at other restaurants. Remember, if you need the dipping sauce to be a little hotter you can always add more chili from the condiments.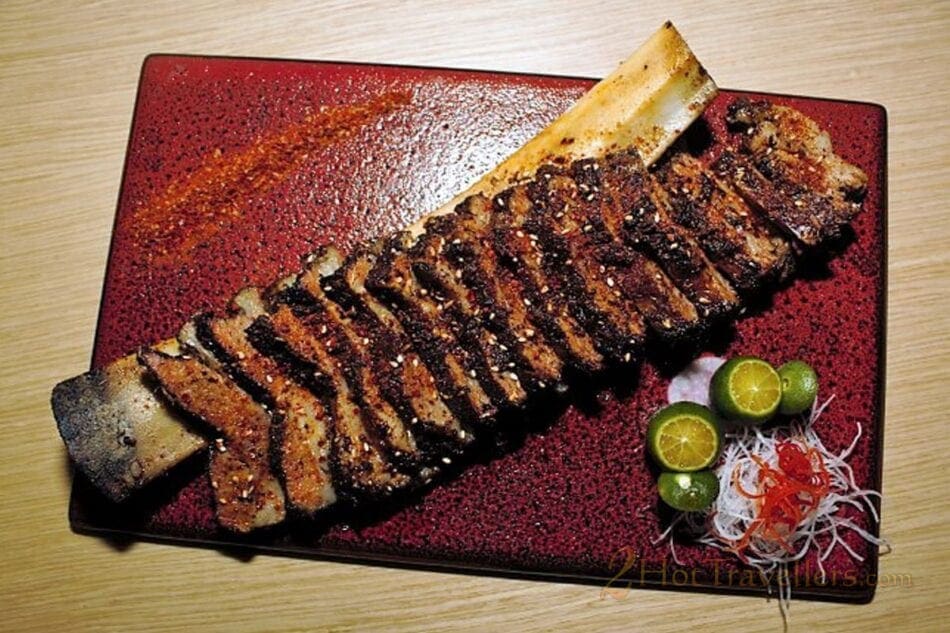 Genghis Khan Short Ribs –
₱1,380
Chef's Recommendation Menu 
Chef Allan also takes pride in their meat dishes, which usually entail hours and hours of prepping and cooking to achieve the perfect flavor and texture.
Gary ordered this dish for us both to try "ala Philipino style". With a name like "Genghis Khan", we wondered if it would live up to the hype…
When it made it to our table it looked good on the plate, and smelled good in our noses but tasted even better in our mouths. Looks-wise, it is impressive, a whole bone-in short rib with beautiful charring and visible spices. I like how tender the meat is and how the herbs and spices nicely complement each other.
This is a real winner in our books.
Hand-pulled Noodles with Stewed Pork Ribs Soup
₱388
We were recommended by the staff to try this dish instead of the original Hand-pulled Noodles in Clear Chicken Soup which I was going to order. The waiter said the chicken can sometimes be a little bland and the pork ribs were definitely tastier.
I liked this dish however, Gary still found it a little bland. Adding more sauce gave brought the magic back Gary told me
Steamed Molten Salted Egg Yolk Custard Bun
₱288
I loved these the first time I tried them at China Blue but I must say I think Jing Ting's buns are better. When comparing I found the bun to be nice and soft with a good texture in the mouth while the salted egg custard had a more intense flavor.
Oh, be careful, the custard can be runny so don't make too much of a mess (lol).
Cold Shredded Rice Roll
₱178
The cold shredded rice roll (P178) has layers of bright flavors that don't overpower, but maybe for an acquired taste—if you're not a fan of sesame flavors, or anything too oily, you may want to skip this.
Jing Ting has an open kitchen that showcases the process, and the hand-pulled noodles are a joy to eat as it is to watch being made.
2016 Chardonnay  (Bottle
₱1,050

/ Glass

₱220

)

For drink, we've got 2 glasses of  2016 Chardonnay Sauvignon. I love the taste of this wine with great fruit weight, density, and notable viscosity. This white wine is full-bodied and has aromatic notes of butter, nuts, toast, caramel, apple, and tropical fruit. The palate is rich and voluptuous with the above aromas repeated in the mouth. 
Jing Ting Restaurant – Conclusion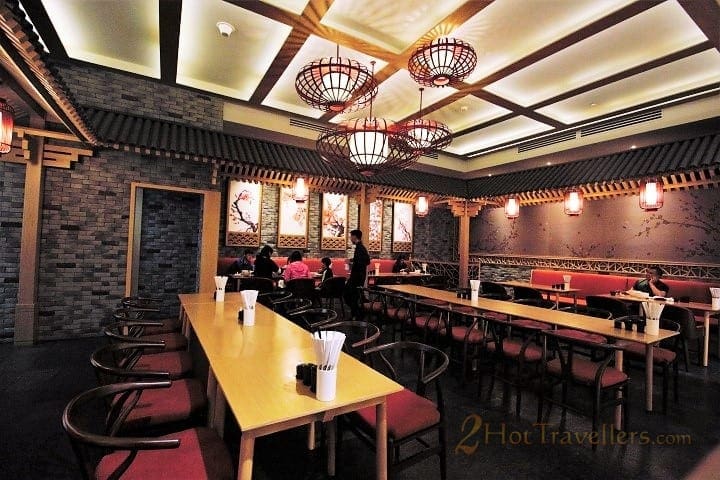 Jing Ting Restaurant is definitely one of the more budget-friendly restaurants in the City Of Dreams complex without losing any of the quality you may expect. The restaurant is small but well-designed and maintained by the staff.
The service is prompt and professional and always willing to answer questions or help you in any way.
This is a great place to take a date or your barkada for a night out. It is also a good place for a late-night meal that won't send you broke the next time you are in the City Of Dreams. The ambiance is subtle and inviting and the décor is a stylish modern China design.
If you would like to watch your food being prepared you can view it all happening through the glass viewing window in the kitchen. That way you know your dim sum or noodles are fresh.
The menu at the restaurant is not extensive but the crowd is proof that the food is excellent. The waitresses are very attentive. As said before, the service is excellent, and the long peach tea is excellent. 
The food was good and value for money.
All-in-all, it was a good night out and a dinner worth repeating. The location could be intimidating but one would be surprised at how reasonably priced the items are.
Is it worth the visit to the City of Dreams? Yes, especially for the curious, who want to try Northern Chinese fare that's relatively sparse in the Philippines. 
Congratulations to City of Dreams for another winning restaurant concept!
Ting Jing Restaurant
Address: Upper Ground Floor, City of Dreams, Aseana Boulevard corner Macapagal Avenue, Paranaque City
Operating Hours: Open Daily 10:00 AM — 4:00 AM
Now it is your turn. If you have been to Ting Jing Restaurant and would like to help us rate it…