The Rizal Park water fountain and music are just amazing… Fun to watch and perfect for a couple or family.
Rizal Park, still widely known as 'Luneta Park' (which was its name until the 1950s), spreads out over 60 hectares of open lawns, gardens, ponds, paved walks, and wooded areas. Rizal Park houses monuments to the pantheon of famous Filipino heroes.
As the well-known spot where the hero José Rizal was executed, the park holds great historical significance. At the Rizal Park Visitors Centre, you can obtain a detailed map showing almost 40 sights of significant within the park.
Metro Manila is crying out for more good public parks. Rizal Park is one of the few large parks where you can leisurely stroll in Manila.
The park is named after the national hero, writer, artist, and political activist,  Dr. Jose Rizal. In addition, there is also an Arts theatre where different groups perform free of charge.
February is known as the "Art" Month and so, during that month you can enjoy many great folkloric groups, classical ballet and even modern dance shows all for free. All it will cost you is your time.
Rizal Park is where you will find the Rizal Monument. This monument is fronted by a 46m flagpole and guarded by sentries in full regalia. This is, reportedly where Dr. Jose Rizals remains are buried and the monument stands proudly as a symbol of Filipino nationhood.
Suggested Post – Things to do in Manila
Rizal Park Gardens
Children's Playground, the section of the park built for kids, is located at the southeastern corner of Rizal Park. The playground was also renovated in 2011.
Chinese Garden. An ornate Chinese-style gate, carved with swirling dragons, leads you into this whimsical garden that looks like it has been transported from old Peking. Along the lagoon constructed to simulate a small lake, are pagodas and gazebos that are set off by red pillars and green-tiled roofs and decorated with a profusion of mythical figures.
Japanese Garden. The gardens were built to promote friendship between Japan and the Philippines. Inside is a nice place for a pleasant walk around the Japanese-style gardens, lagoon, and bridge.
Noli me Tangere Garden, recently unveiled, features the Heidelberg fountain where Rizal used to drink when he was staying in Germany. It was donated as a symbol of Filipino-German friendship, The bust of Ferdinand Blumentritt can be found in the garden.

Orchidarium and Butterfly Pavilion

, established in 1994, was a former parking lot developed into a one-hectare rainforest-like park. The Orchidarium showcases the Philippines' rich collection of orchid species and butterflies. The pavilion is also a favorite venue for weddings.
Rizal Park – Luneta Park
Many years ago Rizal Park was dry, dirty, and not well maintained for a national monument. But, not anymore! The grass is green, there are well-tended flowers and, when we were there, most mornings at 5:30 AM there is a "Zomba" group of close to 100 people dancing their way to good health.
To one side of the monument is where Rizal was executed. There is a black granite wall at the entrance, inscribed with Rizal's 'Mi Ultimo Adios' (My Last Farewell) with eight, life-size bronze statues recreating the last moments of Rizals' Life.
On the other side of the monument, toward Kalaw Ave, is a fountain shipped all the way from Heidelberg, Germany, where Rizal spent time studying at university.
Next is the Central Lagoon found in the centre of the park. This lagoon contains busts of Filipino heroes and martyrs. The fountain in the center of the lagoon erupts in colorful explosions each evening.
2011 renovations
Rizal Park was renovated by the National Parks Development Committee in 2011. The German-Filipino William Schaare, who built the old musical dancing fountain at the 40 m × 100 m (130 ft × 330 ft) pool in the 1960s, handled its restoration. Among the other things that were restored were the Flower Clock (now known as the World-Class Filipino Bloom), the Noli Me Tangere Garden and the Luzviminda Boardwalk, which were opened just in time for the 150th birthday celebration of Jose Rizal.
Location of buildings in and around Rizal Park
The park is divided into three sections:
Northeastern Section:

This 16-hectare (40-acre) section is designated as the National Museum Complex which includes the Agrifina Circle, and where the National Museum of Natural History and the National Museum of Anthropology are located.
Central Section: Located south of Maria Orosa Street is the 22-hectare (54-acre) park proper that extends down up to Roxas Boulevard. This is where the Rizal Monument and several attractions such as the Open-Air Auditorium, Independence Flagpole, Central Musical and Dancing Fountain are located.
Southwestern Section: Includes the Burnham Green, a 10-hectare (25-acre) open field, the Quirino Grandstand and the Manila Ocean Park along Manila Bay.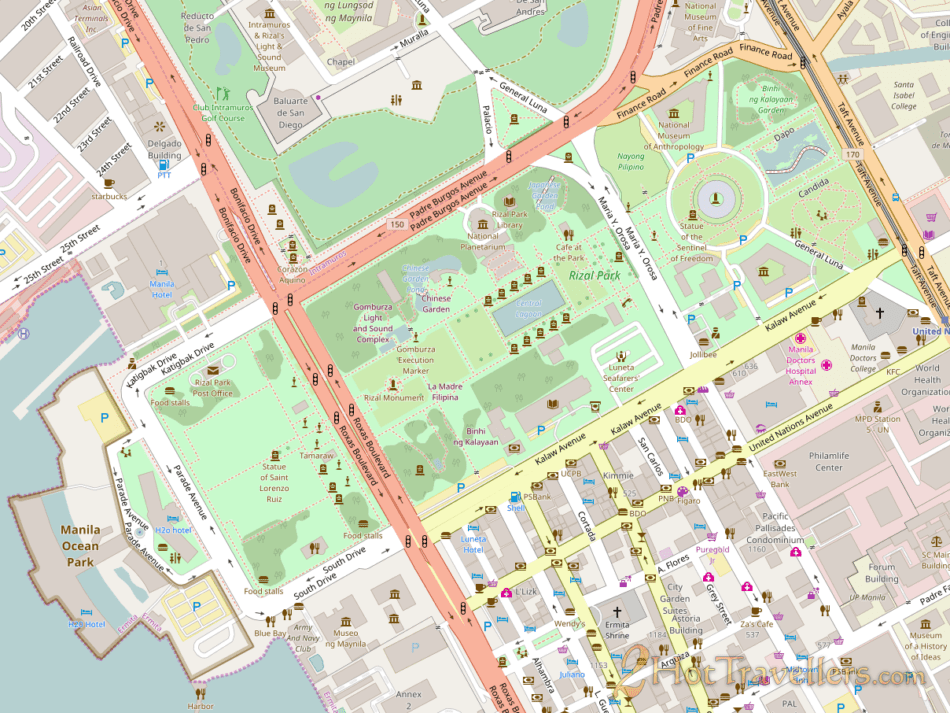 Landmarks around Rizal Par
Quirino Grandstand, Manila Ocean Park, Museong Pambata, Museum of the City of Manila, US Embassy, Bayview Park Hotel, Manila Pavilion Hotel, PhilamLife Building, World Health Organization, Central Methodist Church, Manila Doctors Hospital, SM Savemore, Araullo High School, Manila Police District, Sta, Isabel College, National Museum, Technological University of the Philippines, St. Vincent De Paul Parish, Adamson University, Intramuros.
How to get to Luneta/Rizal Park?
Remember to take note that Rizal Park's main landmark boundary streets (clockwise) are Taft Avenue, T.M.Kalaw, Roxas Boulevard, and Padre Burgos. The nearest LRT 1 Station is United Nations (U.N.) Avenue Station. Luneta is bounded by the Relief Map of the Philippines and Quirino Grandstand on each of its ends.
From the CaMaNaVa* (north of Manila) area:
*CaMaNaVa stands for Caloocan, Malabon, Navotas, Valenzuela
Option 1.

From Monumento, take an LRT 1 Yellow Line going to Taft and get down at the United Nations station. This will be the start of Luneta/Rizal Park.
Option 2. From Monumento, ride a jeepney along Rizal Avenue bound for Taft Avenue and asked to be dropped at T.M. Kalaw.
From around Manila:
Option 1. Ride a jeepney along Rizal Avenue bound for Taft Avenue and asked to be dropped at T.M. Kalaw.
Option 2. Take an LRT 1 Yellow Line going to Taft and get down at United Nations station, walk towards T.M. Kalaw.

Option 3.

From Lawton/City Hall area, ride a jeepney going to Baclaran and get down at the Shell Station at the corner of M.H.Del Pilar and T.M.Kalaw.

Option 4.

Along Roxas Boulevard, there is FX which is Sucat-Lawton. You can ride this and ask to be dropped off at Luneta.