Surrounded by Hotels, shops, restaurants, and the clutter of Makati City life is found a place you can relax and chill for a while. Greenbelt Park Makati is one of my favorite places in Makati.
Even if you're not big on shopping, the Greenbelt Shopping Center in Makati City is a must-see. It's without a doubt one of the most extravagant malls we've ever seen in Manila. Luxury stores line the walkways. There is also an impressive number of restaurants and lots of coffee shops with free Wi-Fi, perfect for a day of catching up on blogging!
ALSO READ: 21 Philippines Tourist Spots that Look Like Foreign Destinations
If you get tired or just want to relax, find a nice spot near the pond and feed the fish. Also, there is a Chapel floating in the center of the pond which always draws a crowd on weekends.
Unwind in Greenbelt Park, surrounded by four shopping malls offering plenty for the shopaholic in us all. Carefully planned landscaping gives the park the illusion of remoteness while still being but a stone's throw from the city conveniences.
To be sure, more trees have been planted in traffic islands and in that little garden hemmed in for blocks around by high-rise residential condominiums and office buildings, by hotels and parking buildings.
But they fight for air with elevated walkways and the three-level mall. Still, Greenbelt Park is, hackneyed as it seems, testimony to the vision of a family that is so well-respected they might never have been criticized if the last stand of acacia trees in the park had fallen to the axeman.
Green is everywhere, long before it became fashionable. From 30 stories up, one sees that trees outnumber buildings (but not cars) all around the Makati business district.
At eye level, one basks in the solace of the lagoon that winds its way here and there, with little waterfalls and fountains to break the monotony. Its sides are choked with bushes, orchids, stands of palms and other trees and a seemingly haphazard collection of brown rock.
Here and there are surprising corners of "Zen garden," black and white gravel arranged to form the yin-yang symbol. And just to remind you where you are (as if the heat was not enough), there are touches of local whimsy like the stone buffalo that looks up from grazing, right beside the church.
The grass is not to be trampled on but a courtyard tucked near a lighted fountain has enough room to host open-air cocktails, promotional parties, concerts, Philharmonic performances and of all things, a special appearance by the "Queer Eye" cast.
Given the cosmopolitan culture of the people, it is not at all surprising to walk a few steps from raw, moss-covered rock to a Starbucks, Seattle's Best, Louis Vuitton, Escada, Bally, Hans Brumann, Marithe et Francois Girbaud, Gucci, Guess, Prada and the Ayala Museum, all tenants of the brand-new Greenbelt 4 Mall.
Yes, it is possible to do this in Maryland's green belt, too and even in New York's Fifth Avenue. Still, there is the church…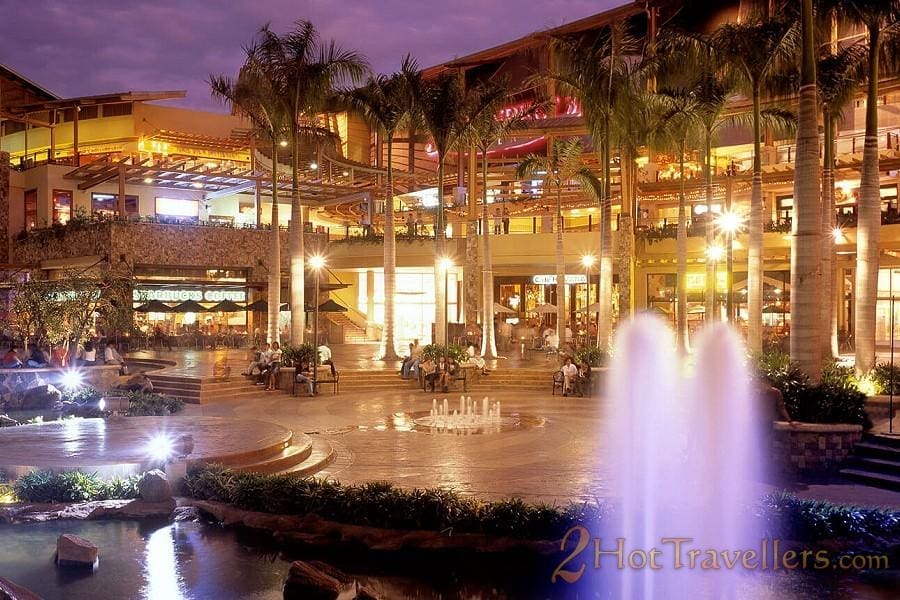 Greenbelt Mall is one of the most popular and successful retail destinations in the Philippines. Comprising approximately 27,275 sm this innovative collection features an intriguing diversity of high-end shops, restaurants, night clubs, amenities, leisure, and entertainment options.
Greenbelt not only preserves major existing landmark trees in the park but focuses outdoor activities, plazas, performance venues, arcades, and al fresco dining toward the open spaces of the exotically landscaped Greenbelt Park. The architecture and the publically accessible gardens of the park are woven gracefully together as a unique, safe, and engaging place for shopping, dining, relaxation, and entertainment.
ALSO READ: Magic Manila Baywalk | All you need to know
An additional cultural attraction within the center is the Ayala Museum, home to one of the most important private collections of Philippine art and history. Collectively, these attractions woven seamlessly together with the well-designed and maintained open spaces have measurably transformed Makati to yield long-term sustainable economic and social gains for City. The Urban Land Institute has honored Greenbelt Park with its prestigious Award of Excellence.
Facilities in Greenbelt
Retail shops
Greenbelt 1

features Automatic Centre as the anchor appliance store, along with another lifestyle, food, and supply stores.

Greenbelt 3

features a mix of international brands.

Greenbelt 4

features high-end boutiques.

Greenbelt 5

has boutiques of Filipino designers, high-end department store Adora and boutiques.
Restaurants
Restaurants

can be found in Greenbelt 1, 2, 3, and 5, with Greenbelt 1 being concentrated more on fast-food, while Greenbelt 2, 3, and 5 feature sit-down restaurants.
Chapel
Santo Niño de Paz Chapel is a Roman Catholic place of worship in the park at the complex's center. Built as an open-air, concrete dome in the middle of a pond, the chapel holds Masses and other religious services every day for mall patrons and office workers. It celebrates its titular feast day every third Sunday of January.
Why not book a Manila City Tour? Explore and discover things around Manila. Your tour kicks off from the financial district of Makati including Fort Bonifacio and the American Cemetery, then moves on to the country's capital, Manila. There, you will first go for a brief picture stop at Rizal Park, in honor of the country's national hero, Dr. Jose Rizal. Then, you will go to the historic Walled City of Intramuros where you will travel through the cobbled streets of San Agustin Church, the country's oldest stone church, to view its wide collection of ecclesiastical icons, vestments, and other religious articles.
Top 10 Hotels near Greenbelt Park Makati