The Fort Santiago Intramuros is one of the first places I visited when I arrived in Manila, and it's still a favorite; See why.
Fort Santiago Manila is one of the few ancient remains of the Philippines. To be honest, the fort is interesting for locals and tourists alike. The Fort will not only interest you with its architecture but also give you an insight into the country's identity and culture. I find it relaxing just to walk around the area, getting a sense of how life must have been during Spanish colonial rule. It's a hot walk in summer though, so take an umbrella if possible.
On our initial visit to Fort Santiago, we tried saving money by touring the fort without a guide. Yes, we did save money but, honestly, the information plaques provided really were inadequate given the historical significance of the site.
The second time we used a guide (P500) and it made so much of a difference. You can also have a guided Kalisa tour of Intramuros including Fort Santiago for P1000 which takes about an hour. Please make sure you specify that you want to be guided into the museum as well or you might miss out without knowing it.
Vendors often gather outside the gated area so be prepared. Once you have entered Fort Santiago there will be no more vendors or annoyances
ALSO READ: Things You Should Know About Filipino Culture
Fort Santiago – First A Little History
If you're planning for your next trip, you might want to deviate from the usual beach and food trips and try exploring the Fort Santiago dungeons.
In January 2020, the Philippine government opened the Fort Santiago Dungeon to the public. See where so many innocent, and not so innocent, people spent the last days of their life. By touring the dungeon, you will experience actual places where significant and horrifying events occurred. 
The Dungeon can be explored from 2 PM to 10 PM every day. The entrance fee is a modest Php 50 for students, seniors, and PWDs while Php 75 is charged for adults. 
Note – Best seen at night.
Fort Santiago Manila was built by the Spaniards when they first occupied the Philippines in 1571. The Fort can be found in what is now known as Maynilad or, Manila City. Originally, Fort Santiago was surrounded by fencing of logs and earth during its early construction. That was until the Chinese pirate, Limahong attacked and destroyed the Fort sometime in 1574.
Between 1589 and 1592 the Fort was rebuilt using stone and mud cement. In 1645, an earthquake destroyed most of the structure leaving the Spanish to repair it again from 1658 to 1663.
The British Occupation
During the British occupation of 1762 to 1764, Fort Santiago was used as the British Headquarters. When the Americans conquered Manila in 1778 they renovated the fort, converting it into the U.S. Army Philippine Division Command Center. In 1942, when the Japanese occupied the Philippines during World War 2, the Fort was used as a base where they tortured and executed hundreds of Filipino civilians and guerillas.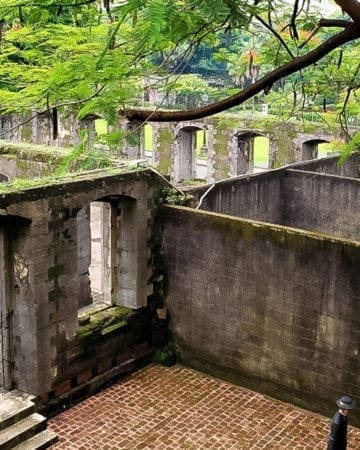 The U.S. Arrive
The U.S. Liberation Forces came to Manila in 1945 and battled the Japanese, damaging the Fort severely. In 1946 the U.S. gave back Fort Santiago to the Philippine Government and declared Fort Santiago a Shrine of Freedom (1950).
The Place of Heros
The Santiago Fort was also the place where the Philippine National Hero, Jose Rizal, was imprisoned prior to his execution at Bagumbayan. A bone from Dr. Jose Rizal, complete with a bullet wound, is enshrined in a glass urn in Fort Santiago as a secular relic sometime through the years. This has become one of the many historical items now displayed at the Fort's museum.
ALSO READ: Rizal Park | Luneta Park All you need to know
Exploring Fort Santiago
Standing in front of the Fort, you start to appreciate the work and skill that went into the building. Yes, like any good castle, Fort Santiago has huge stone walls surrounding it, a river on two sides, and a moat on a third. The walls are six-odd meters tall and are two and a half meters thick and made with large stone blocks.
Take care when walking around the site because it has numerous caverns and caves where people could quite easily get lost or injured. Also, many of the steps were quite steep and I found it quite easy to take a fall if you are not careful.
ALSO READ: Pinto Art Museum Cafe Review: Pinto Cafe
Stirring Feelings
Walking over the bridged-moat and entering the main gate took me back in time. I couldn't help but imagine what life must have been like during the Spanish era. I could almost feel how so many hundreds, if not thousands of Filipinos were brutally tortured.
The underground chambers and dungeon were Filipinos were imprisoned and where many died. I could also imagine further back, being a Filipino Solder or working in the fort. Ahhh, if the Fort could talk: The stories it would tell.
On a previous visit here we took the guided tour which was great but we did feel we were rushed through the place. So, this time we decided to be our own tour guides and enjoy the Fort at our leisure. We made a beautiful afternoon of it and easily spent 3 hours exploring Fort Santiago
To be honest, I thought I knew the Philippines' history but I was surprised to find how little I knew about our National Hero, DR. Jose Rizal. I walked the bronze-laid steps that he took to his execution; I gazed upon his statue on the Fort grounds and I was amazed at his story in the Jose Rizal museum. The museum is full of so much good information and artifacts.
The Last Home For Many
Today, for safety reasons, the dungeons and underground chambers are closed to the public. There is an entrance fee of P75 for adults which is totally worth it.
You can walk the grounds and see the ruins along with a museum and prison cell where Jose Rizal was imprisoned before his end. You can also walk the ramparts looking out over the Pasig River. Imagine what the area must have looked like so many years ago
Although it is terribly crowded, noisy, and stressful in Manila, it is amazingly quiet and peaceful here (even on busy tourist days).
Through the Spanish rule of the Philippines, the American colonial times, and World War Two, the fort has been home to so many prisoners; Many of whom never left the grounds. Yet, instead of feeling cold and eerie, the fort feels calm and inviting.
Kalesa Tour of Intramuros
If it is your first time here and you don't feel like walking, why not try something different? Try a Kalisa, a horse-drawn carriage. I love horses and can't resist a ride. Even though we had seen the fort and knew the stories, we still decided to take a Kalisa ride just for the experience. Many of the drivers will have a good knowledge of history and will also take you to other attractions if you want.
But be careful, negotiate for the price. Our driver wanted to charge P700 for every 30 minutes of the tour. Before we even got into the Kalisa I had bargained him down to a P800 for the entire tour which took a little over an hour, which is very reasonable. Many might have gotten a better deal but we were happy with this price.
ALSO READ: 21 Philippines Tourist Spots that Look Like Foreign Destinations
Also, San Agustin Church should be on the itinerary of anyone with an interest in history or architecture. Located inside the historic Walled City of Intramuros, this Roman Catholic Baroque-style church is a UNESCO World Heritage site.
Click to Read – San Agustin Church Exquisite History
How to get there?
There are a number of different ways of getting to the Fort. When we went we took the first way. Choose the route that best suits you:
From Buendia Lrt Station :
Fx going to Divisoria can bring you to Intramuros. Just inform the driver to drop you off at Manila Cathedral. Travel time is approximately 20-30 mins. Fare is PHP25.00
LRT :
You can take Lrt from Gil puyat to Carriedo Station. Ride a jeepney to the pier. Drop off at Palacio del Gobernador.
Jeepney :
From Carriedo, you can also take a jeepney to Lawton/SMC City/Manila City Hall and drop off at City Hall. Cross the street using the underpass going to Intramuros.
Entrance Fee: PHP75.00 (Adults)/PHP50.00 (Children)
Open Hours: 8:00 AM – 6:00 PM Daily