Tagaytay Tourists Spots to die for. Do you feel like melting in the next Manila heatwave or do you want to escape somewhere cool? Try visiting these Tagaytay Tourist spots to beat that summer heat: and take in some amazing scenery.
Summer in the Philippines sometimes never seems to end and with it comes the unbearable temperatures, humidity, and a scorching sun. For this reason, many escape the city and go to the provinces to feel a little breeze and fresh air. One of our favorite go-to places not too far from Manila is Tagaytay.
If you just want to relax or do some exploring, there are plenty of Tagaytay Tourist spots to keep you busy. Below we have put together the list of our favorite things to do in Tagaytay where you just want to recharge or if you are after a bit more adventure.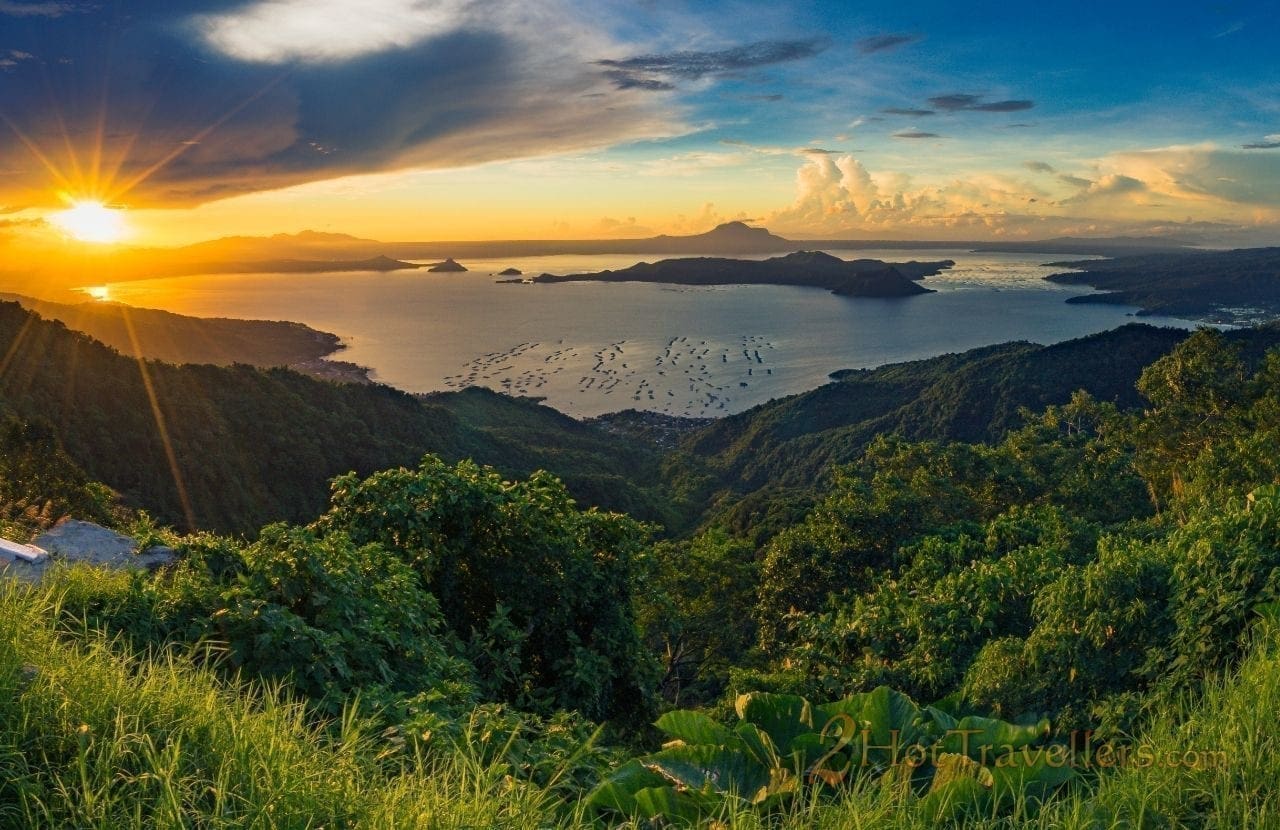 Please Help Us Add To This List
Sky Ranch Theme Park
Amusement Park with many traditional rides for kids & adults, multiple restaurants & a gift shop.
Located near the famed Taal Vista Hotel, Sky Ranch is one Tagaytay tourist spots you must make time to visit. Kids and kids at heart will enjoy the rides, good and family-friendly ambiance. Don't make the same mistake we made…
We arrived around 11 am and entered the park only to find that most of the rides and attractions didn't open until 3 pm…
A leisure and entertainment park, this 5-hectare property offers exhilarating rides, dining places, horseback riding, and a fantastic view of Taal Lake.  The most notable structure is the Sky Eye, a 63-meter tall Ferris wheel that towers over the site. 
Yes, the park was almost deserted. There were still plenty of things to do and a beautiful view to take in as we waited till 3 pm. Close to 2 pm the park started to fill with people and really come alive.
The park is small and the majority of the rides (but not all) are catered for kids. This is a good place for families. I loved the Zipline… I love how it makes you feel like you are flying.
The entrance fee varies depending on the day of your visit, if it's on a weekend it's Php 100 for adults, the ticket is discounted for senior citizens and students. Click here to see more Sky Ranch Tagaytay.
Located on top of Mt. Sungay, the highest peak in Cavite, People's Park was part of a mansion commissioned by the former First Lady Imelda Marcos. In 1981 it was originally called the Palace in the Sky but with the downfall of Marcos in 1986, the mansion was left unfinished. It was then opened to the public as a park.
Similar to People's Park, Picnic Grove has a view deck where visitors line up to take photos of the volcano and surrounding lake. With its cottages and hilly surroundings, this park ideal for picnickers as well as family gatherings. Picnic Grove also offers a lot of other exciting activities – horseback riding, cable car, Eco-trail, and zipline. 
Reputedly the world's smallest active volcano, Taal volcano is sometimes described as "A crater within an island within a lake". Being 406 meters high, Taal Volcano sits as an island in the middle of Taal Lake which is actually a large caldera that formed when a much-larger crater of an older volcano collapsed. 
The Tagaytay Highlands is a sanctuary two hours away from Manila via South Luzon Expressway (SLEX), Tagaytay City has been a hideaway to millions of metropolitan citizens who are in dire need of fresh air, beautiful scenery, a relaxation spot, and comforting dishes. 
I love Sonya's Garden…. If you like the country feel without the city stress.. take a look at this one. A great garden, restaurant, spa, and B&B. Definitely, a place to spend a few hours or a few days. One of my favorite Tagaytay Tourist Spots.
Tierra de Maria
For the spiritually-minded, this is a great place for meditation and inner healing, Tierra de Maria is one of the famous Tagaytay tourist spots for its 50-foot tall statue of the Virgin of Manaoag. At the base of the Virgin, you will find a wishing well with candle holders. The place also has a shrine that houses a smaller replica of the virgin and offers a fish spa as a service.
Museo Orlina
This museum showcases the works of the world-renowned glass artist Ramon Orlina, a skilled pioneer of glass sculpture. Museo Orlina also features other artists working in a variety of media aside from glass. For some light refreshments, the museum has a coffee shop on the roof deck.
Fantasy World Tagaytay
Fantasy World was constructed by a Japanese businessman and aimed to be the first theme park in the Philippines exclusive to members and having residential condos inside the complex. Due to insufficient funds, construction stopped and the once lively castle has turned into a lonely one with its faded colors and empty halls.
Fantasy World is the mini replica of the castle built by King Ludwig II of Bavarian, Germany.
Paradizoo
Combining the charm of a farm and a mini-zoo, visitors may interact with different animals like llamas, camels, miniature horses, ostriches, and an albino carabao in a backdrop of vegetable and flower gardens. Paradizoo is a nice place to visit if you enjoy nature and want to spend some quality time with your family.
One Destination
A collection of restaurants and bars that have become the nightlife hub of Tagaytay City. It also has a great view of Taal Lake and Volcano which add to its appeal.
Most of the establishments found here are common in Manila but this does not take anything away from the charm. After all, a Mocha on the ridge seems to taste better than a Mocha in the urban jungle.
One Tagaytay Place offers a sun terrace. Guests can also relax in the garden or in the shared lounge area. People's Park in the Sky is 4.3 km from the accommodation, while Taal Lake is 8 km away. 
Check out our map showing all Tagaytay Tourist Spots
- Tagaytay Tourist Spots -