Did you know that the Australian Alps receive more snowfall than Switzerland? You don't, do you? Well… Maybe it's time to change that Euro Trip idea?
WHEN PEOPLE THINK ABOUT Australia, they often imagine a flat, dry continent, or the beach, 'reef' and 'the rock'. But Australia has a significant and untameable high country, where a different set of Australian legends and traditions were born. Like Australia's wildlife, the Australian Alps are unique. Rather than craggy pointed peaks created by continental collisions like most of the world's mountains, they are the remnant of a huge rift that formed when New Zealand abandoned Gondwanaland nearly 100 million years ago.
ALSO READ: Moving to Australia? 6 Pros & Cons of moving overseas
So, Why Australian ALPS receive more snowfall than Switzerland?
One of the most interesting is that it snows in Australia. Not only does it snow but we get more snow than Switzerland does in an average year. The spectacular and distinctive Australian Alps extend over 1.6 million hectares of public land contained in eleven national parks and nature reserves across Victoria, New South Wales, and the Australian Capital Territory.
This is a fact about Australia that shocks most people who never think about it snowing in Australia but the fact remains that it does. Obviously, the whole continent does not get huge amounts of snowfall but there are areas that get a great deal. These areas are in the mountains, another fact that surprises a lot of people who think of the continent as being very flat.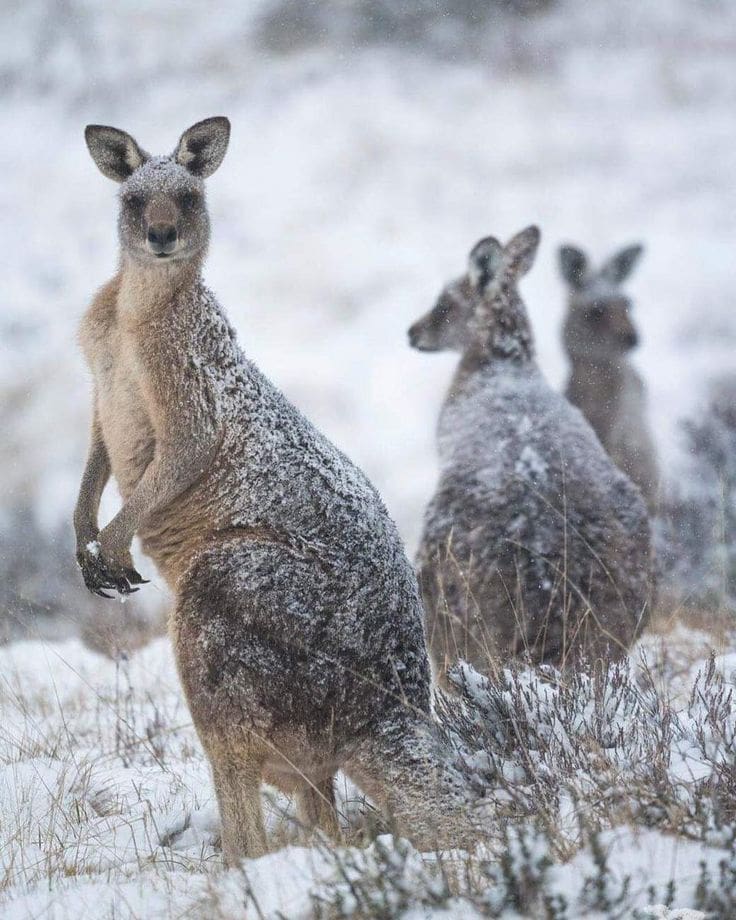 There are in fact mountains in Australia, while they are not particularly high by the standards that you would find in other countries they do really stand out because the rest of the continent is so flat. The highest peaks are around six thousand feet in height which is plenty high enough to get snowfall in winter. The largest mountain range on the continent is referred to as the Australian Alps and is located near the Capital Region.
Switzerland of course also has mountains and a lot more of them than Australia which raises the question of how it is possible for Australia to get more snow. The answer is that the mountains in Australia are located near the coast while Switzerland is a landlocked country. Coastal regions will always get more precipitation than inland regions and if it is cold enough it will fall as snow. In the mountains of Australia it does get cold enough and as a result a lot of snowfalls.
While most people are surprised to learn that it snows in Australia the people who live there are well aware of it, even if it does not affect their daily lives. Skiing has become a very popular sport in the country over the last few years and a number of resorts have been built. As these resorts start to attract more and more foreign tourists who are looking for a place to ski during the summer months at home the amount of snow that Australia gets will probably become more widely known. For now, however, it remains a fun fact that you can share with your friends.
ALSO READ: Swimming Spots in Australia: Wild Waterfalls & Lakes
In winter (June to August), hit the slopes at one of the many ski resorts dotted across the peaks or have fun trying out some snow activities. A lot of things to do during winter. In this separate article, discover the top Australian Skii Fields and Resorts you need to know. If Switzerland is too far or too expensive for you, then why not give Australian ALPS a try? After all, it has more snowfall than Switzerland or the rest of Europe for that fact. Oops, before disagreeing with me, let me tell you, the Australian Alps has more snowfall during WINTER ONLY. Only a few people know that. Just like the Aurora Australis aka Southern Lights of Australia, many people were surprised and amazed to know about that. So many of us walk around with our eyes wide close. 
And if you come here in Australian Alps during summer (December to February), climb to the top of Australia's highest peak, Mount Kosciuszko, ride a mountain bike along contour-hugging trails, bushwalk to a heritage hut, or horse ride along alpine tracks. Hike part of the 650-kilometer (403-mile) Australian Alps Walking Track or take in range-upon-range mountain views while driving the Great Alpine Road. There's a lot to explore in Australia. Don't just go and Sydney and take a photo with the background of the Opera house. Yeah, it has a unique structure but hey, it's very common. Discover more of Australia.
There is so much more to this country than the Opera house, Ayers Rock (Uluru), and Kangaroos. I dare you. Read on to know more.. Come on! 
Explore Australian Ski Fields during winter
How to get there
The best way to explore the Australian Alps is by car. From Sydney it's a 5.5-hour drive to Jindabyne, the gateway to Thredbo, Perisher and Charlotte Pass. From Melbourne it's about three hours to Wangaratta and the Victorian High Country. Snowy Mountains Airport is a 45-minute drive from Jindabyne and provides direct services to Sydney. There are also bus services from Sydney, Canberra and Melbourne.
And if there are 7 ways to get from Brisbane to Alpine National Park by plane, bus, car, train or night train. Yes, it's a little bit complicated, isn't? Well…There is no direct connection from Brisbane to Alpine National Park. However, you can take the train to International Airport station, platform 2, take the walk to Brisbane airport, fly to Albury, take the taxi to Albury, take the bus to Falls Creek Coaches/233 Kiewa Valley Hwy, then take the drive to Alpine National Park.
Alternatively, you can take the train to International Airport station, platform 2, take the walk to Brisbane airport, fly to Melbourne, take the walk to Melbourne Airport T1 Skybus/Arrival Dr, take the bus to Skybus Coach Terminal/Spencer St, take the walk to Southern Cross, take the train to Lilydale, take the walk to Lilydale Station/Maroondah Hwy, take the bus to MMBL Depot/High St, take the bus to Village Centre/Mt Buller Rd, then take the drive to Alpine National Park.
Did you know that the Australian Alps comprise an interim Australian bioregion, and are the highest mountain range in Australia? The range is located in southeastern Australia, straddling eastern Victoria, southeastern New South Wales, and the Australian Capital Territory. It contains Australia's only peaks exceeding 2,000m (6,600 ft) in elevation and is the only bioregion on the Australian mainland in which deep snowfalls annually. The Alps comprise an area of 1,232,981 ha (3,046,760 acres).
The Australian Alps are part of the Great Dividing Range, a series of mountains, hills, and highlands that runs about 3,000 km (1,900 mi) from northern Queensland, through New South Wales, and into the northern part of Victoria. This chain of highlands divides the drainage of the rivers that flow to the east into the Tasman Sea from those that flow west into the drainage of the Murray–Darling Basin (and thence to the Southern Ocean) or into inland waters, such as Lake Eyre, which lie below sea level, or else evaporate rapidly.
The Australian Alps consist of two biogeographic subregions:
Snowy Mountains, including the Brindabella Range, located in New South Wales and the Australian Capital Territory.
Victorian Alps, located in Victoria. The latter region is also known as the "High Country", particularly within a cultural or historical context.
ALSO READ: 10 Brisbane Scenic Walks: Explore the trails
Things to do in Australian ALPS
Experience skiing through Gum trees
There aren't many places in the world where you'll find snow-covered gum trees on a downhill ski run, but in the Australian Alps, there are plenty. In New South Wales, ski the longest run in Australia at Thredbo and enjoy quality restaurants and bars after dark. Nearby, Perisher offers a huge range of runs, as well as access to the Guthega and Blue Cow snowfields. In Victoria, ski or snowboard Australia's powder capital, Mount Hotham or enjoy the family-friendly winter playground and cross-country skiing of Falls Creek. The resorts operate in summer when you can enjoy purpose-built mountain bike tracks and excellent hiking.
Explore the Snowy Mountains
The Snowy Mountains stretch from outside Canberra in the north nearly to the Victorian border in the south. Walkers of almost all abilities can reach the summit of Australia's highest peak Mount Kosciuszko in a day hike. At the top, there is a UNESCO Biosphere Reserve with 20 species of plants found nowhere else in the world. Summer hikers will pass through fields of snow daisies, billy buttons, and other wildflowers. In winter, hit Australia's highest ski slopes at Charlotte Pass or carve up the snow at Thredbo and Perisher. Don't miss the show of autumnal leaves around Tumut and join the town in celebrating fall with April's Festival of the Falling Leaf.
 An adventurous trip to the Victorian Alps
The Victorian Alps are a hub for mountain biking or four wheels driving. These are mainly encouraged to experience during the winters at Mount Buller. For a geology fanatic, the granite formations might appeal to fascinating. The Horn is rich in granite formations. Other adventures include a drive up to Mount McKay for adventures like horse rides, serene mountain top views, or cross-country skiing on Mount Stirling. For all those fishing fanatics out there, Lake Eildon is the perfect place to set camp.
Explore Australian Capital Territory
The northernmost part of the Australian Alps is surrounded by the Australian Capital Territory which is also home to Australia's capital Canberra. You can see a diverse version of flora and fauna around here and it also shares some of the Aboriginal histories. Mainly it is an area with a rich heritage. The Booroomba rocks in the Namadgi National Park are a place where you can climb and descent for fun. Other adventures include mountain biking through the fire trails and the walks in the wilds of Bimberi.
Here you can witness what Australia's fauna is famous for – kangaroos with some of the other species such as wallabies and northern corroboree frogs. For a more detailed and deep experience visit the campsites, rock art galleries pieced together by the Ngunnawal people thousand years ago, the ceremonial stone arrangements, etc. Another artifact of about 21000-year-old is placed here which is a rock shelter where the Aborigines used to huddle to harvest the Bogong moths.
Explore the Australian Alps Walking Track
If you are a fitness freak and like to take bushwalks, the stupefying 650-kilometer Australian Alps Walking Track should be a treat for you. The tracks begin at the gold mining town of Walhalla covering areas of the High Country of Victoria, the Australian Capital Territory, and New South Wales. It finishes at Tharwa near Canberra. It takes you through the tranquil peak of Mount Kosciuszko, then at the meadows of Namadgi National Park. Through the journey, you get the chance to row through the Snowy River in the Kosciuszko National Park. During the winters, you can go from Mount Hotham to Mount Selwyn via skiing. You can shorten the distance by walking through the Baw Baw plateau, Jagungal wilderness, and the Bogong High Plains.
Set off on a scenic road trip
The Great Alpine Road sets you on a 340-kilometer trip to Bairnsdale in the mainland of Gippsland, from Wangaratta in the northeast of Victoria. The relaxing natural baths or The Onsen Spa and Retreat does a number on you and oozes all the stress out of your body for good at Mount Hotham. Other tranquil sights to see are Danny's Lookout and Mount Feathertop's summit. You get to travel on Australia's highest sealed road from the mountains to the Gippsland Lakes and Metung. An alternative way for a road trip is the 350-kilometer journey through the Kosciuszko Alpine Way that contains a lot of mountain views and small-town charms through the road. Wild horses can be spotted through the Dead Horse Gap.
How cold does Australia get?
A: While the weather in most of Australia doesn't dip below 40 degrees F, even in the winter, the Australian alps do get cold. The Australian Alps have a mid-latitude mountain climate, which means virtually no dry season and relatively balmy summer. As with all-mountain terrain, the higher you travel, the colder it gets. Mount Kosciuszko is about one-quarter the height of Mount Everest (2,228 meters in elevation), can be freezing cold. For every 1,000-meter altitude rise, the atmosphere experiences a temperature drop of approximately 43.7 degrees F. The alpine territory can get very cold indeed, with the coldest recorded temperature in the region falling at -9.4 degrees F at Charlotte Pass.