Mt Coot-tha Lookout provides a remarkable vantage point to view Brisbane and beyond. Beautiful by day and spectacular at night. It is a heritage-listed lookout at Sir Samuel Griffith Drive, City of Brisbane, Queensland, Australia.
When visiting a new city one of the most exciting things you can do is look at it from as high up as possible. In Brisbane the best place to do this is the spectacular Mount Coot-tha Lookout. Mount Coot-tha Lookout is only 6 km from Brisbane CBD, a favorite hotspot for sightseers to look over the city. 
On certain nights there are free telescope viewings at Mt Coot-tha so you can take a closer look at the moon and the stars. You'll get to see the moon's mountains and craters as well as the stars and planets.
Mt Coot-tha Lookout provides excellent striking panoramic views out over Moreton Bay and North Stradbroke Island and Brisbane City and the River, but to say that this is where its attraction ends would be a gross oversight. By night, the spectacle switches on with the city lights and star-lit skies. Mt Cootha is many things to a wide cross-section of people, but the beauty of this natural, green space in the middle of the city is special to them all. 
ALSO READ:  Things To Do In Queensland: Dazzling Destination In Australia
Mt Coot-tha History
Mt Coot-tha and the lookout have a rich and varied recorded history beginning in the late 1830s when trees were removed, apart from one tree that was left as a reference point for surveyors. This initially gave the mountain the name One Tree Hill.
The 1880s saw the summit cleared and a shelter shed and water tank built for this popular day-trip destination. The first kiosk was operational in the very early 1900s and continually expanded, with many of the current buildings built in the late 1960s.
World War II saw the mountain occupied by the United States Seventh Fleet for a magazine depot. In 1995, the lookout was placed on the permanent heritage register as a place of cultural significance.
Themes: 
3.12 Developing secondary and tertiary industries: Catering for tourists
8.5 Creating social and cultural institutions: Sport and recreation
Construction periods
1918–1950, Mt Coot-tha Lookout & Kiosk (1918 – 1950c)
1918–1950, Mt Coot-tha Lookout & Kiosk – Kiosk (1918 – 1950)
1950, Mt Coot-tha Lookout & Kiosk – Lookout (1950c – 1950c)
MT COOT-THA LOOKOUT KIOSK
Aside from Observation Deck, you can stay for a meal at the Mount Coot-tha Lookout either at the casual Kuta Café or the fancy Summit Restaurant. They also have a Function Centre and Gift Shop.
Summit Restaurant & Bar
Brisbane's iconic heritage-listed Summit Restaurant & Bar sits perched atop Mt Coot-tha. An expansive outdoor deck offers al fresco diners a front-row seat, while inside, grand windows look out over Brisbane, offering equally impressive views from both the ground floor and mezzanine. This is also a popular proposal location if you have a certain question in mind for a certain someone!
The Summit Restaurant has for decades been a popular venue for wedding ceremonies, receptions, or both. With 3 function spaces, there's room to accommodate all sized parties. The Summit Restaurant is also the place for corporate events with many companies opting for this mountaintop venue just a stone's throw from the CBD over inner-city hotels. The Fountain View Room, on the ground floor of The Summit Restaurant, offers spacious, private facilities in air-conditioned comfort.
Originally built in the 1920s as a tea room for day-trippers up to the top of Mt Coot-tha, the Summit retains a touch of its ornate art deco charm whilst having been expanded in the 1980s and '90's to accommodate the restaurant and bar.
It's worth noting there's an Express Lunch menu available every day with 3 courses for $39.95* and a special Sunset Dinner from 5 pm-7 pm with 3 courses for $42.50pp*. There's also high tea on offer.
Kuta Cafe
Alternatively, you could grab an ice cream at the kiosk or eat at the less formal Kuta Café. You can enjoy a light meal or a cup of coffee. They offered a varied menu of ever-popular food items complemented by a wide choice of chilled beverages, alcoholic drinks, and sensational Grinders coffees and teas. There's a gift shop at the lookout so you can pick up some postcards or souvenirs to take home.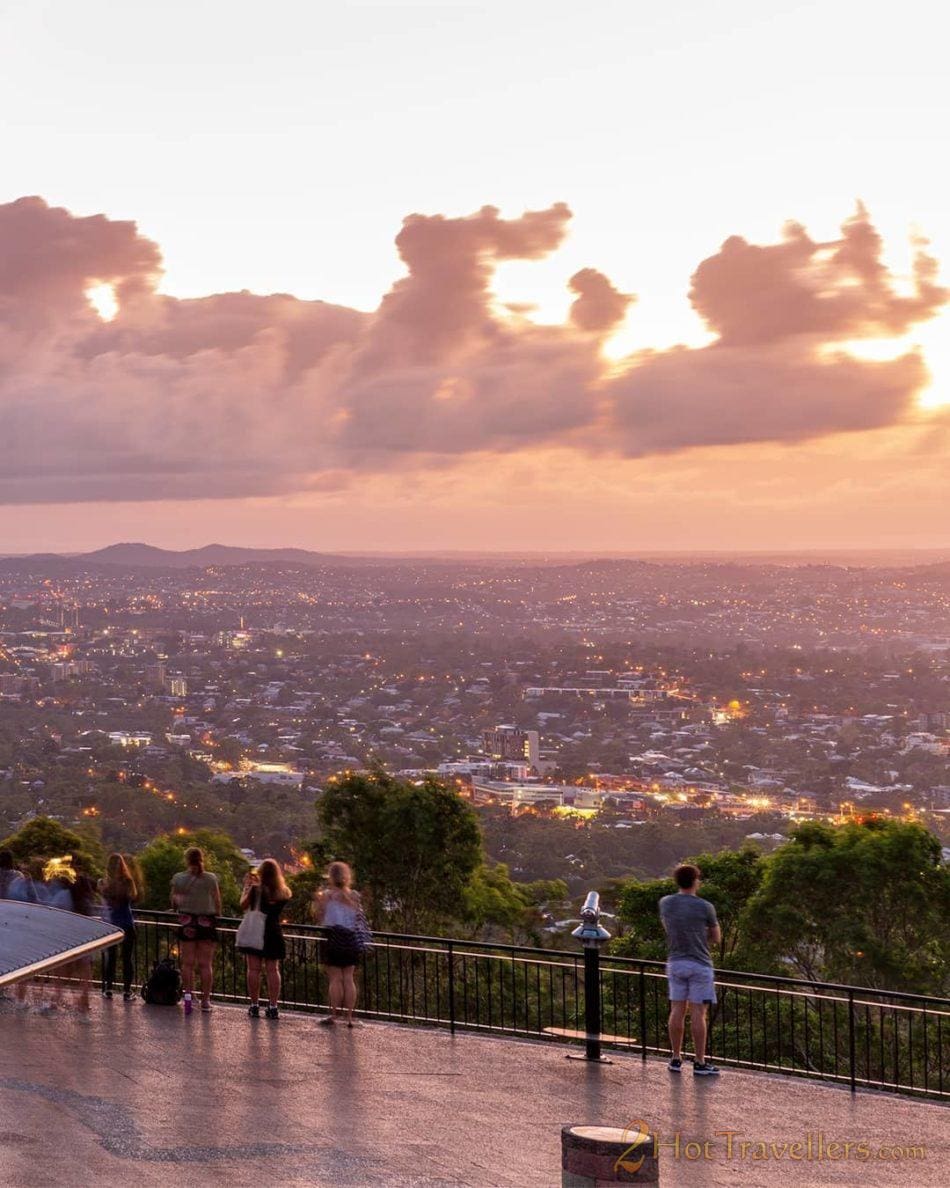 Best view of Brisbane
The view of the city is gorgeous. Why not take in the scenery, enjoy refreshments from the cafe, and use the free Council Wi-Fi. You can travel to the lookout on the free Mt Coot-tha shuttle bus, which also stops at other key destinations in the Mt Coot-tha precinct. There is plenty of free car parking onsite – aim for the rear car park behind the restaurant as the car park near the Kuta Cafe gets packed with daytrippers.
There are also a handful of bushwalks around the vicinity of the Lookout. Take the Aboriginal Track down to Slaughter's Falls and keep your eye out for some original Aboriginal art. Mt Coot-tha is also scattered with picnic areas fully equipped with gas barbecues.
Mt Coot-tha is not only the kiosk and the lookout. There are walking tracks from adjoining suburbs such as The Gap and Chapel Hills. Barbecue and picnic areas dot the entire summit, and there are botanical gardens and a planetarium too. 
ALSO READ: Amazing Things To Do In Brisbane, Australia | Do It Now
How to Get There
Getting to Mount Coot-tha is really easy. You can take a bus, such as the Brisbane Transport Bus 471 or the CitySights Bus. If you drive, you'll get to wind along the Sir Samuel Griffith Drive, a stunning tourist drive that circles the peak. It starts at the base of Mount Coot-tha and winds its way to the top providing stunning views along the way.