Australia is huge! I mean extremely huge. Seeing it all in one trip probably won't happen for most people. If you are like us, you'll have to go back again and again. These iconic places to visit in Australia might help you know where to start when you travel next to the land down under.
Explore 74 Islands in Whitsunday, Queensland 
Think you have to go to the Maldives for a slice of paradise? Australia's got it's very own paradise ready and waiting in the Whitsundays. This collection of 74 islands is located right next to the northeast coast of Queensland and the Great Barrier Reef. Most of the islands are uninhabited, and you've probably seen secluded, long white stretches of beach and gorgeous landmarks like Heart Reef on your Instagram feed.
If that's not enough to entice you to pay a visit, the average daily temperature is 27°C. They're characterized by dense rainforest, hiking trails, and white sand beaches. The town of Airlie Beach on the mainland is the region's central hub.
Area: 282.8 km²
Population: 1,570 (2014)
Major islands: Hamilton Island (pop. 1350)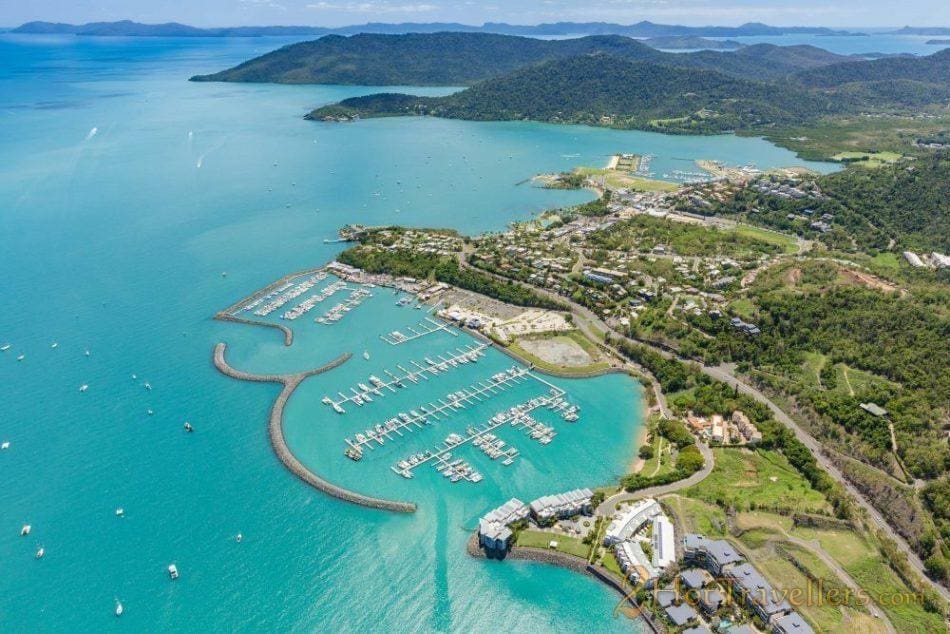 Discover the Best of Melbourne Victoria
Melbourne is the coastal capital of the southeastern Australian state of Victoria. Known for its art, museums, and theaters, the city's cultural venues include the National Gallery of Victoria, Melbourne Museum, and The Butterfly Club. Families come for attractions such as SEA LIFE Melbourne, Melbourne Zoo, and Puffing Billy Steam Train.
Melbourne City's natural beauty is on display at St. Kilda Beach, Royal Botanic Gardens, and Luna Park. In Melbourne, you'll find 1260 hotels and other lodging options so you'll have a variety of choices for a perfect holiday retreat. Melbourne is an incredibly safe place to backpack and travel – even if you're traveling solo or a solo female traveler.
Area: 9,992 km²
Weather: 32 °C, Wind N at 26 km/h, 30% Humidity
Population: 4.936M (2018)
Discover Melbourne as you explore its laneways with a local guide. Visit quirky cafés, funky shops, and eclectic galleries on a 2.5-hour tour. Also discover a mecca for food on a 3-hour culinary walk of Melbourne, and taste delicious samples in the Central Business District. Mix with the locals at hidden venues off the tourist trail. Go to a variety of spots, ending at a bar that is loved by locals.
Cruise across the sparkling waters of Port Philip Bay aboard the Melbourne to Williamstown ferry. See the sights of the city from a different perspective as you sail to or from the colonial suburb. Listen to an informative audio commentary along the way.
Enter SEA LIFE Aquarium in Melbourne, and discover more than 10,000 aquatic animals, including one of the world's largest saltwater crocodiles. Enjoy interactive adventures, such as the chance to sit among penguins, or to feed the fish.
Best places to visit in Australia for Tourist
Observe humpback whales at Hervey Bay in Queensland
Hervey Bay, a coastal city in southern Queensland, is widely known as a site for observing humpback whales. Whale-watching boats operate during the July to November migration season. It's also a hub for tours to nearby Fraser Island, which has beaches and features a rainforest habitat for dingoes and other wildlife. A waterfront esplanade links the city's marina with beaches offering calm waters for swimming. The sandy beaches are uncrowded and calm. There are no massive waves, rips or crowds on Hervey Bay beaches.
Area: 93.2 km²
Weather: 27 °C, Wind E at 8 km/h, 48% Humidity
Population: 54,674 (2018)
Location: 292km from Brisbane; 113km from Bundaberg; 30km from Maryborough