Have you heard about Belfry Café? If you love coffee then why not try the Instagram-worthy Intramuros Cafe.
Some of you are aware of a café that lets you dine with a view of Manila Cathedral, right? Easily one of the most Instagram-worthy cafés in the  Intramuros, La Cathedral Café has been frequented by both coffee-lovers and photographers alike since opening in the Walled City in 2018. But have you heard about Belfry Café? The newly opened one during a pandemic. 
Address: Building, 1002 Sto. Tomas, Intramuros, Manila, Philippines
Belfry Cafe: A new Intramuros Cafe You Need to Visit
Belfry Café is the latest addition to the many must-visit coffee shops in Manila. Why? It is freshly opened this last month and it stands right within the premises of Manila Cathedral — the first cathedral in the Philippines.
While the pandemic has shut down establishments all over the country, the Manila Cathedral is literally ringing in the love month with a quaint new café.
The Manila Cathedral announced on Facebook, with a link to the café's page "We are inviting all of you to try and experience the Belfry Café, located at the ground belfry of the Manila Cathedral. Soft opening on Saturday, February 6, 2021".
The announcement has stirred excitement among coffee lovers, churchgoers, and Manila residents, with nearly 300 commenters tagging friends and already scheduling visits. Some Filipinos overseas said they would try the café when they are finally allowed to travel here.
The cathedral, officially known as the Minor Basilica of The Immaculate Conception Manila Metropolitan Cathedral, was declared the first cathedral in the Philippines in 1581 although the original structure itself, which was made of wood, was constructed in 1571.
The parish, then called the Church of Manila, was established by the secular priest Juan de Vivero who arrived in the Philippines in 1566 with a task to "establish the spiritual administration of the new Philippines colony," the cathedral's website says. Vivero, who baptized Rajah Matanda, later became the first vicar-general and ecclesiastical judge of Manila.
ALSO READ: San Agustin Church Exquisite History
Belfry Cafe: A new Intramuros Cafe You Need to Visit
Belfry café owes much of its unique ambiance to Manila cathedral's impressive facade, including having the seven Carillon bells as its overhead decorations. There's an indoor seating area for when you prefer to have air-conditioning and spacious alfresco dining for natural ventilation or better social distancing.
To dine right next to a structure so important and historical is an experience in itself. However, you'll also find that the Belfry Café menu is equally as interesting and satisfying.
For a start, the Manila Cathedral café serves espresso from ₱110, tea from ₱85, and blended beverages from ₱140. They also have classic Filipino delicacies like ensaymada, which you can get for ₱60 and special bibingka for ₱90, as well as other pastries with a price range of only ₱45 to ₱120.
Also Read:  Manila Baywalk | All you need to know
Belfry Café visiting hours and requirements
The Belfry Café, located within the cathedral's premises in Intramuros, officially opens on February 6.  Belfry Café is open from 9 am to 8 pm, Tuesday-Sunday and they are close every Monday. In light of the pandemic, visitors of the café must wear a face mask at all times. Social distancing is also strictly implemented inside the shop. And before you can enter, you should first sanitize your hands and step on the disinfection mat.
The best time to visit Belfry Café is on the weekdays, as it's likely to get crowded during Saturday and Sunday because of church services.
Belfry Cafe doesn't have a parking lot but you can park around Intramuros then just walk towards the church.
TIP: There's a lot of people who ask you for parking of ₱100. Don't be fooled because they don't have a parking ticket with them. If ever ask for one.
Featured image credit: Belfry Café | Official Facebook Page
- Belfry Cafe: A new Intramuros Cafe You Need to Visit -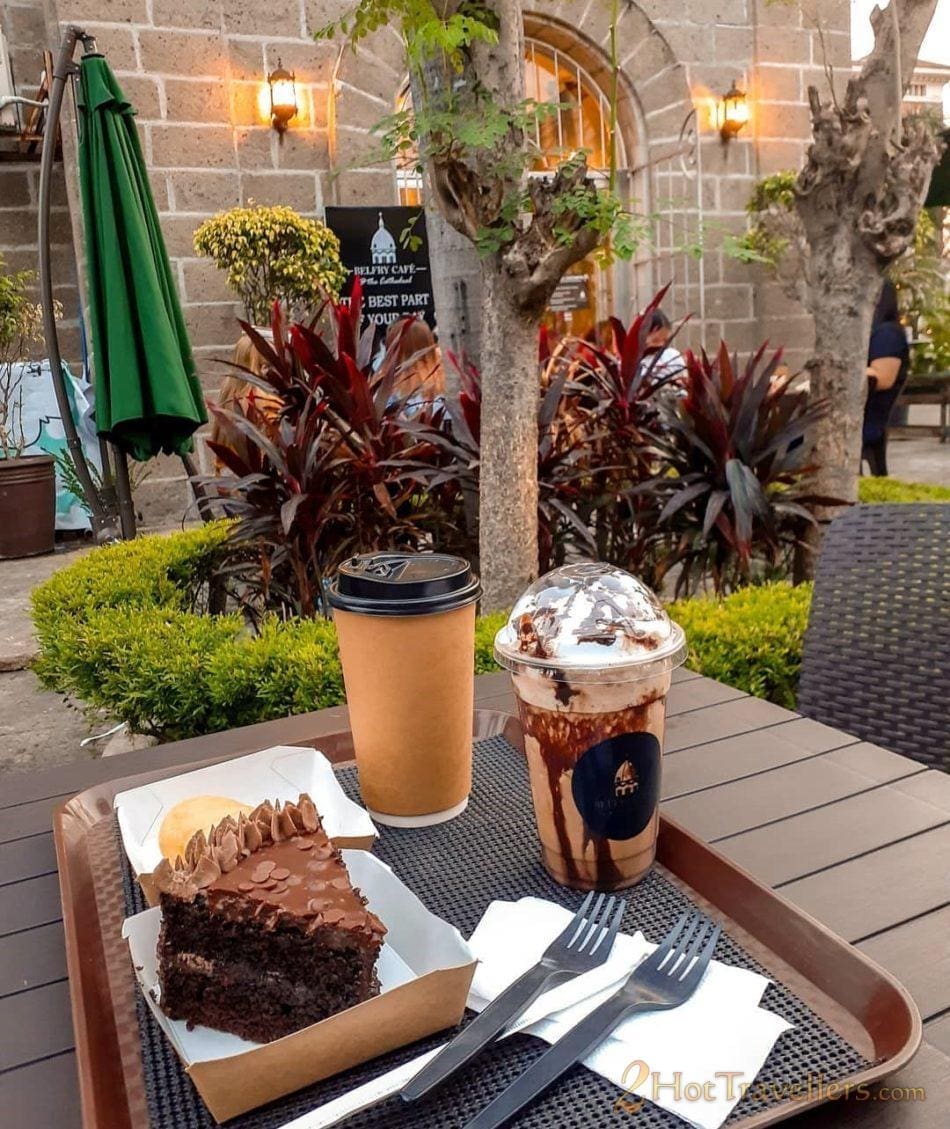 What are the closest stations to Manila Cathedral?
Andres Soriano Jr Ave / General Luna, Manila is 172 meters away, 4 min walk.
Andres Soriano Jr Ave / Muralla Intersection, Manila is 274 meters away, 5 min walk.
Bonifacio Dr, Manila is 339 meters away, 5 min walk.
Bonifacio Drive, Manila is 476 meters away, 7 min walk.
Railroad Dr / 13th St Intersection, Manila is 491 meters away, 7 min walk.
Padre Burgos St / Anda Intersection, Manila is 595 meters away, 9 min walk.
Juan Luna / Muelle Dela Industria Intersection, Manila is 1067 meters away, 15 min walk.
Central Terminal Lrt is 1218 meters away, 17 min walk.
Prensa / Muelle Dela Industria Intersection, Manila is 1394 meters away, 19 min walk.
Recto Lrt is 2215 meters away, 29 min walk.
Belfry Cafe: A new Intramuros Cafe You Need to Visit
Intramuros Tour
Manila Walking Tours (with transportation). Get a comprehensive tour of Manila in just a day on this bus excursion. You'll travel with a small group of just 12 people or fewer, which lets you enjoy an intimate atmosphere and plenty of chances to ask questions. Listen to commentary on the history of Manila over the last 400 years, tracing its history from Malay to Spanish to Japanese to Filipino.
Accommodations near Intramuros
- Belfry Cafe: A new Intramuros Cafe You Need to Visit -