Wanting to become an Australian but don't want to give up your Filipino citizenship? Dual nationality is the way forward. Here are some pros and cons of dual citizenship and how to apply.
The Philippines has come a long way in strengthening and renewing its ties with the Filipino diaspora through various policies, programs, and services. And yes, the Philippines ranked third among countries with the most number of people who acquired Australian Citizenship. They reinstate Filipino citizenship and chose to become a dual citizen. This was followed by progressive steps to restore and promote the rights of former Filipino citizens and Filipinos who live or work overseas. But some oath takers don't want to be treated as a foreigner when visiting the Philippines.
What is Republic Act No. 9225?
Republic Act No. 9225 is an Act making the citizenship of Filipinos who acquire foreign citizenship permanent, amending for the purpose Commonwealth Act No. 63.
RA 9225, which took effect on 17 September 2003, declares that former natural-born Filipino citizens who acquired foreign citizenship through naturalization are deemed not to have lost their Philippine citizenship under conditions provided in the Act.
These former Filipinos can re-acquire/retain their Philippine citizenship by taking the oath of allegiance to the Republic of the Philippines.
Does a dual citizen need to reside in the Philippines?
Residency in the Philippines is not required of those who wish to re-acquire or have re-acquired Filipino citizenship. Those who intend to vote in local elections, however, must establish residence in the locality where they wish to vote.
ALSO READ: Dual Citizenship in the Philippines: Helpful Tips and Guides
Does the law RA 9225 apply to dual citizens?
RA 9225 does not apply to dual citizens, i.e., those who have both Philippine citizenship as well as foreign citizenship not acquired through naturalization.
a. A child born of parents who are both Filipino citizens (at the time of birth) in a country that adheres to the jus soli principle (e.g., the United States) is a dual citizen. The child, who is a natural-born Filipino because the Philippines adheres to the jus sanginis principle, is also entitled to apply for a US passport.
b. Jus soli (right of soil) is the legal principle that a person's nationality at birth is determined by the place of birth (i.e., the territory of a given state).
c. Jus sanguinis (right of blood) is the legal principle that, at birth, an individual acquires the nationality of his/her natural parent/s.
d. A child born of one parent who is a Filipino citizen (at the time of birth) and of one foreign parent (e.g., Australian) whose country adheres to the jus sanguinis principle is a dual citizen and is entitled to apply for both Philippine and Australian passports.
e. A child born of one parent who is a Filipino citizen (at the time of birth) and of one foreign parent (e.g, Australian) whose country adheres to the jus sanguinis principle in a country that adheres to the jus soli principle (e.g., US) would be entitled to apply for Philippine, Australian, and US passports.
Download PDF: PETITION UNDER OATH TO RE-ACQUIRE/RETAIN PHILIPPINE CITIZENSHIP UNDER R.A.9225
What are some of the salient provisions of RA 9225?
Sec. 2. Declaration of Policy. It is hereby declared the policy of the State that all Philippine citizens who become citizens of another country shall be deemed not to have lost their Philippine citizenship under the conditions of this Act.
Sec. 3. Retention of Philippine Citizenship. Any provision of law to the contrary notwithstanding, natural-born citizens of the Philippines who have lost their Philippine citizenship by reason of their naturalization as citizens of a foreign country are hereby deemed to have reacquired Philippine citizenship upon taking the following oath of allegiance to the Republic:
Natural-born citizens of the Philippines who, after the effectivity of this Act, become citizens of a foreign country shall retain their Philippine citizenship upon taking the aforesaid oath.
In the case of those who became foreign citizens after RA 9225 took effect, they shall retain Philippine citizenship despite having acquired foreign citizenship provided they took the oath of allegiance under the new law.
For those wanting to hold two nationalities, here are some pros, cons, and obligations you may want to consider.  The rules regarding dual citizenship vary from country to country but it has clear advantages and disadvantages in a global landscape.
Pros of Dual nationality in Australia & Philippines
Political and Social Rights
Dual citizens enjoy Filipinos' full civil and political rights as guaranteed by the Philippine Constitution and existing Philippine laws.
The major advantages of being a Filipino-Australian are having access to two social service systems and the right to vote in either country.
Those who intend to vote in local elections, however, must establish residency in the locality where they wish to vote. It's compulsory in Australia for citizens over 18 to vote in local, state, and federal government elections and referendums. You can get a fine of up to $180 if you don't show up to vote on polling day.
Having the ability to own a property in either country means you can easily live, work, and retire in both. Dual citizens have the right to own land and property in the Philippines, engage in business or commerce as a Filipino. 
Some  Australian citizen is planning to reinstate their Filipino citizenship after considering some benefits and privileges. Having two options is better. It guarantees the right of entry to both countries knowing that you can get a property in both countries. 
ALSO READ: How to Retire in the Philippines Guide: Evaluating Pros & Cons
International travel can be much easier for dual citizens. They have the right to travel bearing a Filipino and Australian passport.
Australian passport holders are granted visa-free entry to 180 countries, which puts the Aussie item in ninth place on the world's most accepted passports list. Having two passports gives more flexibility with overseas travel, work, residency, and inheritance. Australian Government requires dual citizens to use the passport used when applying for a visa for both entering and leaving Australia.
When you decide to have a holiday in the Philippines and use your Philippine passport, basically it will eliminate the need for a long stay visa. And if you want to stay there for more than one year, it will also eliminate your stay's questioning. 
Dual citizens reap the benefits of being immersed in the culture of the two countries. Perhaps the best upside is the satisfaction of learning about the history of countries, a new language and a different way of life.
Filipinos although far away from their homeland have integrated very well into the Australian society at the same time still gripping firmly to their roots.
"Australia is a multicultural nation but we should not forget our own culture. What I love about Filipinos is, we have integrated into the Australian society but we have not forgotten who we are."
The Philippines is one of Australia's longest-standing bilateral relationships. Our enduring friendship is based on shared interests and values, supported by strong people-to-people links. The relationship has developed into a mature partnership that seeks to advance our mutual interests through cooperation in trade, development, defense, and security.
Recognizing the shared values between Australia and the Philippines, there's a campaign that bears the theme "Mateship and Bayanihan". The Filipino ideal of "bayanihan" which conveys the spirit of communal unity and cooperation, is akin to the Australian tradition of "mateship" – that notion of friendship, solidarity, and pulling together.
CONS of Dual nationality 
Having dual citizenship is great, but it is not all roses and candy. As a dual citizen, you are bound by the laws of both countries.
For Filipino-Australians, Philippine dual citizenship does not affect in any way the conditions or status of their Australian citizenship. However, persons who hold an elected office or are seeking an elected position might be required by their political party to renounce any non-Australian citizenship.
Dual tax obligations could also be one of the cons of dual citizenship. The Philippines and Australia have a bilateral Agreement on the Avoidance of Double Taxation. The Philippine Government will tax the individual for income generated and assets held in the Philippines. The Australian Government will tax the individual for income generated and assets held in Australia.
Consular Service Limitations
Assistance for dual citizens is limited in some circumstances, according to Consular Services Charter.
For example, if you enter the Philippines with your Philippine passport, local authorities may not recognize you as Australian. This can happen even if the country recognizes dual nationality. This can limit the Australian government's ability to provide you with consular assistance. This may include government-assisted evacuations in the event of a crisis overseas.
One final disadvantage of dual citizenship is the process itself. The processing fee is only $90 but the Philippine Embassy in Canberra is requiring numerous documents personally or by postal service for dual citizenship application.
Dual Citizenship Application
If you want to have dual nationality in Australia, the following must be submitted to the Philippine Embassy in Canberra personally or by postal service:
Two original accomplished Petition for Dual Citizenship forms (www.philembassy.org.au)
The original (will be returned to the applicant during the oath-taking) and two photocopies of each of the following documents:


a. Philippine Birth Certificate with Registry Number issued by the Philippine Statistics Authority (PSA)

Note: PSA-issued Philippine birth certificates may be ordered online through the PSA website www.ecensus.com.ph (fee will apply). If the applicant was born outside of the Philippines, the Report of Birth issued by the Philippine Embassy or the Philippine Consulate in the country where the applicant was born. Refer to the Civil Registry section of this website for information on making a Report of Birth.
b. For married applicants:

If the applicant was married in the Philippines, PSA-issued Philippine Marriage Certificate with a Registry Number is required
If the applicant was married in Australia while still a Filipino, Report of Marriage issued by the Philippine Embassy is required. If the Report of Marriage was reported to the Embassy six months ago, submit a PSA-issued Marriage Certificate. (go to www.psa.gov.ph to order online (fee will apply).
If the applicant is married in Australia when she was already an Australian citizen, a Marriage Certificate is required.

*If the applicant's name on the Philippine birth certificate differs from the name on the Certificate of Naturalization or Australian Passport, the applicant must show an official document that bears the current name, and an Affidavit must be submitted to explain the change in name (fee will apply).

*If the applicant is widowed, the marriage certificate and death certificate of the spouse (from PSA if Filipinos or from Australian government if Australians) are required

*If the applicant had a previous marriage recorded in the Philippines, the PSA Marriage Certificate with annotation of nullity of marriage is required

*If the applicant had a previous Australian marriage, the marriage certificate and final divorce decree issued by the Australian Court are required (

Download PDF:

Report of Marriage Form)

Two Certified True Copies of Data-page of Old Philippine passport
Two Certified True Copies Australian Certificate of Naturalization (Citizenship)
Two Certified True Copies of Data-page of Australian passport
Four (4) passport-sized colored photos with white background, taken within the last three months.
Payment of processing fee of A$90.00 by postal money order or bank cheque, payable to the 'Philippine Embassy' (This payment is non-refundable).
Self-address stamped envelope.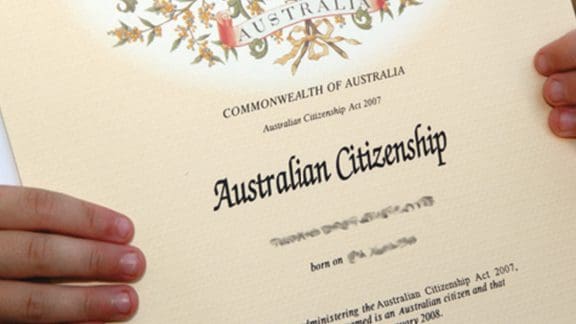 The Consulate may require additional documents to verify certain circumstances of the petitioner (e.g., Proof of Election of Philippine citizenship issued by the Bureau of Immigration in the Philippines) or inconsistencies in the records.
NOTE: If the applicant is unable to provide the additional documentary requirement within 3 months upon notification by phone or by email, his/her dual citizenship application will be returned. The applicant may, however, resubmit his/her application.
Download PDF: REGISTRATION FORM FOR FILIPINOS IN AUSTRALIA
Also download: APPLICATION FOR IDENTIFICATION CERTIFICATE
Processing times
A 'decision' includes applications that have been approved, refused, withdrawn, and those that cannot be considered (invalid).
Allow an extra 10 days after approval of your application for printing and postage of your citizenship document. If you applied from outside Australia, postage will take longer.
The processing times presented for the citizenship by conferral process include applications for which, in the reporting month, either:
a decision outcome was reached, or
person/s who were included in the application acquired Australian citizenship by conferral by attending a citizenship ceremony and making the pledge of commitment. 
Application type
Period counted
Timeframe for
75% of applications
Timeframe for
90% of applications

Australian citizenship by conferral


(general eligibility and other situations)††

From the date of application to decision

13 months

16 months

From the date of approval to ceremony

5 months

6 months

From the date of application to the ceremony

18 months

20 months

Australian citizenship by descent

From the date of application to  decision†

9 months

11 months

Evidence of Australian citizenship

From the date of application to decision†

7 days

20 days
When will your citizenship get revoked?
There are various dual citizens' cases in which Australian Citizenship has been stripped.
The Minister for Home Affairs has the power to revoke someone's citizenship in case it is proven that a citizen has, for example, provided misleading information as part of their citizenship application or failed to disclose a serious criminal conviction.
Only dual citizens are at risk of losing their Australian citizenship as Australia does not allow someone to become stateless.
Under section 35 of the Australian Citizenship Act 2007, a dual national's Australian citizenship will automatically cease if they act contrary to their allegiance to Australia, by engaging in terrorism-related conduct, or if they fight for, or are in the service of, a declared terrorist organization overseas, according to the DHA.
The Consulate General encourages applicants to review all information provided by the Department of State or seek professional legal advice from a qualified immigration attorney to enable them to make the most informed decision regarding the potential acquisition of another nationality.
NOTE: This publication is provided for general information purposes only and is not intended to cover every aspect of the topics with which it deals. It is not intended to amount to advice on which you should rely. You must obtain professional or specialist advice before taking, or refraining from, any action on the basis of the content in this publication. 
SOURCE:  Philippines Embassy & Immigration, Department of Foreign Affairs