Cowrie Island Palawan – part of our Honda Bay Island Hopping trip, is named after the brightly-shelled mollusks which residents said thrive in the area. It is 12 kilometers away from Puerto Princesa City proper and it takes less than 30 minutes travel time by land to the Honda Bay Wharf, which is the jump-off station to get to the island and just about 10-20 minutes boat ride.
Palawan's Cowrie Island indeed is picturesque, offers an exciting day tour island experience for local and foreign tourists who will enjoy a fun, worry-free, and affordable vacation. It is one of the places you'll visit during your Honda Bay Island Hopping escapade.
It has tourist facilities such as small shops and a restaurant and other things you may need to have a good time. Despite the modernization, there are places where you can just enjoy the beach, swim in the emerald waters, and relax.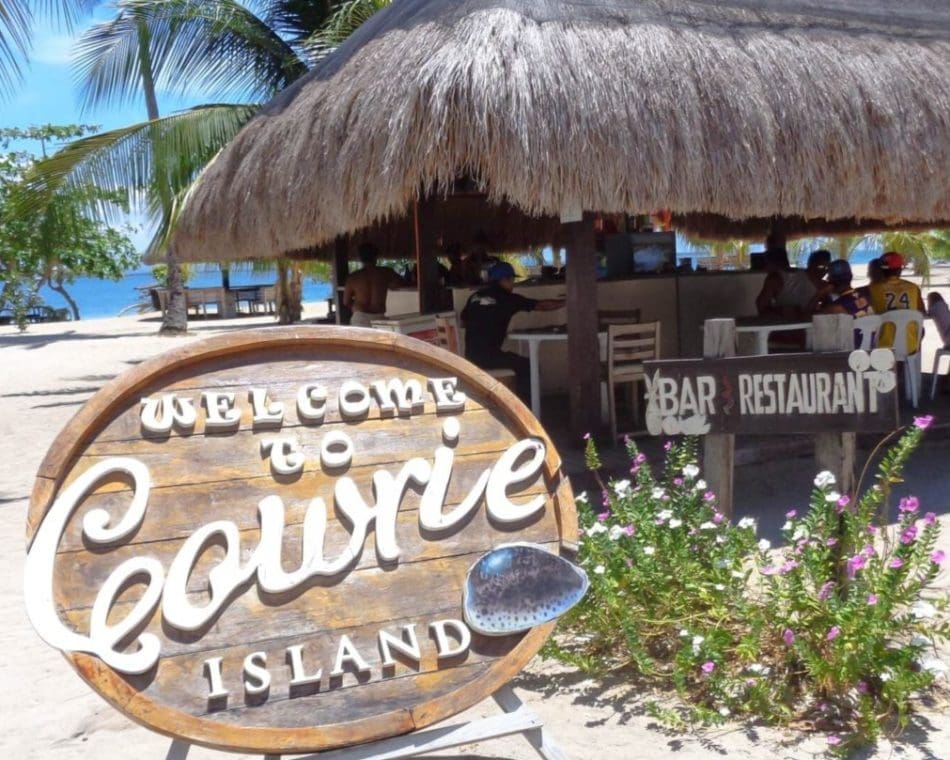 What To Explore On Cowrie Island
One of the first things that you will notice on the island is its breathtaking stretch of white sand that teasingly welcomes you to an expanse of clear blue waters. The beach is not all to it, however. There are tent cottages at a fair price of ₱200 each and native cottages for only ₱250. The tables and chairs situated near the pavilion are free if you need them.
The island offers big cottages that can accommodate up to 20 persons and most of these are under the trees.
With 10 cabanas looking out to the waters; a detached pavilion that can accommodate over 300 guests; Massage Area; and thatch-roofed spa huts quietly set underneath soaring coconut trees.
If you are escaping away from all the stress, you may want to push it further by having a relaxing massage here.
You can climb the trees, and experiment with some creative shoots with the help of your tour guide. The beach is pristine and very beautiful, and the water is very clear, I don't swim but I appreciated the coolness and vastness of the sea. We caught some starfish to take some pictures but put it back again in the sea.
Locals have freshly cut (coconut) buko juice that would take the heat and thirst away..there's a mini bar if you wish to get tipsy..you can enjoy walking along the shoreline on a sunset. Their mouth-watering lunch sets, which include Palawan's famously fresh fish and other seafood, along with vegetables, pasta, soup, and desserts. Great for lounging.
ALSO READ:  Starfish Island Palawan Amazing 1 Day Gone the Next
Henna Tattoo
By the way, you may also avail of the henna tattoo starting at Php 50 depending on the size and design you want. I teased Gary I'm going to have one but he stopped me many times saying he cares about me. So, okay. There's a health risk of getting a henna tattoo if you have sensitive skin (like me).
An allergic reaction to the henna can cause a nasty rash, blistering, infection, and possible scarring. Black henna is not natural, it very likely contains a dye/chemical called PPD (paraphenylenediamine). Some people may react, some may not. Precaution is better than cure.
Another warning, if you stain the sheets at your hotel with a henna tattoo you will pay for new sheets. Some hotels charge for stained ruined sheets. When family members checked in at one hotel we stayed at they warned us at check-in on the registration card that we signed that we will be charged p500 for each stain or something like that. They had signs in the bathroom as well.
ALSO READ: CYC Beach Coron: Crazy and Crowded
Cowrie Island Activities
For some adventurous activities, the island offers fun and exciting water activities such as banana rides, jet skiing, and kayaking. Recreational facilities include massage cabanas, a game area for volleyball, a beach bar and restaurant, and a pavilion for intimate weddings, meetings, team buildings that can accommodate up to ₱200-300 ($5-6).
Exclude from our Honda bay Tour expenses are activities rent and environmental fees.
Boat ride per individual (if you're just joining a group) is usually around ₱200 ($5); if you want to hire the whole boat, it will cost you around ₱800 ($17) for six persons.
What you should bring
| | |
| --- | --- |
| Snorkeling gear     | Hat/sunglasses |
| Swimwear | Beach towel/mat |
| Sunblock | Aqua shoes for coral |
| Change of clothes | Goggles |
Cowrie Island Entrance Fee and Other Charges
Entrance Fee: Around ₱75
Environmental Fee: ₱40 – ₱150 (depending on the port you departed from — Sta. Lourdes Port or Honda Bay Wharf)
Cottage Rental Fee: ₱200 – ₱250
Boat Rental Rate: ₱700 – P800 (good for 6 persons, going directly to Cowrie Island);
₱1500 (good for 6 persons, perfect for those who want to DIY their trip and include other stops)
Others: ₱100 – ₱150 (snorkel gear rental)
What You Need To Know Before Visiting Cowrie Island
1. You should bring food because this island restaurant crows and sometimes it lacks food services.
2. The best time to visit Cowrie Island is early morning as you will have the chance to see the beautiful sunrise while the best time to leave is around 5 pm so you can witness bats from the nearby 'Bat Island' fly their way to the mainland. Amazing real sight.
3. Bring your 'malong' in case you want to sit on the sand and enjoy a moment of solitude. Once you are finished with your swimming, banana boat ride, and all the 'water fun' on the island, you can conveniently freshen up in the shower rooms and changing rooms.
Indeed, among the islands in Honda Bay, Cowrie Island is among the top choices of visitors in Puerto Princesa City. Fun island to hang out on for a few hours. So, next time you plan a trip, make sure to include in your itinerary a visit to this island.
ALSO READ:  Malcapuya Island Palawan a postcard-perfect getaway
How To Get Into Cowrie Island
Cowrie Island is part of our Honda bay Tour. A shuttle van which the tour guide Kuya Bonbon picked us up from our hotel around 7 am, continued to pick the rest of the group up, then we were off to Sta Lourdes Wharf where boats going to the islands were docked.
It only takes 30 minutes to get to Honda Bay from Puerto Princesa City then you'll get your own group boat and the island hopping begins!!!
DO IT YOURSELF:
Rent a van or a tricycle from the city proper to the Honda Bay wharf. Their tourists would be asked to register. DIY tourists would choose a tour for the day and pay the corresponding fee. Travel time from the town proper to the wharf could take 45 minutes.
ALSO READ: Kayangan Lake Coron Palawan Amazing 2Hot Recommend
- Cowrie Island Palawan -