Luli Island is one of three islands of our Honda Bay Tour. It has fine sand and clear water and just a few kilometers away from Puerto Princesa City. Is famous for its beautiful sandbar and for the sea activities you can have there, such as fish feeding, swimming, and snorkeling.
Luli Island got its name because its sandbar appears and disappears (lulubog and lilitaw) which means sink and arise depending on the tide. This is part of the Honda Bay Island hopping tour you can do from Puerto Princesa City. It has powdery cream-colored sand and clear emerald waters perfect for swimming and beach bumming.
From what we were told by our guide, this island is not included on the list and map of Palawan islands. Apparently, it is because the island is submerged for a period of time due to the tides. He also mentioned that it is a private island owned by the Marcelo family.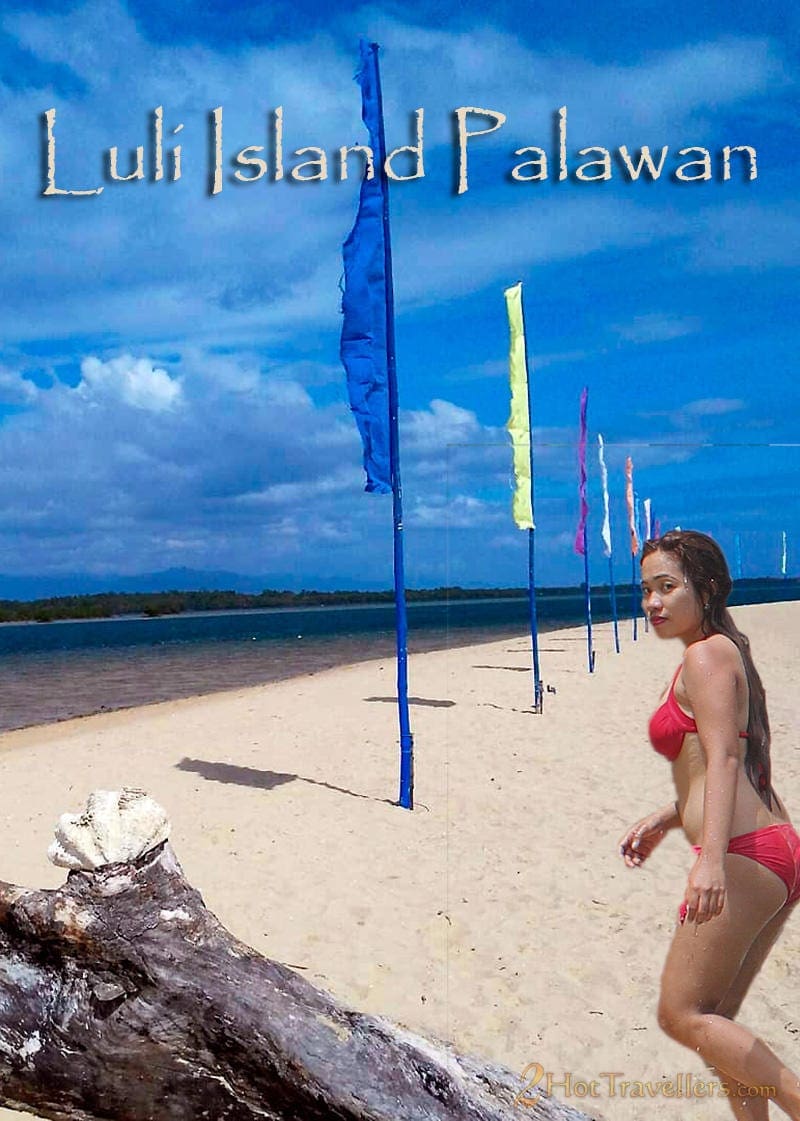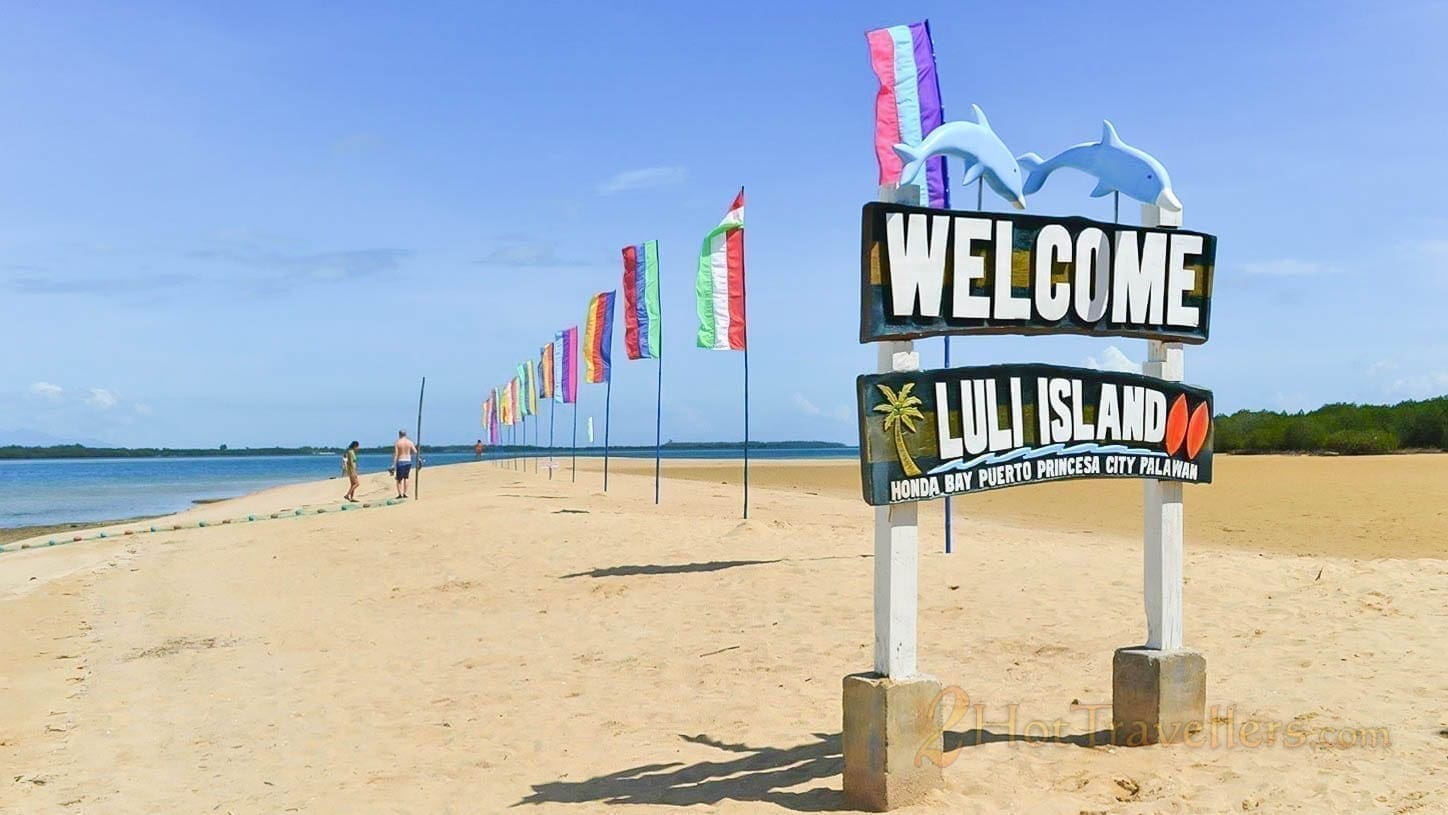 The best time to visit the island is at low tide. The lower the tide, the more of the island you get for your money. You don't want to come all this way just to get a small sliver of sand and a sign welcoming you!
Due to the sun directly shining on its powdery cream-colored sand, this looks like a dessert in the middle of the sea. It is surrounded by clear emerald waters and accompanied by mangroves on a certain part. Meanwhile going there on high tides will only provide a view of its wooden cottages merely perched above the water that seems to be like just floating.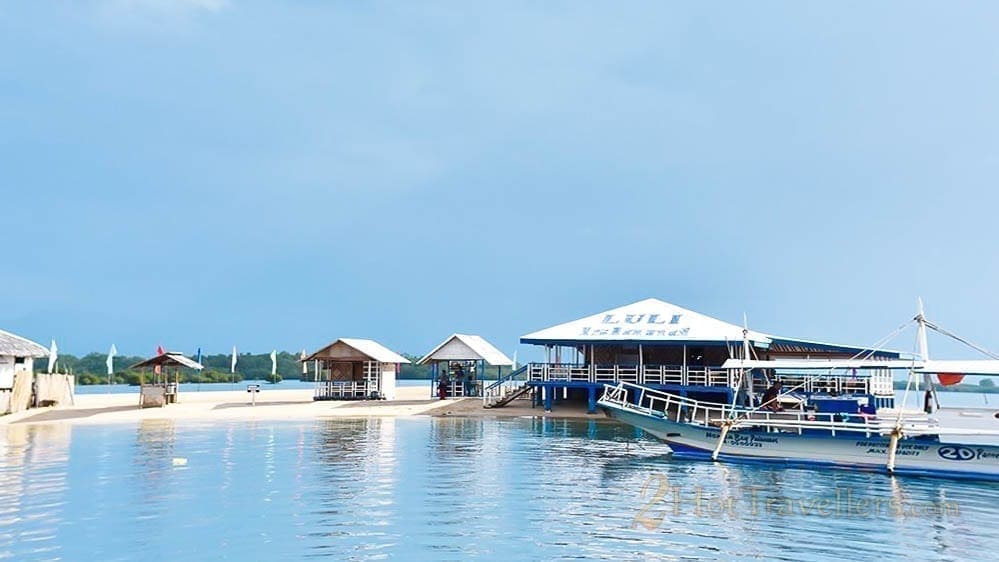 Luli is a touristy place and can get really crowded especially in the swimming area. There is a low diving/jumping board to add a bit of excitement to swimming. Next to the swimming area is a picture-taking spot where tourists can do trick shots, overseen by a local who can take your photos for you (you may be expected to give a tip or donation).
Activities: swimming, snorkeling, picture-taking, jet ski rental, banana boat
Facilities: restaurant, bar, restrooms, hammocks, cottages (limited availability)
What is there to do on Luli Island?
At Luli Island, colorful flags dotted the curve of the sandbar, making it easier for people to spot its location once it disappears under the water. Many things to discover on this beautiful island, you and your family can swim and relax on the beach with white sand or you can dive to discover the beauty of the seabed.
Moreover, enjoying great food with buffet lunch. This place is primarily a snorkeling spot. So prepare everything beforehand, and bring out the bread, and off you go to feed the fish. You will have a certain ticklish feel when having these tiny creatures dart forward and nibble at the bread in your hands until there is nothing left, and they're still nibbling at your fingertips.
We spent my time there soaking in the water and applying sunscreen as often as possible. It was a lovely island, but after an hour I was ready to move on and explore somewhere new.
A Few Negatives
I must admit, it is a pretty island, but the designated swimming area is small and, very often over-crowded when several tour boats arrive at one time.
On the plus side, if you walk away from the main beach towards the trees at low tide you will see tons of interesting creatures in tide pools. Also, not many tourists go far out from the main beach, so you can find some solitude if that is what you are after.
How to get to Luli Island?
Luli Island is part of our Honda bay Tour. A shuttle van which the tour guide is Kuya Bonbon picked us up from our hotel around 7 am, continued to pick the rest of the group up, then we're off to Sta Lourdes Wharf where boats going to the islands were docked.
It only takes 30 minutes to get to Honda Bay from Puerto Princesa City then you'll get your own group boat and the island hopping begins!!!
DO IT YOURSELF:
Rent a van or a tricycle from the city proper to the Honda Bay wharf. Their tourists would be asked to register. DIY tourists would choose a tour for the day and pay the corresponding fee.
From Honda Bay, you can rent a boat to Lu-li Island for ₱1200-₱1300 ($25-$27). Travel time from the town proper to the wharf could take 45 minutes.
From Honda Bay, you can rent a boat to Lu-li Island for ₱1200-₱1300 ($25-$27). Travel time from the town proper to the wharf could take 45 minutes.