Are you looking for a family-friendly location for a fun day out? Look no further than the Lone Pine Koala Sanctuary, this was a fantastic place to spend the day especially for nature lovers. 
Recognized by the Guinness Book of World Records,  Lone Pine Koala Sanctuary is the world's first and largest koala sanctuary. It is home to 130 koalas and over 70 species of other native Australian animals.
Lone Pine Koala Sanctuary
Before coronavirus lockdown, my husband and I had the opportunity to visit the Lone Pine koala sanctuary in Brisbane's western suburbs (my bad, I almost forgot to write an article about this.)
Nothing beats a day of strolling around an area filled with koalas and other animals like kangaroos, wombats, possums, and birds while having the option to do outdoor activities.
Lone Pine Koala Sanctuary is the only wildlife park within Brisbane itself. We enjoyed our day and thought we'd share some reasons why this place is a haven for nature lovers.
Meet and hug a koala, hand-feed the kangaroos, play with the emu (the second biggest bird in the world), say hello to the Tasmanian devil, and many more.
What is even better is that you don't have to be fully restricted from who you could bring to this place. It is a family-friendly sanctuary, which means that you can even go with the little ones.
Another thing I like about the Lone Pine Koala Sanctuary? They have FREE WIFI throughout the sanctuary, and they also have FREE fast mobile recharging stations.
So really, it's not just about koalas when you go and visit this place. It's being one with nature and having the opportunity to venture out what the great outdoors has to offer. On that note, here are some of the reasons to visit the Lone Pine Koala Sanctuary.
Connect with koala
What would be a Lone Pine Koala Sanctuary experience without holding a koala? they are so cute and cuddly right?..
Well, yes and no. They are cute, there is no denying this fact but cuddly? They are not all as soft and snuggly as they may look. They often smell of eucalyptus from the gum leaves they continuously eat and often this smell is transferred onto your clothes. Their fur is not always as clean as you might want with brownish stains in places you often have to hold them when you carry them.
Now, with this said, please don't get me wrong, I loved my time with the Koalas. I just want to bring some readers back to reality… nature is not always perfect. Would I carry/hold a Koala again? In a minute, I love them.
If you're planning to visit Lone Pine Koala Sanctuary, then do it. There is so much more to see and do than just Koalas. Make sure, when in Brisbane, to add this activity to your itinerary.
We were lucky on the day we visited, we were allowed to see behind the scenes how the staff goes out of their way to cater to all those picky koalas. It's very impressive. We also saw some veterans doing health checks on koalas.
Get a picture taken with a Koala. You will need to book one of the Photo sessions and then wait in line for the great moment. We booked for the 1 pm session and arrived back at the photo area at 12.30 hoping to get a good spot. Well, 30 minutes before session time had us near the end of the queue. Our advice, get there early.
Spend one on one time holding one of these incredible animals and capture our special moment with a photo from one of their professional photographers, while also taking photos on our device.
At Lone Pine Koala Sanctuary, everyone with enough cash in their pocket has the opportunity to hold a koala. Previously you could hold the Koala for free but if you wanted to take a pic you need to pay for a professional picture to be taken. 
When we were there, in an effort to keep the koalas happy, the staff adopted the policy of holding the koalas while you stood to the side and gently patted the koalas.
It's definitely worth it, after all, it's free but it doesn't compare to actually holding the Koala.!
if they want to and are willing to wait in line for 30 minutes. Holding the koala is a free experience included in the entry cost, however, if you want to take photos you must also buy a 5×8 printed professional photo.
Feed the Lorikeets
Most people aren't familiar with what lorikeets are. 
The reason for this is that these birds are not exactly the kind of species that you can see every day, but it's common in some areas of Australia like where we live – we always hear them every day. 
All native Australian lorikeet species are brightly colored and intelligent. Lorikeets are clever, outgoing, and chatty.
Lorikeets have a certain time to harbor to the ground. This usually happens before 10 AM and 4 PM. 
All native Australian lorikeet species are brightly colored and intelligent. Lorikeets are clever, outgoing, and chatty.  Lorikeets have a certain time to harbor to the ground. This usually happens before 10 AM and 4 PM. 
You can feed the lorikeets that are lurking around the Lone Pine Koala Sanctuary. What you need to do is simply wait by the river and wait for the parrots to come over. Unfortunately, we can't wait, so we find other birds to discover. 
Lone Pine Koala Sanctuary - More than just Koalas
Lone Pine Koala Sanctuary has much more than just Koalas (Please never, never, never call them Koala BEARS! They are NOT bears).
Wandering around we came across this friendly Emu.
When we first approached him, he tried avoiding us but when he saw us patting and feeding the Joeys he quickly became best friends with us.
The Kangaroos, Emus, and other wildlife roamed freely amongst the visitors in certain areas. This is one of the best places we have been where you can really get down and dirty with the wildlife.
But, never forget, no matter how docile and friendly they may seem, they are still semi-domesticated animals which, at times can be unpredictable.
The Daily Schedule
There are a number of other scheduled feedings, shows, and activities to keep you occupied. Now we tried to catch a few of these activities, we went out of our way to get to the specific location and the required time (or earlier).
Now, I don't know if Lone Pine Koala Sanctuary operates on Lone Pine time which is totally different from Queensland time but the activities were never on at the time publicized. It was annoying!
9:45am – Wild Lorikeet Feeding
10:30am to 11:30am – Touch a Koala
10:30am – Free Flight Raptor Show
11:00am – Sheep Dog Show
11:30am to 12:30pm – Koala Holds
12:30pm – Free Flight Raptor Show
12:45pm – 1:00pm – Dingo Photos
1:00pm – Sheep Dog Show
1:30pm – 1:45pm – Snake Photos
2:00pm to 3:00pm – Koala Holds
4:00pm – Wild Lorikeet Feeding
We missed the 9:45am – Wild Lorikeet Feeding session but tried for the 10:30am – Free Flight Raptor Show… waited till 11 am, but no show. 1:30pm – 1:45pm – Snake Photos didn't see that either. 
Ok, maybe it was just us and when you go there, all will work like clockwork. You can only hope.
Is it Really Worth Visiting?
With all the negatives we have detailed, you must be wondering if Lone Pine Koala Sanctuary is worth your time and money to visit. The answer is simply YES! This is a great place to bring the kids (all children and children at heart). The price is reasonable and it is easy to spend the entire day here.
Would we go back again? Probably not. We have seen it, been there, and done that, and time to move on. 
Comparing Lone Pine Koala Sanctuary o Australia Zoo is really an unfair comparison. Australia Zoo wins hands down but the cost at Australia Zoo is higher. Lone Pine is a KOALA SANCTUARY and Australia Zoo is a ZOO.
How To Get Into Lone Pine Sanctuary
Lone Pine Sanctuary is 12km from Brisbane City, which is about a 15-minute drive. For best directions, enter their address into Google Maps on your phone. They are a listed attraction on all the major GPS hardware.
Address:  708 Jesmond Road Fig Tree Pocket, Queensland 4069
By Taxi
Taxis can be booked by calling:
Black & White taxi: 133 222
Yellow Cabs taxi: 07 3391 5955 or 131 924
By Public Bus
There are regular buses to and from Lone Pine operated by the City:
– Bus number 430 from Queen Street Station and Bus # 445 from Adelaide Street For fare information and to plan your journey, click here.
By River Cruise
The Mirimar boat cruise departs from the Cultural Center Pontoon (South Bank) daily. The pontoon is located on the boardwalk outside of the State Library. Travel through some of the city's most historic landscapes, iconic attractions, and historical home sites as you listen to an informative commentary.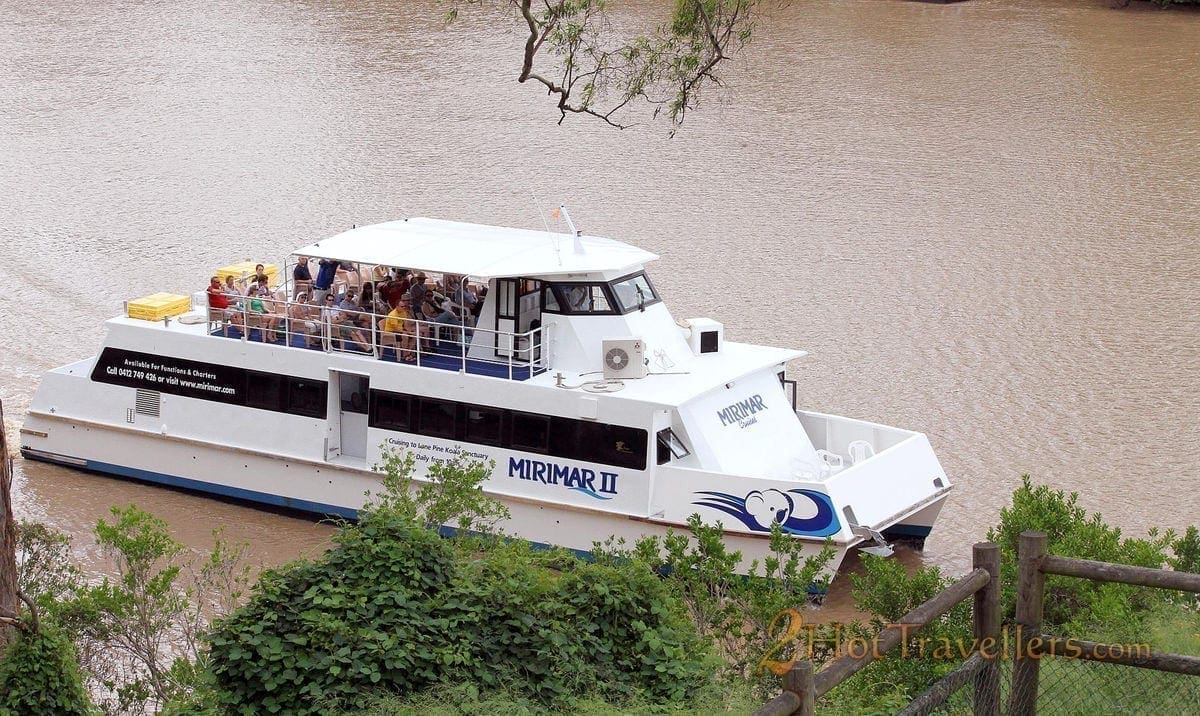 Please note that the City Council City Cat or ferry routes do not go to Lone Pine Sanctuary.
The Mirimar cruise ship departs from the Central Center Pontoon at 10:00 a.m. daily.
The trip lasts 1 hour 20 minutes and arrives at Lone Pine Koala Sanctuary at 11:15 am. The boat departs Lone Pine to Brisbane City at 2.15 pm.
For information and to book, contact Mirimar Cruises: 0412 749 426 (24 hours)
The cruise aboard Brisbane's most famous ship, MV Mirima, will take you 19 km. You will be able to take the time to admire the most beautiful districts of the city as well as the wild fauna and flora that runs along the river.