Whether you're a visitor chasing the sun up north or a local looking to explore their own backyard, there are so many amazing things to do in Queensland.
Queensland, "the Sunshine State," home to the Great Barrier Reef, dazzling Whitsunday Islands, and Australia's most popular vacation destination – Gold coast, there are plenty of things to do in Queensland. 
Queensland has a lot to offer. Golden beaches, idyllic tropical islands, fantastic surf breaks, World Heritage-listed rainforests, rivers, reefs, and waterfalls are just some of the state's natural jewels. The wilderness areas along the Queensland coast are excellent for hiking, biking, boating, and fishing!
From exhilarating skydives and scenic snorkeling tours to luxury getaways and fine dining, you'll find some of the best things to do in Queensland to keep everyone entertained. I can't put it all in one article so I summarize my list of things to do in Queensland. Read on…. 
Things to do in Queensland
Queensland is the second-largest Australian state. It has 7 regions and spans 1.853 million km². 
There are plenty of amazing places to visit in Queensland, perfect for visitors traveling interstate or from overseas, or even for residents of the sunshine state. Discover below some of the best places to go to Queensland by Region. 
Population: 5.071 million (Mar 2019)
Brisbane
2020 Population –  2,406,000
Brisbane is the capital city of Queensland and is located in the southeast corner of the state. Brisbane is a perfect blend of both city sights and natural wonders Brisbane is regarded as the city gateway to Australia's tropical wonders.
Boasting beautiful beaches and lush rainforests that border the city's flourishing restaurant, bar, and cultural scene.
Brisbane's economy is supported by a diverse range of industries, including IT and financial services, government administration, petroleum refining, paper manufacturing, metalworking, and tourism.
Brisbane has a number of universities including the University of Queensland, Griffith University, and the Queensland University of Technology, as well as several other universities based elsewhere that have campuses in the city.
Experience the stunningly beautiful Moreton Island from multiple perspectives with a full-day trip! Catch the ferry from Holt Street Wharf in Brisbane and head on to the white sandy beaches of Tangalooma Island Resort.
Revel in a kayak, snorkeling, or a stand-up paddleboard session along the calm crystal-clear waters of Tangalooma Shipwreck. Navigate crystal-clear waters in a transparent kayak Slide down massive The Dessert Sand dunes on a toboggan and experience 4-wheel driving on the beach and through the bushland. Witness all of Brisbane's beauty.
Things To Do In Queensland
Venture to new heights on a 2-hour climb of Brisbane's most iconic landmark – the Story Bridge. Choose a time from early morning to twilight and follow your guide as you take in a full 360-degree panorama of Brisbane and its surroundings. 
Experience the original sightseeing cruise on the Brisbane River, as you sip your morning tea. During this 1.5 hours guided tour, you will be entertained by informative commentary, while taking advantage of fantastic photo opportunities. Cruise past Brisbane's most iconic sights, including the Kangaroo Point Cliffs, the city center, and the Story Bridge.
Board Mirimar Cruises from a convenient departure point in the heart of Brisbane city and embark on a relaxing cruise to the Lone Pine Koala Sanctuary. Explore the world's largest sanctuary that's home to more than 130 of these adorable marsupials. You can cuddle a koala, have photos taken (at your own expense), and perhaps catch a talk by the koala keepers.
World-famous Australia Zoo is a must-see for visitors from all over the globe! You will have over 6 hours to experience all the shows and attractions – a great day for the whole family to enjoy.
"Get up and close" to some of the most incredible creatures on the planet and experience all the wildlife action at our daily shows.
-things to do in Queensland-
Things to do in Queensland – The Greater Brisbane, Somerset, and Scenic Rim regions in South East Queensland are the ultimate places to experience the magic and adventure of hot air ballooning – and why not book with the Ipswich and Scenic Rims regions first and longest-running ballooning operator.
See King George Square, the Story Bridge, the City Botanic Gardens, the oldest church in Queensland, Eagle Street Pier, the City Hall Clock Tower, and lots of hidden secrets along the way. Your local tour guide will even point out the best bars, cafes, and restaurants.
Explore the Gondwana rainforests, a World Heritage area just a short drive from Brisbane. See stunning waterfalls and a natural bridge, and tour the glow worm caves at Cedar Creek. Visit a winery and enjoy lunch in a restaurant overlooking the vineyard.
Discover the Brisbane skyline at night. Experience the joy of riding high over the water. Ride through the beautiful Brisbane Botanical Gardens. So many things to do in Queensland it's hard to know where to start.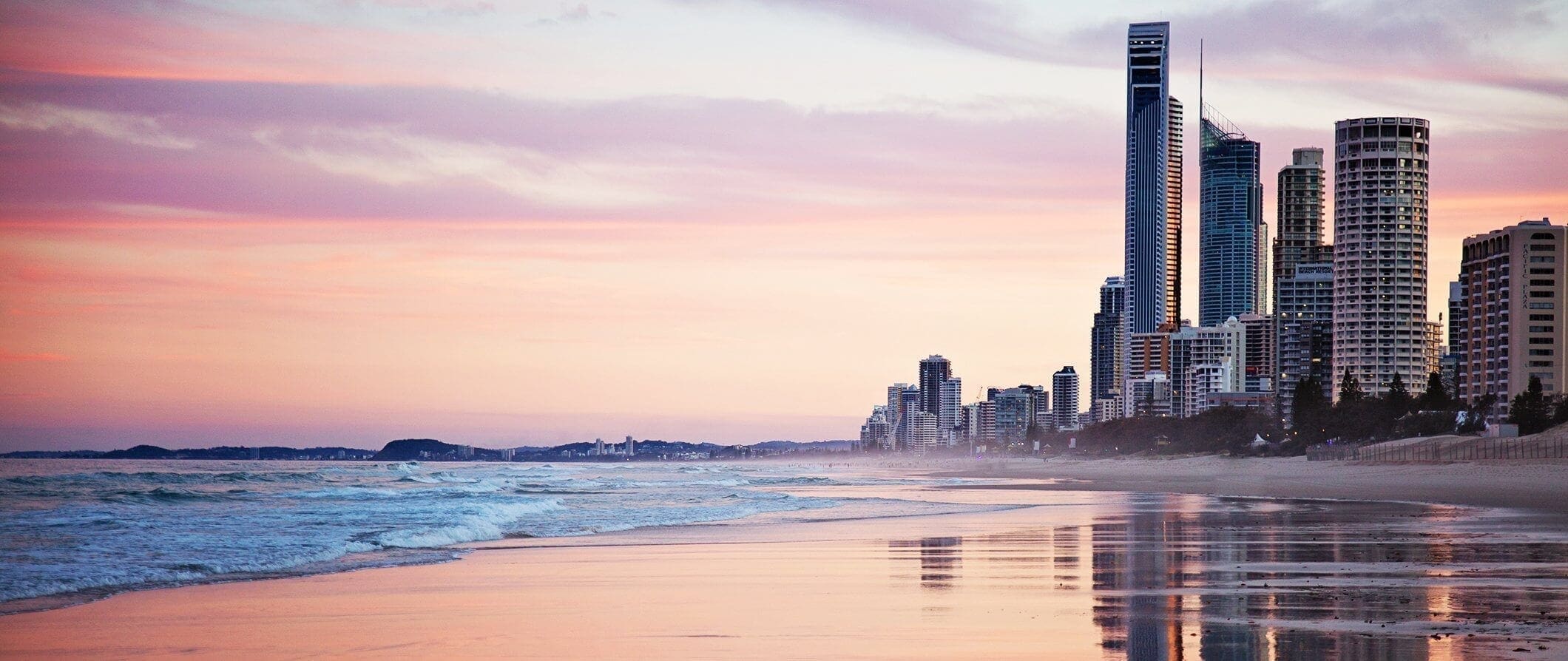 Gold Coast 
2020 Population – 699,226
It wouldn't be a trip to Queensland without visiting the Gold Coast. Known as one of Australia's premier holiday destinations, there are plenty of things to do on the Gold Coast that will let you explore its famous beaches, theme parks, and attractions.
From hot air ballooning and Sky Point climbs to theme park passes and jet boating, there is so much to see and do in this city! It's also home to theme parks such as Dreamworld, Sea World, and Wet'n'Wild. Inland, hiking trails crisscross Lamington National Park's mountain ridges and valleys, home to rare birds and rainforest.
Things to do in Queensland – Have your morning tea as you cruise the rivers and canals of the Gold Coast and Surfers Paradise. See how the rich and famous live as you pass by multi-million dollar mansions and yachts and admire other sights along the Gold Coast waterway.
You can also see the Gold Coast from a new perspective on this fun jet boat and helicopter combination tour. Enjoy a thrilling 55-minute jet boat ride, then admire panoramic views of the city from the sky as you fly over Broad Beach, Surfers Paradise, and more.
Cruise along the glorious Gold Coast beaches, then up to the magnificent Palazzo Versace and Marina Mirage. That's where the Aquaduck gets to show its true colors with a bit of 'duck diving' into the spectacular Broadwater.
For more things to do in Queensland, why not journey through the Hinterland region of Southeast Queensland on our inclusive day tour? Spot kangaroos, koalas, and wallabies, and refresh yourselves in fresh cool waters. The rainforest, waterfalls, and valleys will provide a stunning backdrop.
Visit the World Heritage-listed rainforest in Lamington National Park. Discover the diverse wildlife of South East Queensland when you travel to the Springbrook plateau, Numinbah Valley, and Mt Tamborine National Park from Brisbane. Take a leisurely walk through Springbrook National Park to see the Natural Arch and Glow Worm Cave.
Experience an evening of powerful storytelling and Aboriginal rituals served with a hearty chargrilled feast! Board a bus for transfers from select locations on the Gold Coast, and listen as the guides tell an interactive story en route to Beenleigh Historical Village.
And Hop on board the Gold Coast's longest-running cruise ship and enjoy all the best sights of Surfers Paradise while you feast on a delicious buffet lunch.
SUNSHINE COAST
2020 Population – 346,829 
There'll never be a shortage of things to see and do on your Sunshine Coast visit. With glorious sunny days and warm water most of the year, it's an ideal place for outdoor sports and recreation, alfresco dining, hiking, swimming, surfing, snorkeling, scuba diving, cycling, golfing, and shopping.
Experience a unique kayaking adventure off Rainbow Beach and be on the lookout for wild dolphins, migrating whales, turtles, and rays swimming in the crystal-clear tropical waters. Enjoy a 4WD tour of the Great Sandy National Park as well.
Discover Queensland's heritage railway on the iconic steam train from Gympie through the Mary Valley. Marvel at scenic views as you cross Mary River passing the small villages. Learn about the history of the region and check out the cafe.
Enjoy the magic of Australia Zoo with a small and intimate group. Visit the Glass House Mountains Lookout on the way, all whilst traveling in luxury, style, and comfort.
Enjoy a private nature and adventure experience to the Sunshine Coast's hidden tropical paradise.
TOWNSVILLE 
2020 Population – 195,430
As North Queensland's unofficial capital, Townsville has plenty of things to do and see. Explore the sparkling waters and fringing coral reefs on snorkeling expeditions, dive the Yongala Shipwreck, or learn more about unique and rare species at the renowned Reef HQ Aquarium. If you are looking for things to do in Townsville, then you have come to the right place.
Travel in one of the up to 18 daily return services to Magnetic Island in a state-of-the-art, high-speed catamaran. Paradise is only 20 minutes away and the island boasts a host of entertainment and adventure options.
Visit 2 protected sites teeming with coral and marine life of Townsville.  
-things to do in Queensland-
CAIRNS
2020 Population – 153,951
Cairns is a small town of fewer than 170,000 people in the North of Queensland. Along with the Uluru in the red center of Australia, Cairns has become the quintessential location for visitors looking for that mind-blowing natural Aussie experience. 
Experience the Great Barrier Reef from all angles on this great snorkeling tour. Enjoy either a helicopter flight with a cruise back, vice versa, or both ways by Helicopter.
Explore the scenic beauty of Fitzroy Island on an adventure tour and hike the wilderness trails, suitable for all levels of fitness. Enjoy a delicious picnic lunch, explore the marine life by glass-bottom boat, snorkel, and much more.
Board Skyrail Rainforest Cableway for your journey over and through the World Heritage Rainforest. Free time in Kuranda "the village in the Rainforest" before boarding the Kuranda Scenic Rail for the historic journey.
Travel across the volcanic landscape of the Atherton Tablelands. Marvel at the 18-meter-high Millaa Millaa Falls, framed by lush rainforest and tree ferns.
Enjoy lunch at the Malanda Pub, before visiting Mount Hypipamee. Walkthrough rainforest on easy pathways. See wildlife around Dinner Falls, including brush turkeys and Boyd's forest dragon.
-things to do in Queensland-
Experience one of Australia's most scenic train journeys on the Kuranda Scenic Railway. Board the train at Freshwater and travel through a landscape of lush rainforest and waterfalls.
Cairns ZOOM and Wildlife Dome, the world's first Challenge Ropes Course in a wildlife exhibit, is a unique all-weather experience.
Get spectacular views of Cairns and the Great Barrier Reef on a tandem skydive from an altitude of up to 15,000 feet. Freefall for up to 60 seconds and experience the ultimate adrenaline rush.
Board a classic16-meter sailing boat with a maximum of 25 people and head to an exclusive reef site. Enjoy food and refreshments and lunch on board the boat. Experience snorkeling along the Great Barrier Reef and spend time on lush and tropical Green Island.
-things to do in Queensland-
Things to do in Queensland – Australia is amazing one day, perfect the next and Queensland is the sunshine state. There are plenty of amazing things to do in Queensland. Explore and experience.  Don't know which one to pick? Don't worry, you can always choose a gift voucher and decide later.
ALSO READ:  Moving To Australia? 6 Pros & Cons Of Moving To A New Country