The koala is an adorable animal with round plush eyes, long claws, and a big nose. This famous marsupial from Australia has become an icon of the country. How did the koala get its name? Why they have a stumpy tail? How endangered are they? Let's find out…
Our much-loved koalas, with their stout, tailless body, large head with round, fluffy ears, and large, spoon-shaped nose, are instantly recognizable as a symbol of Australia. They are an integral part of the Australian bush – perched high up in the branches of gum trees sleeping for up to 20 hours a day.
Interesting Facts About Koalas
Koalas are becoming Endangered
Contrary to popular belief, koalas do not live all over Australia, they only live in small areas on the east coast of Australia.
This restriction in their distribution is due to urban development.
They have opposable thumbs, an insatiable appetite for eucalyptus, and a special digestive system to deal with all those leaves.
Lifespan: 
13 – 18 years (In the wild)
Scientific name: 
Phascolarctos cinereus
Gestation period:
30 – 36 days
Trophic level: 
Herbivorous Encyclopedia of Life
What do they eat?
They
 eat about 50 of the 700 species of eucalyptus that exist. Eucalyptus leaves contain 50% water, 5% sugar, and starchy foods. It is a food that provides little energy, which is why they conserve their energy by sleeping for 20 hours a day. They have rough pads and large claws to be able to climb trees. Like humans, koalas have fingerprints.
Male and female names
Scientists often refer to a male as a 'buck' and a female as a 'doe'. A baby is called a 'joey'. Male is easily distinguished by a brown mark on the chest.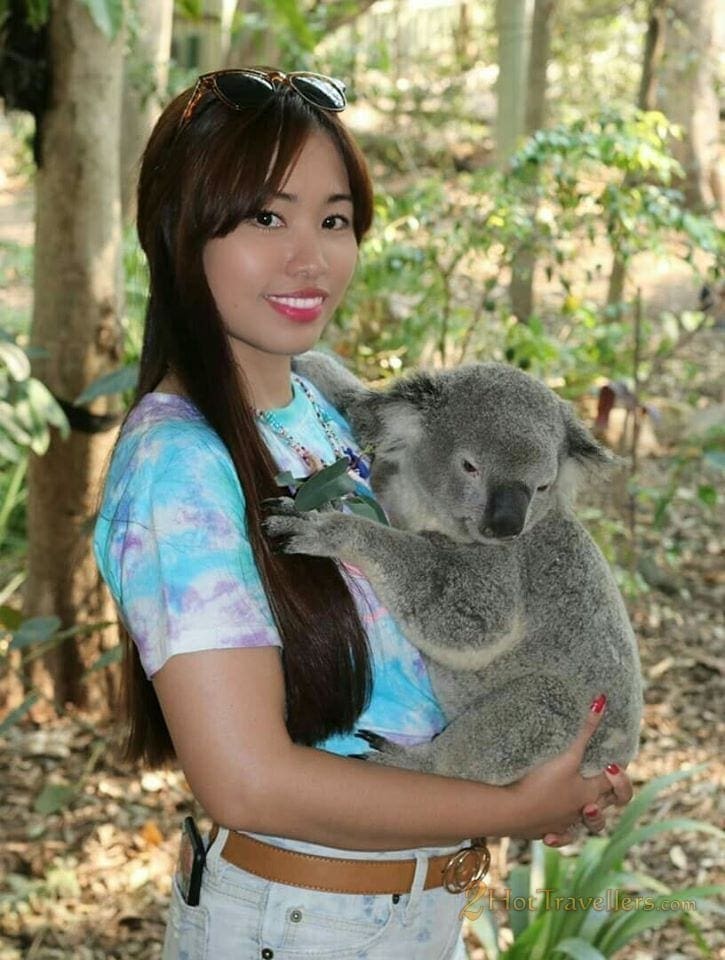 Legislation In Queensland
Under the Queensland Government Code of Practice of the Australasian Regional Association of Zoological Parks and Aquaria, the following conditions are placed on all koala handling interactions within the State of Queensland:
All time that an individual marsupial mammals is handled is to be recorded. Handling time includes any time when a koala is removed from its normal place of residence.
The maximum period handled is 30 minutes a day.
The maximum period that an individual koala may handled is 180 minutes a week.
An individual marsupial mammals  must not be handled more than 3 days consecutively before receiving a rest day.
Only captive-bred of suitable temperament are to be handled.
Only fully weaned or independent koalas are to be handled.
At absolutely no time is a female to be handled when it has pouch young or back young.
The health and well-being of our koalas is our utmost priority. Under no circumstances will our marsupial mammals be handled for a period longer than permitted or placed in a situation which is detrimental to their welfare.
On average, males range in weight from around 6 kg in Queensland and up to 12 kg in Victoria, females range from an average of 5 kg in Queensland to 8.5 kg in Victoria.
Interesting Facts About Koalas
Multipurpose coat
Koalas have thick, woolly fur. This coat protects them from both hot and cold temperatures and acts like a raincoat during wet weather. The fur varies in color from light grey to brown with patches of white on the chest and neck, inside arms and legs, and inside the ears.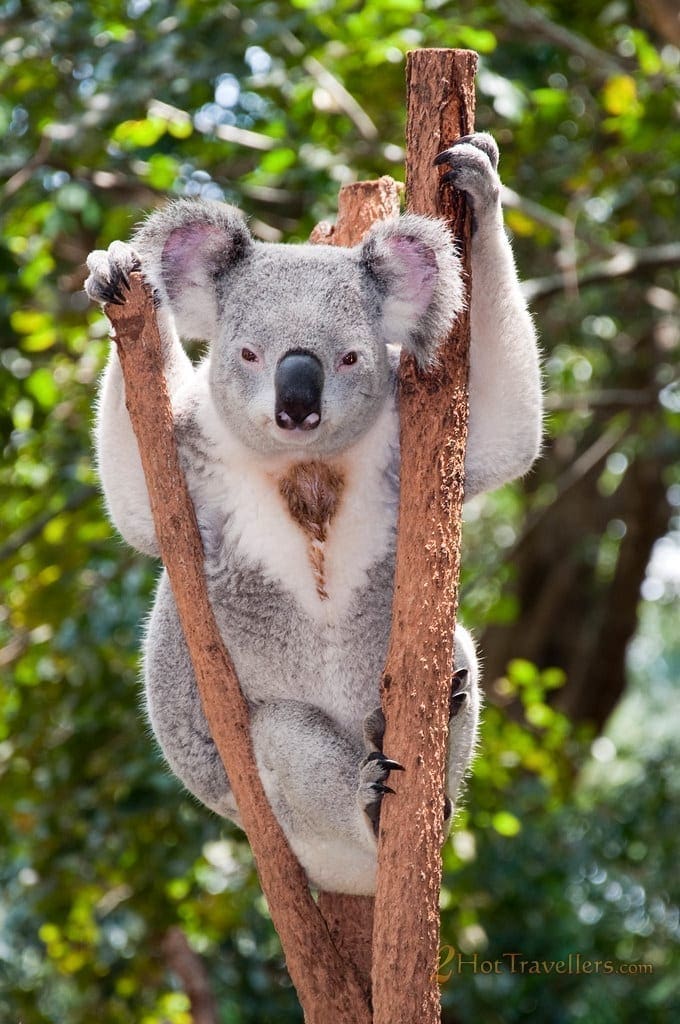 The Koala is not a bear
Many people compare the koala to a bear because of their similar appearance. To say that they're a bear is scientifically incorrect. They are a marsupial mammals, such as kangaroos or even wombats. It is not a placental mammal such as a bear or a human.
TRIVIA: When Europeans first came to Australia, they thought that marsupial mammals looked like bears and in fact that they were bears so they were often called 'Koala bears'.
Older koalas, like the elderly, require special attention. For this, we give them fresh and juicy eucalyptus branches to make sure they have no problem feeding. In addition, they are more followed by our veterinarians.
Interesting Facts About Koalas
Baby KOALA "Joey"
A baby Koala weighs at birth less than 1 gram and looks like an "all pink candy". A newborn baby has an already highly developed sense of touch and smell. Its forelegs, as well as its claws, already allow it to cling to its mother and it has an innate sense of direction.
Babies instinctively climb into their mom's pocket where they can feed and develop properly. These babies start to come out of their pocket from 6 months, and can no longer take refuge there from 8 months because of their size. However, they remain on the back of their mother, and it is only from 12 months that they become completely independent.
How do they communicate?
Koalas communicate by a deep growl called "bellow". This sound is used by males to attract females and to intimidate other males around. Females also grow this growl, more often at night, during hot periods between September and March.
This sound can be heard over 800 meters around. As for the zoo's, they growl more to demand food. This sound allows them to impose themselves in the midst of others, and this can even translate into a "competition of grunts".
Is that uncomfortable?
The fur on koala bottoms are densely packed to 'cushion' the branches they sit on, and they have bony cartilage under the skin which is perfectly formed for sitting in the "V" shape of tree branches. They have white patches on their bottom which help them camouflage, so they are hard to spot from the ground.
Interesting Facts About Koalas
Look at those claws
Koala hands and feet have long sharp claws and thick pads for cushioning. With three fingers and two opposable thumbs on their hands, they have a fantastic grip. On their feet, they have a 'grooming claw'; the first and second toes are fused together and there are two claws on this toe. They use this claw-like comb to clean themselves and remove excess fur.
Do they smell like cough drops?
Yes, mostly they do smell like cough drops or certainly a pleasant eucalyptus smell. Mature males tend to have a stronger odor because of their scent gland and it can be a strong musky odor than eucalyptus. Juvenile males are more likely to give off a very slight eucalyptus smell
What is the scent gland?
A male koala is easily distinguished by a brown mark on his chest, known as a 'scent gland'. Male will rub this acorn against trees to mark their territory and attracts females.
Size does matter
Male are larger than females. An adult male weighs between seven and 14 kilograms whilst females usually weigh between six and 11 kilograms.
Cultural significance
The koala is well known worldwide and is a major draw for Australian zoos and wildlife parks. It has been featured in advertisements, games, cartoons, and as soft toys. It benefited the national tourism industry by over an estimated billion Australian dollars in 1998, a figure that has since grown.   "If you were to take a straw poll of the animal most closely associated with Australia, it's a fair bet that the koala would come out marginally in front of the kangaroo".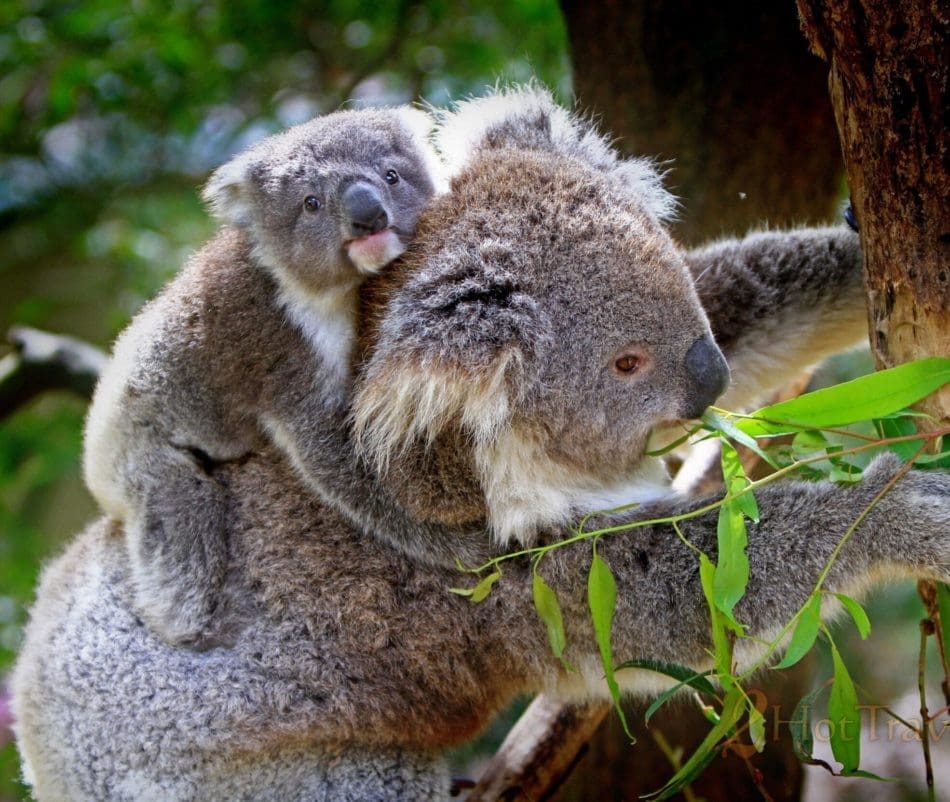 How long do Koalas live?
How old is the oldest Koala?
Interesting Facts About Koalas: In the wild in undamaged habitat, the average life span of marsupial mammals is about 10 years. However, where habitat is damaged, such as in suburban areas, they may only live for a few months or years because of the dangers of cars and dogs.
Males tend to have a shorter life span than females because of the stresses of fights during the breeding season and the fact that they tend to move around more than females in search of mates, thus putting them in increased danger from dogs and cars.
One of the reasons they don't live a long time is because when their teeth get ground down from eating the tough eucalyptus leaves, they don't grow back, so after a time, they can't grind the leaves down properly and get enough nourishment from them.
Because of the stresses associated with living in the wild, marsupial mammals in the wild can have a considerably shorter life span than in zoos.
marsupial mammals in zoos and wildlife parks don't have to travel any distance for food, they don't have to face the same dangers as wild ones and they get regular expert veterinary attention.
The oldest zoo Koala that we know about was a female who lived to 23 years old at Lone Pine Sanctuary in Queensland. Her name was Sarah and she is in the Guinness Book of Records as the oldest known Koala. The oldest male we have heard of was Tam Tam at Tama Zoo near Tokyo. He lived to 22.
Global Warming
There is increasing evidence that climate change is leading to significant koala range contractions in western Queensland and New South Wales. This is due to reduced nutrient levels in Eucalyptus leaves, rendering them of lower quality.
There is also strong evidence of the impact of droughts and extremely high temperatures on them and the likelihood that these events will not only increase in incidence but in severity as well.
Interesting Facts About Koalas
2019 AUSTRALIA BUSHFIRE
Australia is being ravaged by the worst wildfires seen in decades. More than 5.9 million hectares (14.7 million acres) have been burned across Australia's six states – an area larger than the countries of Belgium and Haiti combined.
To put that into perspective, the 2019 Amazon rainforest fires burned more than 7 million hectares (about 17.5 million acres).
There has also been extensive damage to wildlife and the environment. Koalas have been among the hardest hit of Australia's native animals because they are slow-moving and only eat leaves from the eucalyptus tree, which are filled with oil, making them highly flammable.
The catastrophic rating is based on a matrix of factors including temperature, humidity, wind, and dryness of the landscape. Australia's fire season risks are growing longer and more intense due to climate change, according to scientists.
Koala populations and other endangered species have been significantly affected by land clearing, habitat destruction, and the effects of global heating. Unfortunately, 95% of them were gone by catastrophic wildfires last year.
Before the bushfire crisis, koala populations in New South Wales and Queensland estate had already dropped by 42% between 1990 and 2010, according to the federal threatened species scientific committee.
Interesting Facts About Koalas
What you can do to help Koalas?
Your adoption helps with the rescue and treatment of sick and injured koalas and release back to their home range where possible. 
Drive slowly and carefully at night. They are nocturnal. Keep to the speed limits.

Carry the phone number of your local animal group or wildlife rescue service in your car.

If you live in Australia, at night lock up your dog. It is not enough to just keep it in your yard – they can climb most fences or trees into yards.

 In times of drought or in particularly hot weather, place a container of water at the base of a tree known to be used by koalas.
ADOPT A KOALA
Adopt a Koala for yourself or as a gift for someone special. When you adopt them, you receive a beautiful personalized adoption certificate with a photo of your Koala, a welcome letter, stickers, and more. And if you are in the area you can drop in and visit the adorable Koala you adopted!
Your adoption also assists with the conservation and expansion of habitat, collection of information for research relating to habitat, disease, nutrition, and habits of wild koalas.  It also helps to provide educational material to increase public awareness of all aspects of the koala.
The cost for adoptions within Australia is $60 per year.  Overseas adoptions are $70 per year which includes postage.  eAdoptions are $40 per year and are emailed to you.
You have a choice of 19 Koalas that are available for adoption.  We have 10 exhibit koalas who live permanently at the Koala Hospital.  If you want to adopt a koala you can visit the Koala Hospital where you can choose from the ten exhibit koalas. 
Koala Endangered: Interesting Facts
More than 130 of them currently live at Lone Pine, on day parole, and are pampered by the trainers. A roaming koala lives on average 10 years while a captive koala generally reaches the age of 12-15 years.
How To Get In Lone Pine Sanctuary
Lone Pine Sanctuary is 12km from Brisbane City, which is about a 15-minute drive. For best directions, enter their address into Google Maps on your phone. They are a listed attraction on all the major GPS hardware. 
708 Jesmond Road Fig Tree Pocket, Queensland 4069
By Taxi
Taxis can be booked by calling:
Black & White taxi: 133 222
Yellow Cabs taxi: 07 3391 5955 or 131 924
By Public Bus
There are regular buses to and from Lone Pine operated by the City:
– Bus number 430 from Queen Street Station and Bus # 445 from  Adelaide Street For fare information and to plan your journey, click here .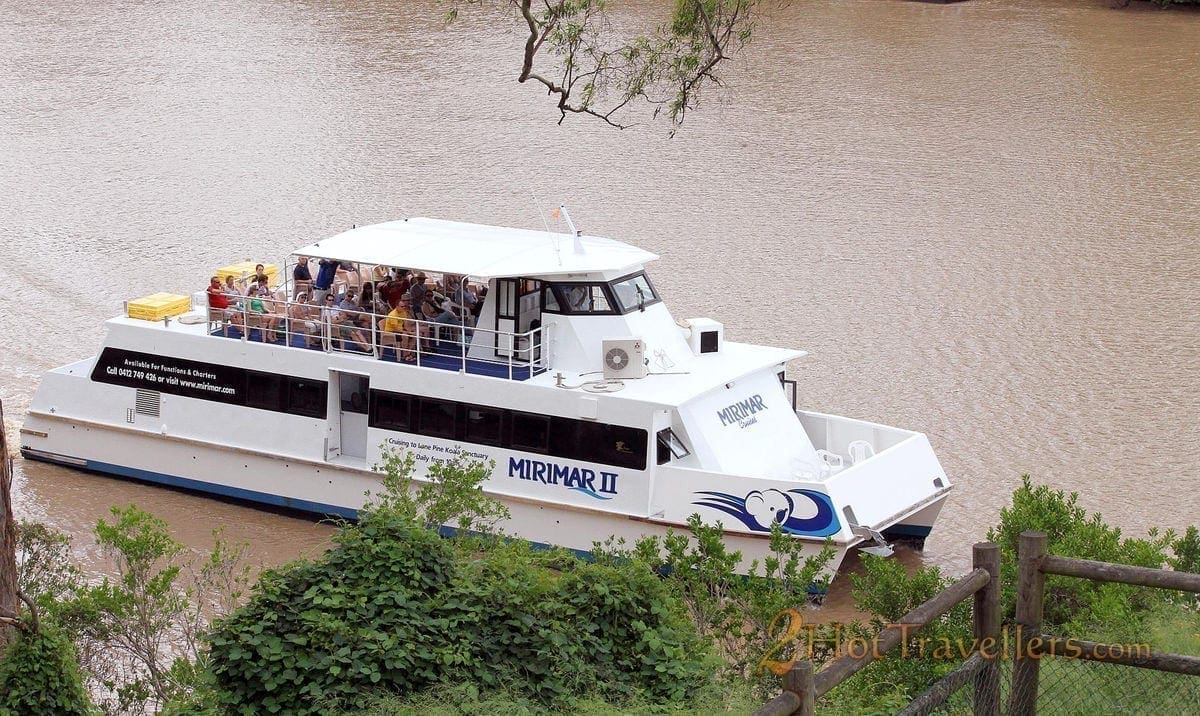 By River Cruise
The Mirimar boat cruise departs from the Cultural Center Pontoon (South Bank) daily. The pontoon is located on the boardwalk outside of the State Library. Travel through some of the city's most historic landscapes, iconic attractions, and historical home sites as you listen to an informative commentary.
Please note that the City Council City Cat or ferry routes do not go to Lone Pine Sanctuary.
The Mirimar cruise ship departs from the Centural Center Pontoon at 10:00 a.m. daily.
The trip lasts 1 hour 20 minutes and arrives at Lone Pine Koala Sanctuary at 11:15 am.
The boat departs Lone Pine to Brisbane City at 2.15 pm.
For information and to book, contact  Mirimar Cruises: 0412 749 426 (24 hours)
The cruise aboard Brisbane's most famous ship, MV Mirima, will take you 19 km. You will be able to take the time to admire the most beautiful districts of the city as well as the wild fauna and flora that runs along the river.
Koala Endangered: Interesting Facts
- Interesting Facts About Koalas -