Who doesn't love a good mystery? The planet is dotted with places that are surreal, eerie, and sometimes downright bizarre. And, while many of these mysterious goings-on have logical explanations, others remain stubbornly unsolved.
Join us on a virtual tour from your sofa as we take a look at the science, stories, theories, and tales surrounding some of the Strangest Places in the World.
Strangest Places in the World
The Bermuda Triangle – covering around 500,000 square miles (more than 1,290,000sqkm) between Bermuda, Miami in Florida, and San Juan in Puerto Rico – has seen more than 20 planes and 50 ships crash with no obvious explanation and even some "vanish" completely.
Theories range from suggestions of supernatural activity to the more logical hypotheses that it's down to magnetic compass variation or rogue waves.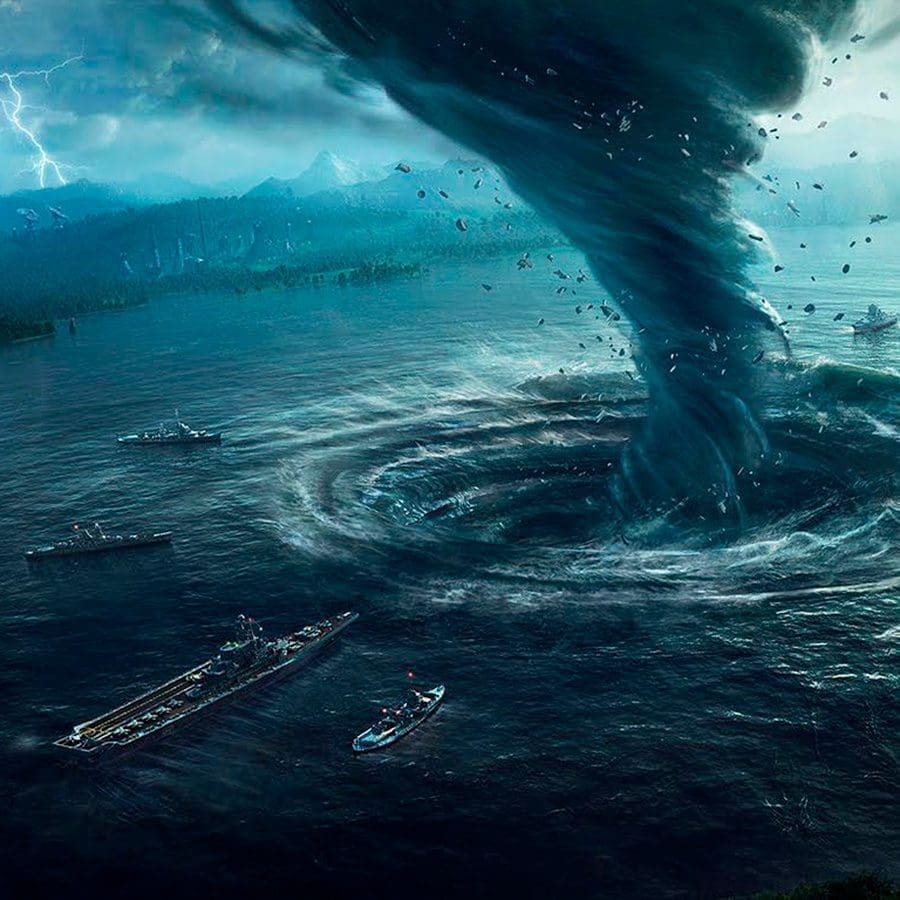 Richat Structure, Mauritania
Have you ever wondered why you never see photos of crop circles from the ground level? Every crop circle photo shows them from the air, right? That's because, from the ground level, crop circles are rather unremarkable.
The same is true for the Eye of the Sahara.
This prominent circular feature in the Sahara desert of Mauritania has attracted attention since the earliest space missions because it forms a conspicuous bull's-eye in the otherwise rather featureless expanse of the desert.
Astronauts have been watching the Richat Structure – also known as the Eye of Sahara – in Ouadane since humans first entered space. Viewed from the International Space Station, the 30-mile (48.2km) wide swirl resembles a bull's eye or snail's shell.
Described by some as looking like an outsized fossil in the desert, the structure, which has a diameter of almost 30 miles, has become a landmark for shuttle crews.
The geological quirk was believed to be a crater caused by a meteorite but it's now thought it was once a dome that has eroded over time.
A video is making the rounds claiming "proof" that Atlantis existed in northern Africa and the Richat Structure is it. This video is by Jimmy from Bright Insight and it is an excellent example of crank pseudoscience.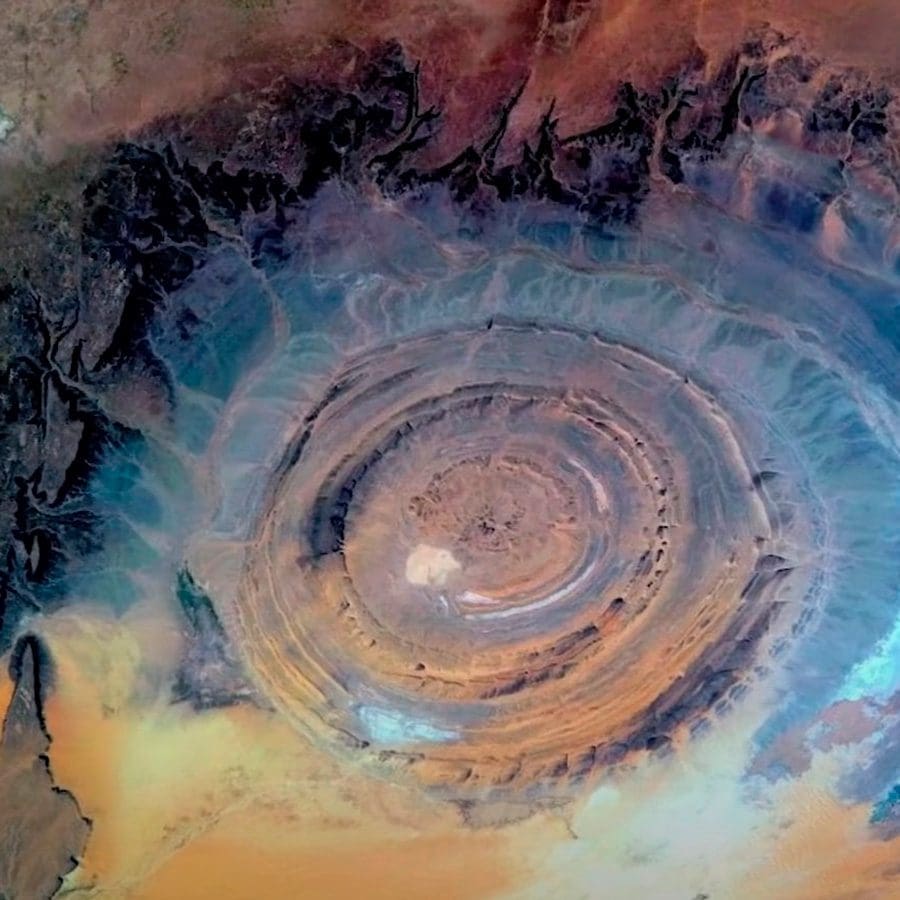 - Strangest Places in the World -
This circle of rocks has long been one of the UK's most well-known and mysterious sites, with historians and scientists baffled as to how its builders transported the monoliths 5,000 years ago.
In 2019, Newcastle University students may have solved the riddle when they discovered that humans (not aliens) may have dragged the rocks in place using sledges lubricated with pig fat. 
Many theories have been put forward so to why Stonehenge was constructed. "It's part of a much more complex landscape with processional and ritual activities that go around it," Gaffney told Live Science, noting that people may have traveled considerable distances to come to Stonehenge.
One theory about Stonehenge, released in 2012 by members of the Stonehenge Riverside Project, is that Stonehenge marks the "unification of Britain," a point when people across the island worked together and used a similar style of houses, pottery and other items.
It would explain why they were able to bring bluestones all the way from west Wales and how the labor and resources for the construction were marshaled.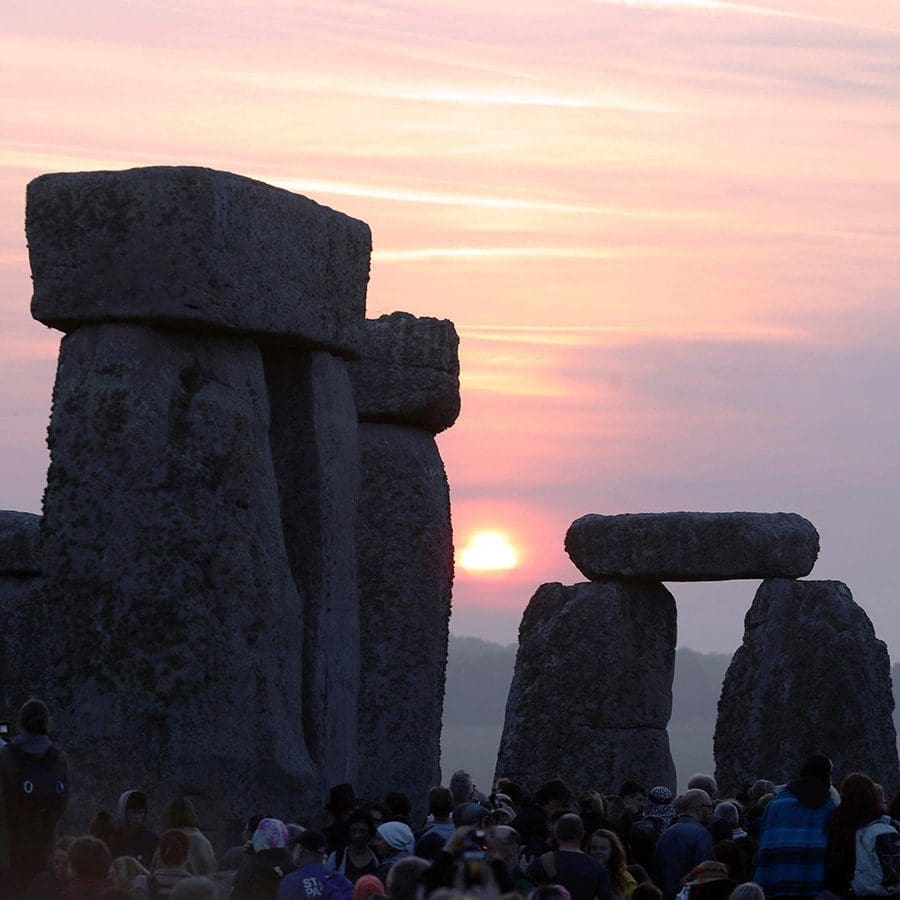 Eternal Flame Falls, New York, USA
It's nothing to do with The Bangles' hit song, but this is an (almost) eternal flame. The bewitching orange-red glow that flickers behind this staggering waterfall, in New York's Chestnut Ridge Park, is kept aflame by natural methane gas that seeps through cracks in the rock.  It's occasionally extinguished by splashes but visitors can bring it back to life with a lighter.
For a long time, scientists have believed that the fire burns because of gas pockets that rise from the old, extremely hot bedrock made of shale. The rock's high temperatures break down the carbon molecules in the shale, which in turn creates natural gas.
However, a group of scientists from Indiana University led by Professor Arndt Schimmelmann, found that the shale under the waterfall isn't actually hot enough or old enough to be causing the formation of gas pockets.
Schimmelmann says, "This flame and these seepages have occurred for millions of years in those areas and we know that the source rock, about 400 meters deep, is not very warm.
It should not even be able to produce much gas at this temperature, yet the gas is coming and it's not being depleted. So our hypothesis is that a different mechanism is responsible for continuous gas generation at depth." In other words, something else must be keeping the "eternal flame" burning and to this day researchers still don't know exactly what that may be.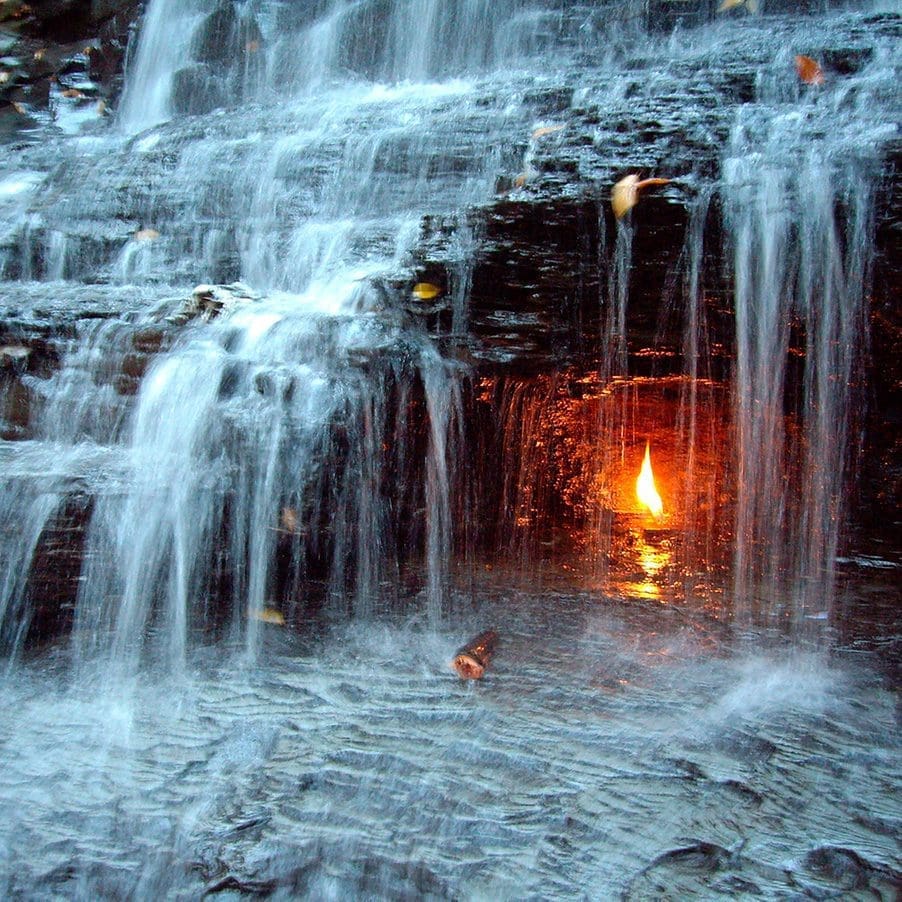 - Strangest Places in the World -
Strangest Places in the World
Magnetic Hill, New Brunswick, Canada
A mysterious spot where the laws of gravity seem not to apply. Cars roll backward and, apparently, upwards after driving to the bottom of this so-called "magnetic hill" in Moncton, New Brunswick.
But it isn't actually defying the laws of gravity. It's one of several hills around the globe where what looks like an uphill incline is, in fact, part of a larger downhill incline. It's an optical illusion because there's no view of the horizon for perspective.
This unique optical illusion has captivated residents and visitors since 1931, when newly constructed roads revealed the hill's strange properties and local drivers shared the experience of drifting uphill. Soon, people were coming in from the surrounding towns to see the bizarre phenomenon for themselves, and in time, the Moncton Magnetic Hill spawned its own cottage industry with thousands of visitors yearly.
The area around the hill itself has been built up with a variety of other attractions, including the Magnetic Hill water park, Magic Mountain Fun Zone, Magnetic Hill concert site, and you can visit the Magnetic Hill Zoo's animals.
This definitely belongs on our list of the Strangest Places in the World.
Almost 50,000 years ago, a meteorite slammed into the earth in the Indian state of Maharashtra, leaving behind a massive crater 2km across and 170m deep that's said to be the world's third-largest). According to scientists, it's the only hypervelocity natural-impact crater in basaltic rock in the world.
An ancient lake in India just turned pink – and experts don't know why
What caused the lake to turn pink?
That was the question on people's minds across India after Lonar Lake in the state of Maharashtra suddenly changed hues in recent days.
Experts believe that the change is likely due to either increased salinity in the water, the presence of algae or a combination of both – like parts of Utah's Great Salt Lake or Lake Hillier in Australia.
Gajanan Kharat, a local geologist, said in a video posted to Maharashtra Tourism's Twitter feed that this has happened before, but was not as prominent.
"It's looking particularly red this year because this year the water's salinity has increased," he said. "The amount of water in the lake has reduced and the lake has become shallower, so the salinity has gone up and caused some internal changes."
Kharat said that researchers are also investigating if the presence of red algae caused the color change.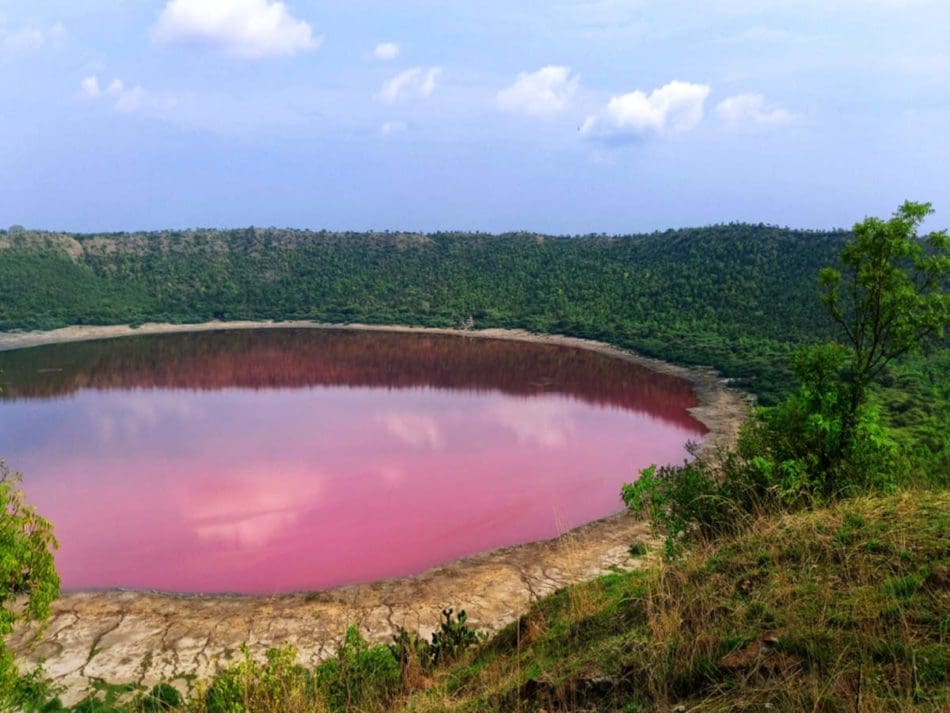 Rainbow Mountains of China, Zhangye Danxia Landform Geological Park
The spiraling and colorful lunar landscape of this national park is the result of sandstone and mineral deposits that have eroded into odd shapes throughout millennia. Infrastructure was installed inside the park after it was named a national geopark in 2011, making it accessible to tourists.
Wooden stairs and platforms allow visitors to reach the tops of the hills without damaging the delicate landscape and offer views over the colored strata.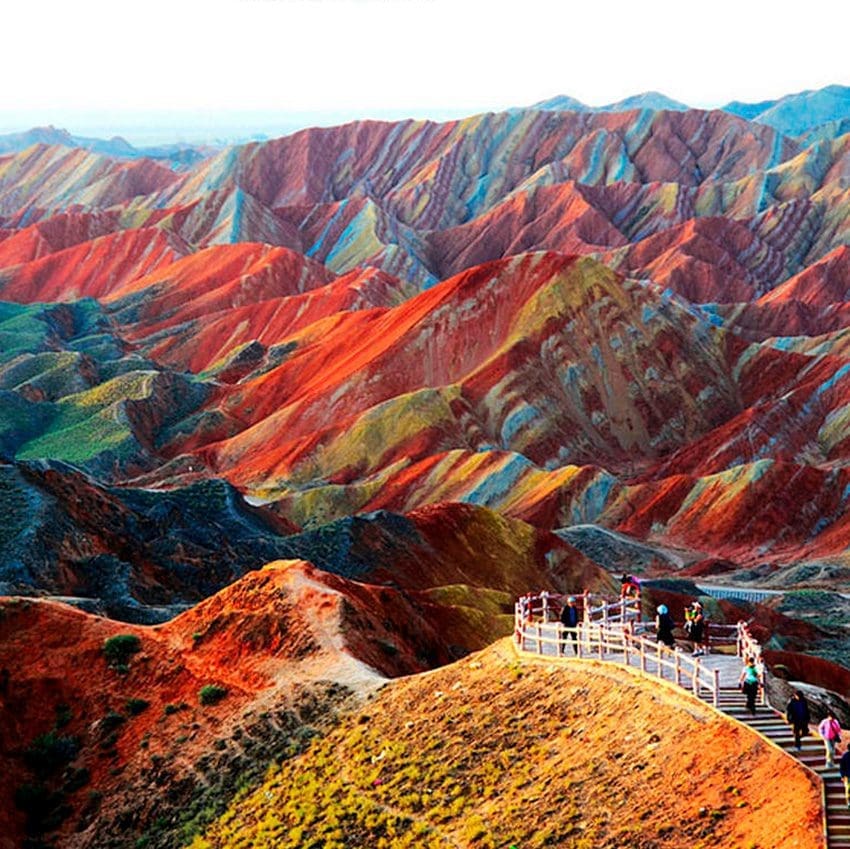 Strangest Places in the World
If you do a Google search for the top attractions to see in Turkey, the hot springs of Pamukkale will 100% appear very close to the top of the list. The natural rock pools of Pamukkale are one of Turkey's most visited destinations and also one of the most gorgeous.
If weird and beautiful sights are your things, this is for you. However, this spot isn't just a little odd and very wonderful. It's also stunningly beautiful.
No doubt, you've seen Pamukkale on the TV or online. It's blindingly white, has terraces that run down a mountainside, and glassy blue water on top. Of course, Pamukkale is far more than that, but that's the eye-watering visual you'll get when you see a picture of it for the first time!
When you see a picture of the Pamukkale thermal pools landscape, you'll be forgiven for experiencing a little confusion. It's the middle of summer (probably), and all you're seeing is a snowy white landscape.
Located in the southwestern Turkish province of Denizli, Pamukkale is the site of the ancient city of Hierapolis, a Greco-Roman city that used to be bustling back in the day. This whole part of Turkey is packed with ruins from Greek times, and they're certainly worth visiting and a great addition to our list of the Strangest Places in the World!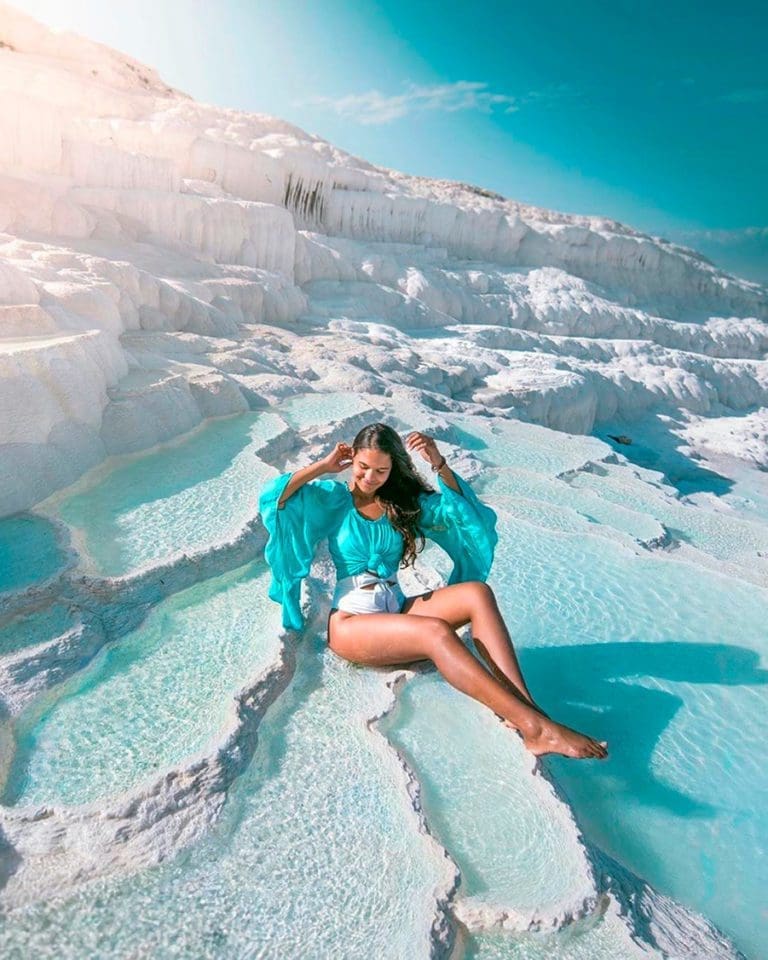 Strangest Places in the World
Strangest Places in the World
Uluru or Ayers Rock, in Uluru-Kata Tjuta National Park in Australia's Northern Territory, has beguiled people for centuries and is a sacred spot for Anangu people, with theories that it was formed by ancestral beings who shaped the world.
Science suggests the sandstone monolith began forming around 550 million years ago, and centuries of erosion and folding crafted its distinctive oval shape. Its red surface is due to oxidation, while "fresh" rock beneath is grey.
Indigenous Australians believe Uluru and nearby Kata Tjuta to be the center of all Dreaming. Traditionally, this area was seen as something like the hub of a wheel, with songlines radiating from it across the land. The monoliths, with their crinkles, creases, indentations, and ancient drawings, provide a map of ancestors' births, battles, and deaths.
Uluru (Ayers Rock) is usually found on the travel wish-list of even the most stay-at-home Aussie and no matter how many pictures you've seen, nothing will prepare you for your first views of the spectacular rock formation, which is as tall as an 85-story building with a circumference of nearly 10 kilometers.
The traditional owners of Uluru, the Anangu community, have long since urged people to circumnavigate the rock on foot, rather than climb it due to its spiritual significance and for their own safety. It wasn't until October 2019 that the climbing ban officially came into effect – and with good reason.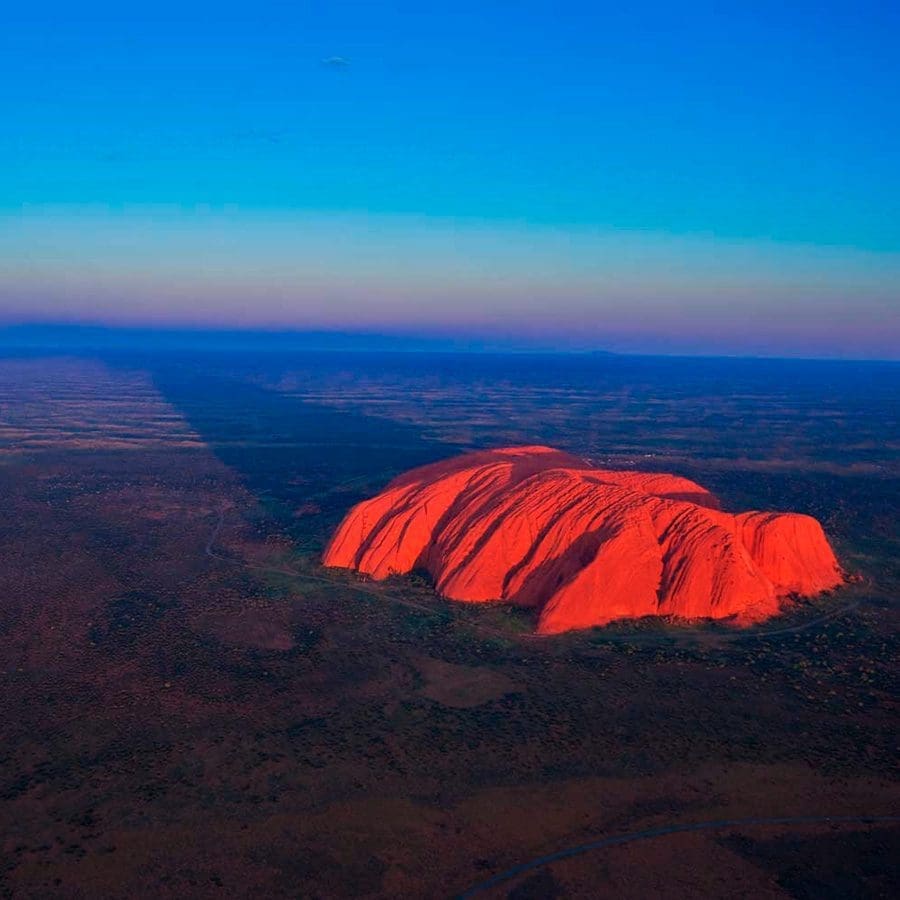 Strangest Places in the World
As you slowly make your way through the Dry Valleys of McMurdo in Antarctica, battling the relentless katabatic wind, you suddenly feel your stomach squirm and your hands shoot up to stifle the scream escaping your half-frozen lungs. The vision that grips you is beyond a reasonable doubt, a gush of blood, lots of blood!
A five-storey tall, blood-red waterfall pours very slowly out of the Taylor Glacier, oozing away menacingly like a scene straight out of a horror movie. No, your eyes do not deceive you. And no, this has nothing to do with Game of Thrones either. The vision you see are the spectacular Blood Falls of Antarctica.
Discovered in 1911 by Australian explorer and geologist Griffith Taylor, this waterfall had scientists in a tizzy for a long time. There were some schools of thought which believed the red colour came from algae but the true nature of these mysterious falls was discovered in 2009. After extensive study of the McMurdo Dry Valley region, which is one of the coldest and most inhospitable places on Earth, Geomicrobiologist Jill Mikucki published this widely accepted interpretation.
Nearly two million years ago, a small body of water containing an ancient community of microbes was sealed beneath the Taylor Glacier forming a natural time capsule. Over the course of these two million years, the microbes evolved independently from the rest of the world with no light or free oxygen, trapped under a thick layer of ice. The very high salinity and rich iron content gave this trapped lake its characteristic red colour and a fissure in the glacier allowed the sub-glacial lake to slowly flow out into Lake Bonney.
Just imagine the hair-raising view you will experience as you witness this amazing natural phenomenon. These spectacular falls prove the great diversity of the earth's ecology and proves the Antartic is one of the Strangest Places in the World by far.
- Strangest Places in the World -