In various regions of the Philippines, Tagalog words don't always have the same meaning. Different dialects often put different meanings to words.
Below is a list of 10 Tagalog words that, depending on the company you are with when you say them, could get you in a lot of trouble.
A Quick Definition Breakdown- 
Tagalog
Tagalog, meaning "river dweller," is the primary language of Manila. Tagalog is currently written using the Latin alphabet, but at one time, it was written using the Baybayin alphabet, which is a script alphabet similar to the Indian alphabet.
Ilocano
Ilocano is not formally taught in schools but is still used by millions of people in the Philippines and abroad (specifically 7 million people, primarily in Northern Luzon and other provinces near the Ilocos region).
Ilonggo
Ilonggo, the fourth largest ethnolinguistic group of the Philippines, lives on Panay, western Negros, southern Mindoro, Tablas, Romblon, Sibuyan, Guimaras, and northwestern Masbate.
Cebuano
Cebuano is spoken by roughly 18.5 million people in the Philippines, primarily in areas such as eastern Negros, Cebu, Bohol, western Leyte, the Camotes Islands, and the northern and western coasts of Mindanao.
Read: 21 Philippines Tourist Spots that Look Like Foreign Destinations
Tagalog Words That Can Get You In Trouble
1: Bayag
"Uy, bayag mo."
In Ilocano: Slow
In Tagalog: Testicles
They don't want you to look down at your crotch. They need you to go faster.
"Higanteng lalaki pero walang bayag
2. Titi
"Mga lalake talaga. Puro titi inaatupag."
Ilonggo: Breast
Tagalog: Penis
Hey, look. That sentence makes sense however you read it! This one's easy to remember, just think "Dangling parts" whether it's male or female.
So be careful next time you are in a restaurant and order Chicken Breast…
"Paorder nga, yun paborito kong titi ng manok"
You may end up with something you are not expecting on your plate.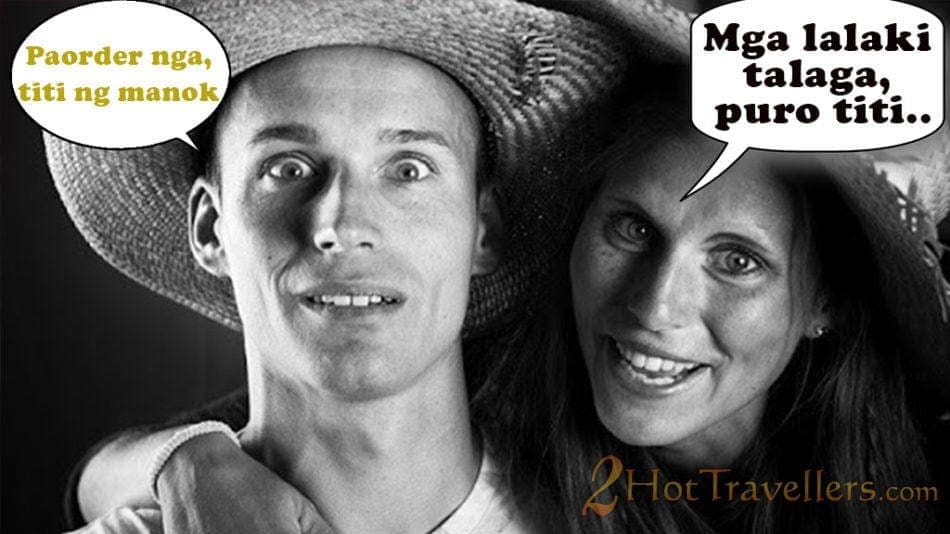 3. Utong
"Sarap naman ng utong niyo!"
Ilocano: String beans (sitaw)
Tagalog: Nipples
Don't be offended. They're just praising your cooking unless, of course, you just happened to be leaning over at the time. Adobong utong in English means delicious.
4.Libog
"Baka malibog ka."
Ilonggo: Confused
Tagalog: Lust/Libido (hence malibog, horny)
Pwede kang malibugan habang nalilibugan. (You don't need to tell anyone though.)
"Bakit ba kasi puro kalibugan nasa utak mo? Nakakalibog ka intindihin minsan eh"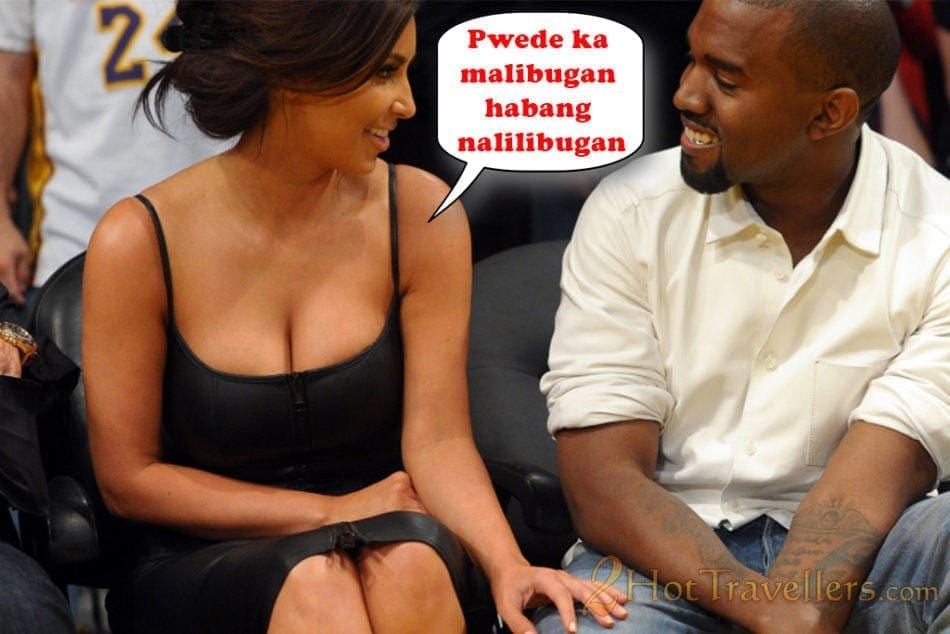 5. Pintas
"Napintasan kayo? Good!"
Ilocano: Beauty
Tagalog: Insult
Take it as a compliment. Always. (Ang kapintasan ko ay napintas ako. Yii!)
"Ano innngit ka at pinipintasan mo pintas ko?"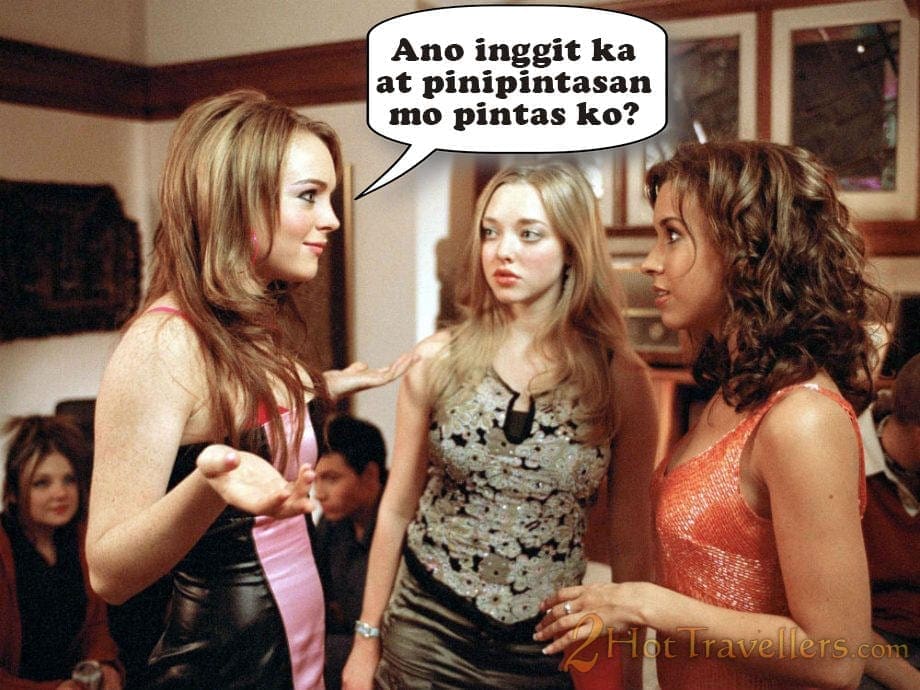 6. Upa
"Ipa-upa na 'tong baboy."
Cebuano: Sex between animals
Tagalog: Rent
Sometimes you gotta pay for wild, carnal, animalistic sex? (Please don't.)
8. Libang
"Andun sila, naglilibang na magkasama."
Cebuano: To defecate (To drop a number 2)
Tagalog: Recreational entertainment (hence, libangin)
Nakakalibang malibang? It's fun to defecate? Fun causes people to defecate?
9. Bao
"Miss, may bao ba kayo? Pabili nga. Sampu."
Pangasinan: Vagina
Ilocano: Daga
Tagalog: Coconut shell
We'll take everything except the Ilocano iteration.
10. Burat
"Nakakaburat ang pag-ibig."
Bicolano: Drunk
Tagalog: Penis and as slang, annoyed or bored.
The sentence makes sense in three different ways. Fun, right? 'Pag-naburat, magburat. (Seriously guys, do something more productive.)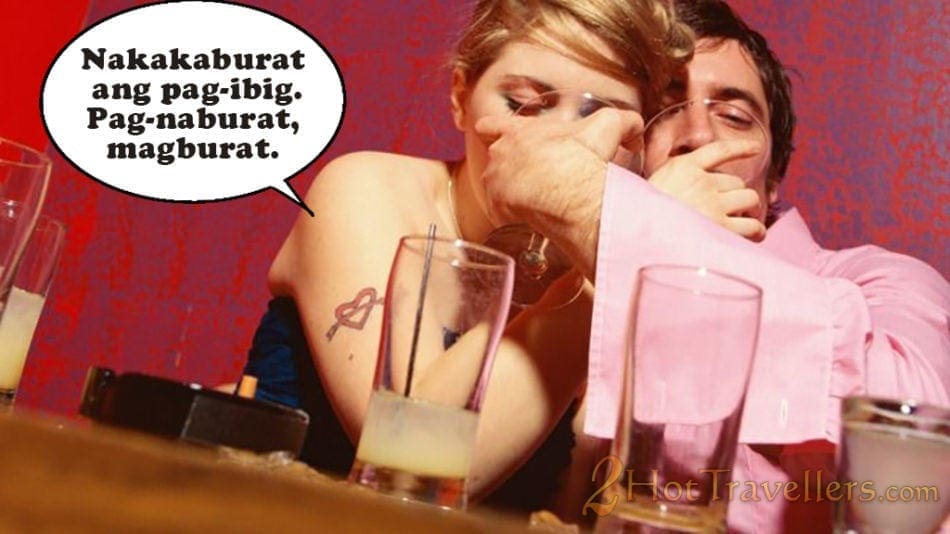 Just looking at the different words or word combinations that are created is always a unique and interesting journey.
ALSO READ: